Sergei Vikharev, master ballet-reconstructor, 1962-2017 |

reviews, news & interviews
Sergei Vikharev, master ballet-reconstructor, 1962-2017
Sergei Vikharev, master ballet-reconstructor, 1962-2017
Sudden death at 55 of bold seeker after 'authentic' classical ballet
Vikharev: 'The difficulty is in the style of movement itself - hands, head, feet, body, posture, eyes, an extremely complex system'
Just as the 200th anniversary is about to be celebrated of the great genius of 19th-century classical ballets, Marius Petipa, the creator of The Sleeping Beauty, Don Quixote, La Bayadère, half of Swan Lake, and many other masterpieces, his oeuvre's most remarkable reconstructor has died suddenly, aged only 55.
Sergei Vikharev was the passionate pioneer of a brave new movement to install period sensibilities in an artform that had long become the plaything of its performers and coaches rather than its creators, and his death is devastating timing for ballet as well as for his family and friends.
I met him in Moscow in 2009 when he was preparing a new "old" version of Coppelia at the Bolshoi (it starred the mind-blowing young Natalia Osipova), and we had a long, rather pessimistic discussion of the difficulties of getting the ballet world to agree on what to do with the notations of Petipa's majestic ballets, let alone getting the Russian ballet establishment to agree to what they considered a betrayal of their intrinsic style.
He had had what turned into a bad experience with his old company, the Mariinsky (then known as the Kirov), over the extraordinary recreations of The Sleeping Beauty and La Bayadère in their final versions by their creator (Petipa died in 1910, aged 92). The young soloist had been encouraged by its past ballet chief Makhar Vaziev to research original versions of the familiar repertoire, but his discovery and enthusiastic take-up of the long-forgotten notations of Petipa's ballets, which are now closeted in a US library, had won him as many foes as friends.
The "authentic" productions were received with ecstatic interest in Britain and the US, where Vikharev was regarded as a pioneer of a thrilling new development in classical ballet's history. But in the hierarchical Russian mindset of the late 1990s, he was considered too junior a dancer to be allowed to meddle with the way their world stars dance.
The combined weight of hostility to reducing ballerinas' six o'clock splits and male dancers' aerial high jinks, and incomprehension of the stately skills of mime and parade that had been part of Petipa's productions, obstructed Vikharev's principled assault on what he considered inauthentic dancing style. There had also been disagreements about copyright and ownership of the productions - who gets the royalties? - and much heated argument about the status of the old notations themselves. He left the Mariinsky for Novosibirsk, Siberia, where he worked as the chief balletmaster of the country's third ballet company, from 1999 to 2006.
However, some key people saw the artistic potential in the idea of exploiting different period styles — as opera had done very successfully. In 2008 Vikharev was asked to the Bolshoi by its new leaders Alexei Ratmansky and Yuri Burlaka, to create a "quasi-1894" Bolshoi staging of Petipa's Coppélia. Soon after, his old boss at the Mariinsky, Makhar Vaziev, on becoming director of La Scala Ballet, invited him to mount an "original" Raymonda in Milan in 2011.
When Ratmansky quit the Bolshoi and settled in the US, he, too, kept faith with the idea of researching the original Petipa scores, and his 2015 restaging of the "period" Sleeping Beauty at American Ballet Theatre can be read as the second stage of Vikharev's Kirov work on the masterwork, taken to a new stylistic period polish with more willing performers.
In Russia the issue of stylistic 'authenticity' is entangled with stylistic 'identity' - not at all the same
Where once it appeared as if Vikharev might have become an outlier in classical ballet history today, he turned out to be the instigator of a genuine rediscovery. Others have joined in "period" stagings, often in hybrid productions — mixing reconstruction with new choreography. Academic research is now lively, especially in the US, even if Vikharev's successors are not obvious yet.
The problem remains to be solved in Russia, above all, the homeground of the classics, where the issue of stylistic "authenticity" is entangled with stylistic "identity" - not at all the same thing. In Petipa's 200th anniversary season, the Mariinsky, his old company in St Petersburg, has reverted from the Vikharev "Petipa originals" - which some people consider more Vikharev than Petipa - to its Soviet-era stagings of the 1950s, continuing to evolve the athleticism that it thinks audiences expect today.
In Moscow, however, the appointment this year of Vaziev as the new Bolshoi Ballet boss brought Vikharev back to prominence again, reviving his "1894" Coppélia, scheduled at Christmas, and a special Petipa celebration programme involving his work in July 2018 is scheduled. His death is exceptionally untimely.
It is good to reread this meeting with Vikharev from eight years ago, and realise that things have moved forward since then.
Sergei Vikharev, born February 15 1962, died June 2 2017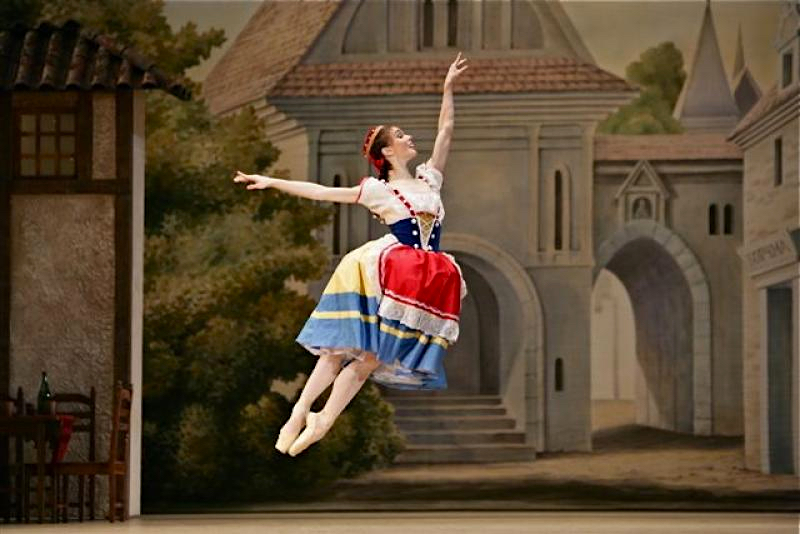 Above: Natalia Osipova in the Bolshoi's new-old Coppelia in 2010 (photo Damir Yusupov/Bolshoi Theatre)

When Russia was plunged into Revolution in 1917, a chief balletmaster inside the Imperial Ballet in St Petersburg feared the worst. It was not simply the death of Tsars he feared, but the death of all culture associated with them, including the classical ballet that had grown to become an opulent wonder of the world. For 25 years all the ballets in the repertoire had been notated, their choreography, how the steps fitted the music, what costumes and sets should be. The notes were filed in several large volumes. The balletmaster made a snap decision - he took them furtively out of the Mariinsky Theatre, packed them into crates, and when he disappeared from Russia, the volumes went with him. Possibly thus the future of classical ballet was saved.
Tonight [IB note: 2010] the Bolshoi shows London a new production of the doll comedy Coppélia, which takes the radical step of going back as far as is possible to the last production made at the Imperial Ballet of St Petersburg (pictured right, the original 1894 billboard at the Mariinsky) shedding all the accretions and changes to suit different dancers and tastes since then, and aiming to restage, in full late 19th-century luxury, the Coppélia that existed in the glittering peak of the Tsar's ballet.
This is the third restoration of a classic to the Petipa text according to the notations, which are bitterly disputed. The notations were done in an obscure system invented by a brilliant young anatomist, Vladimir Stepanov (who was only 30 when he died), a system he devised using his anatomy training to study body movement. So detailed was it that he could notate even movements of wrists, hands and ankles. The difficulty came with the training and competence of those ordered to learn and deploy the Stepanov notation, once Petipa, the theatre's great ballet genius, decreed that all the repertoire should proceed to be notated and recorded for ever. Some ballets were only partially noted, or written down with less skill and attention than others. However, a total of some 24 Petipa works had been recorded to greater or lesser degree when Sergeyev seized his trunks and left secretly for Riga in 1917.
Arriving in France, to join other refugee Russians, Sergeyev assumed that the well-established Diaghilev Ballets Russes would take on the heritage - he was wrong. Diaghilev was a modernist, not a classicist, and after using Sergeyev for his Sleeping Princess (Sleeping Beauty) production, he wanted no more.
Sergeyev moved on to England - where Ninette de Valois gratefully employed him to stage and teach her fledgling Vic-Wells dancers the classics, Coppelia, then Giselle, then The Sleeping Beauty. But again he was to be disappointed in his hope that his master's works would be staged and performed faithfully as they had been recorded under Petipa's eye. For one thing, de Valois had nothing like the same numbers of skilled dancers available, nor the massive stages, nor the resources. For another, she like Diaghilev saw the classics as working material to teach and nurture new choreographers on. Petipa's Sleeping Beauty was four hours long - and de Valois had no compunction about pruning.
Ageing, lonely and disillusioned, Sergeyev linked up with a large UK touring company, the International Ballet, headed by ballerina Mona Inglesby, and for more than 10 years the International Ballet took largescale productions about Britain that were the nearest thing, possibly in the world, to what had been seen in St Petersburg half a century earlier.
When Sergeyev died, Mona Inglesby acquired the notations - precious to her, if to no one else. In the 1960s she sold the treasured volumes for a modest amount to the Harvard Theatre Collection in Massachusetts, where they remained, largely ignored for nearly 40 years.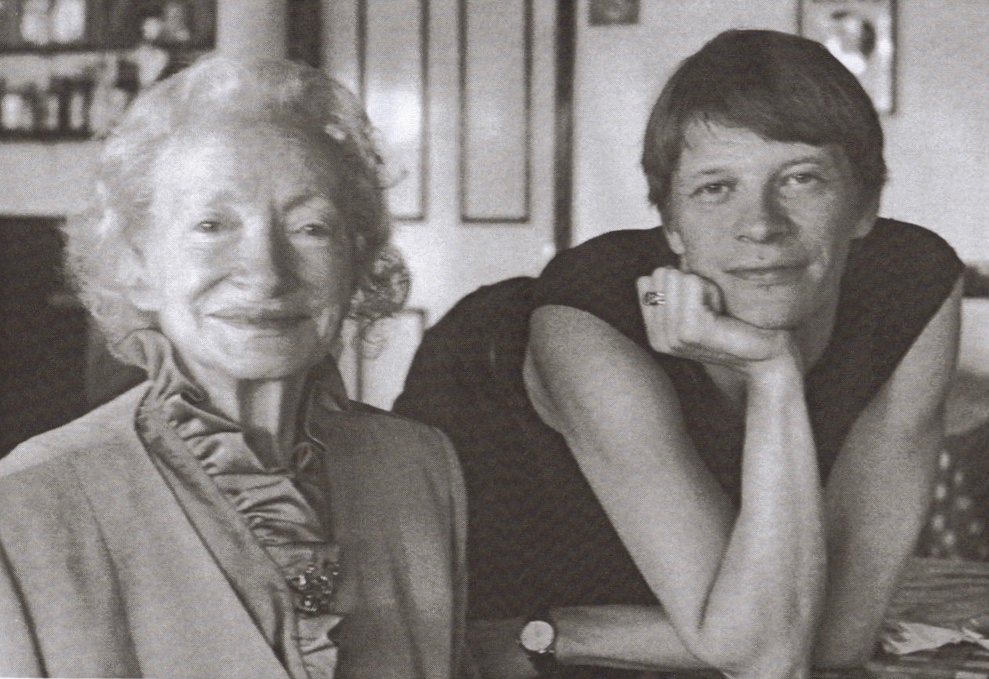 It is here that Sergei Vikharev comes onto the scene. (Pictured left, Vikharev meeting Mona Inglesby at her Sussex home in 2000.) A dancer in the Mariinsky, in the late 1990s he was struck - while rehearsing Balanchine and Fokine ballets, both of which have active custodians zealously preserving the ur-text - that the classics had no such equivalent, and in particular the ballets of the master of them all, Petipa. Vikharev learned about the Harvard notations, and then took on the forces of Russian ballet tradition, with the backing of the theatre's all-powerful music director Valery Gergiev. The result was the astounding restoration of the 1890 The Sleeping Beauty, which set London and New York by the ears in 2000 with its leisurely pageant of luxury and graciousness. This was followed by a nearly as marvellous "old" La Bayadère, recreating the 1900 staging supervised by Petipa and restoring the full four-act score.
One of his greatest aids to reconstruction was that both the British Coppelia and Sleeping Beauty productions (staged, of course, by Sergeyev) contain so many clues to confirm what the notations indicated was the original choreography. These productions drove a wedge, however, between him and the massed ranks of the Kirov and Bolshoi ballet companies, who in Soviet times had developed their own iconic productions of classics by now far strayed from the originals.
It is all very messy. Only a few scholars read Stepanov well, and they disagree with each other
This is the controversial stage on which Vikharev plies his craft in his country and it is all very messy. Only a few scholars in America, Russia, France and Britain read Stepanov well, and they disagree on the accuracy and satisfactoriness of the different notations - dependent on such factors as the notators' handwriting, the readers' own fluency and understanding of ballet of the time, and mistakes in the cataloguing. Some notations are more sensitive to music than others; some pages are so sketchy as to seem aides-memoires only decipherable by the writer, rather than intended as information.
Pierre Lacotte's creative reimagining of Petipa's The Pharaoh's Daughter for the Bolshoi in 2000 reflected his belief that the original is largely unsalvageable from the 254-page notation, but others dispute this. Compromises are made with today's expectations and tastes - the Kirov's "authentic" Sleeping Beauty and Bayadère still pandered to 20th-century dancer and audience taste by retaining "modern" virtuoso variations. In 2007 two rival "historic" versions of the pirate romp Le Corsaire by the US scholar Doug Fullington for the Bavarian State Ballet and by the Bolshoi produced different results, despite apparently reading the same Sergeyev notations.
Clearly there is more than simply history and nationalist politics at issue here - there is the question of how accurately the notations describe Petipa's productions, and there is, perhaps above all, a larger aesthetic question that afflicts ballet uniquely in theatre. It has almost always been the tradition for classical ballets to be passed on from foot to foot, as they say, ie by oral tradition, yet this has given permission for very major differences to evolve, causing large cracks in the academic tradition.
So classical ballet faces a watershed. At a time when academic training styles have become almost impossible to define and conserve thanks to the global melange of repertoire, is there any future in attempting to bring the concept of fidelity to an "authentic" text into ballet? After all, if the newest young pup in the choreography market can have his green steps treated as sacrosanct, how is it that the towering figure of classical ballet, Marius Petipa, is accorded so little respect for his work?
These are the knotty issues that Sergei Vikharev discussed with me last year, when I went to Moscow to watch the premiere of the new/old Coppélia we are about to see at Covent Garden.
I lost the battle but I haven't lost the war. We have studied these old texts now. You can forbid them now, but it's down in history that we opened the door
ISMENE BROWN: The first reconstruction by you, and the biggest, was the Mariinsky's Sleeping Beauty, which the company showed in London in 2000. What made you get into reconstructions?
SERGEI VIKHAREV: When I was dancing at the Mariinsky Theatre, the new director Makhar Vaziev came in. Each new leader - especially in companies like the Mariinsky and Bolshoi - faces the problem of how to show the ballets that are the foundation of the repertory. Russia is the motherland of elephants - it's a proverb meaning that everything started here. Actually, this is ironic. In the Russian theatre in fact they managed to inherit and preserve the repertory of Paris's 19th-century ballets - and London got her ballets through Russia, as you know - but Russia's productions of classics have changed in the meantime. So there is always that problem of the classical "heritage". However, I think it was the late Nineties, when I was dancing for the last time in Fokine's Chopiniana and in Balanchine's Symphony in C, that I suddenly understood something authentic was also necessary for spectators of classical ballet. (Right, Vikharev rehearses Coppélia with Maria Alexandrova, photo Vyacheslav Podorozhniy.)
I have always understood that there were differences and problems in the heritage, for instance in Sleeping Beauty. At some point, my coach pointed out that the ballerina in the second act put her foot in a particular way, and when I opened the old score I found it was written down in a way that didn't fit with what we were doing. So I realised that this was not the original thing - it was somebody's version of the original. I started to read books about it. The musical scores of the ballet in St Petersburg were published just with some notes written by the stage managers of the time, not notation of the steps. So when I found out about the Harvard archives, I wanted to go and see them. I found out from my correspondent that he'd seen the notation and it could be possible to reconstruct original steps. So we wrote an official letter to Harvard and asked them to send us proper copies. They sent them - it looked like symbols, and I'd never done any decoding before but I went to the library and found the manual for the notation by Stepanov. It was old, made specially for pupils in Petipa's time, in the 1890s. But nobody was interested in it after that period. So maybe for 100 years nobody had been interested in it. After the Revolution they didn't teach from it.

What condition was the book in?
There were several copies.

Did you think you could learn the code?
Using the manual I decoded bits of the Prologue, and showed the reconstruction of those parts on the upper stage.

What were the differences?
Many things. Choreography, staging order, pantomime. We invited coaches and critics, and had a small roundtable. All the coaches said, we don't need this, it's unnecessary. Vaziev, Gergiev and the Moscow critics said this is very interesting, and you must go on. Gergiev said, we have to show the new face of the Mariinsky, to restore its old name - no longer the Kirov - and we have to show a new product and direction, so we we will do a new production like this. But there was a great reluctance in the company. Gergiev was determined - it was the crisis of 1998 when everything collapsed but we did it.
Watch a live audience film shot at the Kirov of Princess Aurora's solo in the Vikharev reconstruction of Sleeping Beauty - Evgenia Obraztsova is Aurora:

It's a philosophical idea: something very important, that the history we acknowledge is in fact an artificial and polluted history, and now we need to find the "real" history.
All through the 20th century, at least in Russia, they were trying to make ballet "better", to improve it. But I think there comes a point when you can't realise any more what the best was. And the most terrifying thing is that those who were doing those ballets best of all started to pass away - Fyodor Lopukhov, Vakhtang Chabukiani, Konstantin Sergeyev - and performances no longer had their creators and people with original memories. The moment the creator died, it would be pulled into a new direction - so these are neither, say, Petipa nor Sergeyev, but simply the product of some coaches with some dancers, who put on what they want, and they do what they want. Nobody is there who can say, this is wrong.

So you are challenging a huge tradition of coaching.
Of course. And I lost the battle for the moment, but in 10 years time I will tell you if I won the war. I said to the new Mariinsky authorities, I don't know who is right, and whether these productions I recreated are good or not, but you cannot say they are bad. Time will decide. But I work sincerely. And what I said to Yuri Fateyev, the new Mariinsky director, is that I don't know who is right here, but I worked honestly and I recreated these creations according to the evidence, and people liked them.

Let's identify the philosophical idea here. There will be many personal reasons for people not to like it, because it attacks what they learned and what they taught, and it challenges the theatre's working traditions. But at the heart is the question whether it is possible to do in ballet, what is possible in opera and music, which is to say: here is the text, and it is sacred. Is that possible?
Well, it's difficult to compare with say Mozart's musical scores which he wrote with his own hand. Even so, he'd write something for klavichord that people play on the piano - so that's an accepted change. But it's much more tricky with dance. Petipa writes a variation for Pavlova, and it's notated that way. But was Pavlova changing Petipa's choreography as she danced? Did Petipa let her do what she wanted or did she do what he gave her? And Petipa himself didn't write the notation. These are arguments levelled against me about the authenticity. Here you have to come to some kind of agreement - do you trust Vikharev's decoding on the notation or or somebody else's? Or do you not trust anyone's decoding of the notation?

What if you don't trust it? What is left?
Well, there is the Konstantin Sergeyev 1952 version or whatever, that is all.

I find this difficult, because I am a musician. You can play a Mozart sonata on many different instruments, but you still have the idea of the sanctity of the text that you can return to. I want to know whether it can be accepted today that the combination of the Stepanov primer and the various notations that exist give enough authority to establish texts because it is as close as we can get to what Petipa staged.
[Nods.]

And you are certain of that?
Yes. The only connection we have with those days is the Nikolai Sergeyev archive. What people remember dies with them, but without them what will future generations have? What is most important in our art is getting lost.
Let's separate out the arguments against what you do. What about the coaches? Are they the most significant people against you?
Yes. Because first of all they haven't participated in this exercise. They take it that they are the last people who preserved the heritage, and then suddenly here's a young man of 38 coming in and saying they are wrong. Well, I actually studied with the same coaches they studied with, the old masters for me, who were young for them. So we all had the same coaches, but for some reason they thought they themselves were the last people with the right to say what should be preserved.

But if it is clear that Nikolai Sergeyev's team notated the steps of, say, the prologue of Sleeping Beauty so differently from Konstantin Sergeyev's 1952 production, why do they argue?
Well, they say the Konstantin Sergeyev production is better than Petipa.

Valery Gergiev was the originator of the reconstructions, he supported you. He now seems to be less interested.
Yes, it was his project. I did Sleeping Beauty and Bayadère for the Mariinsky and my third one should have been Coppélia. It was stopped for five years. Between Vaziev and Gergiev, there was a five-year pause. Then my next work was the Awakening of Flora, which also has not been in the repertoire for a year, even though it won two national prizes.
They aren't interested in Petipa. It's 'after' Petipa, which means improved, better
I would like to understand why Russia, which has a great tradition of supporting intellectual ideas...
[He laughs.]
Well, it has had! I know there were problems in the Soviet period, but why has this philosophical idea caused so much more trouble in ballet than in other arts? You have a choreographic text, you have a manual, you can decode it. And you also have the evidence of what it was through the lateral confirmation of other relevant productions such the British Nikolai Sergeyev productions that this is right. And it's beautiful to dance. So why is there a problem?
Well, you probably met people in the music world who play by ear without really reading music. Some singers sing that way. People like that will not admit that someone who learns from a score can do it as well. People here don't believe in these notations, they say I invented it, it's false.
How can it be false?
For them, it is.
Is it a nationalist thing? Is it because Nikolai Sergeyev took the notebooks out of Russia and they ended up in the US?
No, in Russia they don't trust papers. Not even their wills! In ballet the only method that counts is what we call foot-to-foot, like the oral tradition.
But even if they know that Petipa ordered this project? That it went on for 25 years.
They aren't interested in Petipa.
Ah, this is the crux of it.
They love to have a treatment that is "after" Petipa.
So Petipa is like a label or a cloak of respectability!
Yes, but it's "improved", it's Petipa but "even better". I met this attitude when we did Balanchine for the first time in the Mariinsky. Our theatre wanted to change it right away, the way we knew it would be "better". I participated in it myself - it was Theme and Variations. We were trying to adapt it for ourselves, the moves, the accent, the choreography. This is the Russian tradition. It was a total fiasco.
Who was staging it?
Francia Russell.
She couldn't stop you?
No. When we were abroad we danced it like this, the press was horrible to us. But the attitude was that we knew Georgians better than Americans do.
This is why I raised the argument about nationalism.
It's a mentality.
If a balletmaster makes his
own version of Sleeping Beauty, he becomes the author and he gets the royalties
Let's return to Petipa. What is the threat to the art of ballet in this? If you establish the real Sleeping Beauty, the real Bayadere, or Petipa's Coppelia - how does that threaten dancing? How does it threaten tradition? I can't understand their argument.
Every balletmaster at the head of a company wants to make his own version of Sleeping Beauty. He becomes the author and he gets 5 or 10 percent from all the tickets.
So if you establish one "real" version of Sleeping Beauty then nobody gets any royalties!
No, then I'd get the royalties! Because I have to protect this product so that the dancers don't change anything.
So it is not entirely an intellectual problem.
Ballet is a very deep business.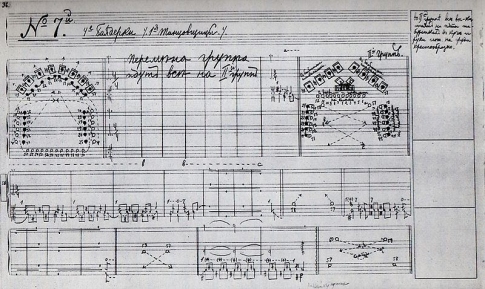 Well, let's talk just about the intellectual argument, for the moment. I know there are some American experts on Stepanov who disagree with you about how you read the notation. (Pictured left, a page of Stepanov notation of La Bayadère)
Yes. I know this man, Doug Fullington. He has shown the way he thinks Corsaire should be, in Munich for the Bavarian Ballet. He thinks he knows it better. Now he is a musician, not a dancer, and he was 19 years old when he became interested in this, and he says like an American we know how to do it, how it should be. Then he decoded Corsaire in such a way that no one here can recognise. But he doesn't understand things, vocabulary, conventions for repeats, because he is not in the ballet world. What I decode is not like a musical score, because maybe there will be one bar that is noted, and you need to reconcile the whole variation, know how it will repeat certain things, for instance. It's like genetic code, you have to take out parts and try to rebuild it from those.
So it's not like just typing out the notes. You have a piece of an idea, then you must reconstruct.
Of course. That's why I have to be called the choreographer as well as the stager. It would have been more like a piano cadenza - the notation is often just the theme around which you have to create in the right style.
So you and Doug Fullington could start with the same piece of information about a variation but you could each create a completely different variation.
Yes, of course. And if you look at say the Corsaire in Munich and Yuri Burlaka's Corsaire here at the Bolshoi, you can see that difference and understand everything.
So how do you know which is better, yours or his version of something?
Well, others have to judge. You. The public.
Which public? Does the Russian public appreciate reconstructions or does it prefer new versions
Old balletomanes who looked at Sleeping Beauty all their lives and were always pushing the Sergeyev version, they actually cried when they saw my new "old" version.
I don't know how to look at it. Maybe the original Swan Lake would be a horrible thing
How many reconstructions have you done now?
Beauty, Bayadère, Coppélia, Flore, Petrushka, Carnaval. Fokine wrote that one down in Russian words and I had to decode those words, not notation.
I presume you can only really compare the big classics when it comes to several productions. Which is the fullest notation or record of the three?
Coppélia is very well notated. Bayadère less, there are gaps, particularly in the last act. Beauty is also very well notated.
So there can be places where there is just nothing there - and you have to make a bridge. And that is where the problem is for people liking it?
The trouble is that people think I did it all! It's like Millicent Hodson's Sacre du printemps [a production that claims to restore Nijinsky's notorious 1913 ballet to the stage].
She just did it from photographs and drawings. It's not authentic at all.
Yes, but it looks good on stage. And I envy that she did it so well from such materials. I couldn't do it.
That's what seems so absolutely wrong to me when it is called Nijinsky's Sacre... but again this is the problem precisely. It is all subjective.
Yes. true.
The thing is: in the 20th century choreographers have notated or filmed everything. Balanchine, MacMillan, Forsythe, every single young choreographer has notated even what they did at school! But the genius of Petipa is only remaining in this set of notebooks that Nikolai Sergeyev took. And I would like to think that the world of ballet was so happy to have this treasure that they would say: let us do everything we can to recreate the original great classics, and conserve them, and protect them from change - as in the opera world you have Verdi and Mozart and Wagner preserved - and therefore others must compose completely fresh works. But in ballet, it is like cannibalism. The ballet eats itself, regurgitates itself. And I don't understand why it is not an intellectual problem in the ballet world.
Well, that is the problem. it's how you say a sort of pre-birth trauma. Take Coppélia, for instance - it was first staged by Saint-Léon in 1870. Within 10 years in the Bolshoi, a new director stages it. Then two years later Petipa stages it in St Petersburg, with Cecchetti. And future generations do just the same way.
You think Petipa cannibalised Saint-Léon?
Quite possible. The memoirs of the ballerina Ekaterina Vazem, who danced at the time, said that Saint-Léon was better than Petipa, and Petipa just took the best bits of Saint Léon and combined them into his own version. It's not cannibalism, it's just ballet.
But you have now argued yourself out of a job! Because that means there is no basis, no milestone for authenticity.
No, true. It's a question of how to achieve agreement and trust with the Russian ballet school. About Fullington I don't know. He is not from our school. I don't think he knows the ballet language well enough.
Has the fact that Doug Fullington disagrees with you affected how your work is perceived here?
No.
So that isn't the problem? It's with the very idea that there is a Petipa "Gold Standard".
Yes.
So it wouldn't matter if it was you or anyone else.
Yes.
So it wouldn't matter if in 50 years time the so-called "Petipa" Sleeping Beauty had not one step of Petipa left in it! That is the inevitable consequence.
In the big opera houses, something is likely to remain - at least a couple of variations.
Is that it?
That's how it goes. Look at the Bolshoi Swan Lake, where only three numbers - pas de deux, the small swans and the white adagio, to some extent - are kept from the old one, and the rest is Grigorovich.
So I am unrealistic in imagining it is possible to recreate the Petipa/Ivanov version.
No. It's possible. It's possible.
You're sure?
Yes. Fyodor Lopukhov in 1963 I think recreated the original Swan Lake in the Maly Theatre, and everybody said it was horrible. I don't know how to look at it. Maybe the original would be a horrible thing. I know the original Flora is a nightmare, but it is interesting in that all of a sudden we now understand the repertoire better of that time in the imperial theatre, and why Fokine and Diaghilev seemed revolutionary. I understand now why they killed the Tsar, and why his regime had to go! Seriously, it is interesting.
It is context, isn't it?
Of course, of course. And with Flora it was a miracle, actually, because I could take the whole thing from the paper. And this is repertoire that predated the revolution, that symbolised a pastoral movement in art.
All I can say is I worked honestly and I recreated these creations according to the evidence, and people liked them
So you believe it is possible to reconstruct Swan Lake. But should it be done?
I don't know. If some theatre were interested in it. You can't just go and check it in the Mariinsky music library. Gergiev has forbidden it.
So no more reconstructions at the Mariinsky?
They don't need my services any more.
And their director Yuri Fateyev?
He says they're out of date.
He told me that too. So what will happen to those productions?
They took them out of repertoire.
Can you give those productions to another company?
Maybe. I have to discuss it. It all belongs to the Mariinsky. Their coaches, their dancers, their size of company. Even in Moscow there are difficulties in the differences in their school. I spent two months trying to get them to dance as close to fifth position as possible - because I don't know what position they use.
So what constructions would you like to do now?
Many are possible.
There are 24 ballets notated.
Well, it probably isn't possible to stage all 24 ballets, but there is a big, big problem. If you do it too often, and if you dance only from reconstructions, they will kill the Tsar again! It is very specialist dancing, and it should be given only as a speciality, like the cherry on the cake.
So there should be no equivalent of the Balanchine Trust to protect the Petipa classics.
No, it all belongs to the common heritage of Russian ballet.
Who can read the Stepanov there?
This is important. I can open the book and decode the steps and set the choreography on its music. And then work with the ballerinas. But maybe one can only do that twice in rehearsal - you don't have the musical details and you have to rely on your own sense a lot. And when it comes to the stage I can't actually control how it is danced. Like in London the Aurora variation in Coppélia. You will have notation of double ronds de jambe, but instead she'll do jeté par terre, which is easier than double ronds de jambe. But it's my job to deal with that.
So there's no hope of an "authentic" movement becoming the basis of dance teaching.
Some of us hope that when we recreate these productions we will put them on video and on record in our library. Spectactors may be interested to come and see.
So your reconstructions are filmed?
Nothing. They are not filmed yet. Gergiev didn't record anything. Nothing is recorded.
Are any of the dancers you've worked with intereted in this idea?
When I was doing Bayadère, Andrian Fadeyev became interested in it. His coach was Yuri Fateyev. I asked him if he was interested, he said, very much indeed. Now I say to him, Yuri, you were interested in this then? He says, Yes, but I changed my mind.
What is the role now that British productions played in your work? Were they helpful?
Very helpful, very helpful. I started to understand that these notations are not false, that they tell the truth. The roots lie everywhere. You have just the same in your productions in London that are written in the notebooks or the old productions in Perm for instance - and when I found that it was like a miracle. I realised you couldn't discount these Sergeyev notations.
(Pictured left, the Royal Ballet's Coppelia: Roberta Marquez and Luke Heydon)
Aren't the Americans interested in reconstructions?
No, they want to stage them themselves, and get royalties for it. When ABT staged Sleeping Beauty, they just put 10 videos side by side and took bits from each. And then they put a price on it. That's how productions are made everywhere.
What about the ballerinas? Do they resist changing their dance style?
When you have a wise and witty ballerina who enjoys playing with her skills and period styles, you have no problem
When you have a wise and witty ballerina who enjoys playing with her skills and period styles, you have no problem. When you have a stupid girl who keeps running back to her coach, then yes, you have problems.
I just feel so sad! I thought this was the only hope for ballet, to understand different period and different style!
Yes, yes, yes. But they're not well educated here. Opera is full of much better educated people than the ballet world, more is the pity.
Abroad, we were fascinated by these reconstructions of Bayadère and Beauty - it seemed like a real new move of much interest in Russian ballet.
Yes. That's how it felt. I lost the battle - but I haven't lost the war. Because they've opened the door. We have studied these old texts now. You can forbid them now, but it's now in history that we opened the door. I don't know how future generations will feel, but people will know that using those Harvard notations we could make very interesting productions. These productions used to be alive once. It's like seeing someone old and withered who you knew must have been young and beautiful once. You need new minds on the classics now.
Below: a YouTube tribute to Sergei Vikharev produced by DarkDancer06, including the finale of his now lost reconstruction of Sleeping Beauty