Reissue CDs Weekly: The Doors |

reviews, news & interviews
Reissue CDs Weekly: The Doors
Reissue CDs Weekly: The Doors
Jim Morrison and Co's confusing visual legacy suffers from lack of upgrades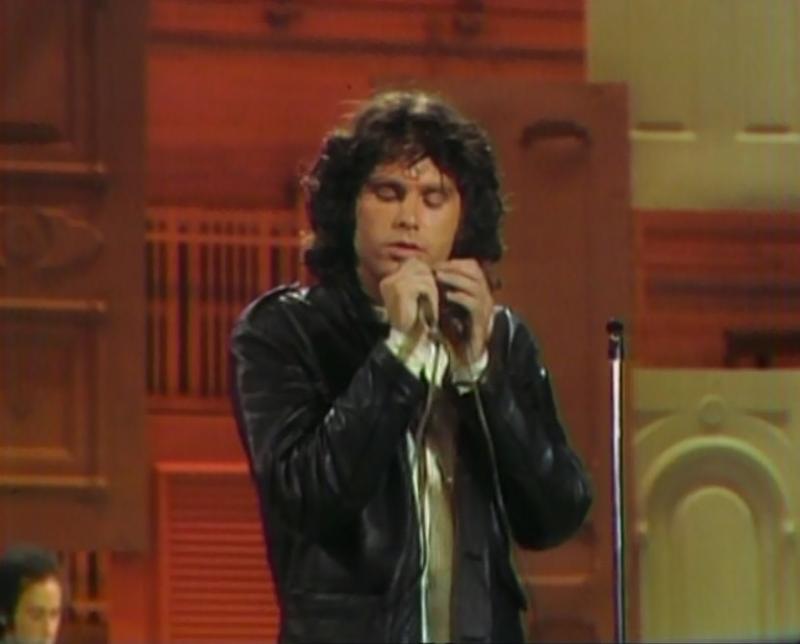 The Doors perform 'Light my Fire' in front of household doors on the 'Ed Sullivan Show' in one of rock's most breath-taking moments of live TV
Fat cigar at hand, Jim Morrison is pondering the future of music. "Maybe it might rely heavily on electronics, tapes," he says. "I can envision maybe one person with a lot of machines, tapes and electronic set ups, singing or speaking and using machines." When that prediction was first broadcast in late June 1969, what he described may have seemed outlandish but it came to pass.
He can't be held responsible for Howard Jones, but whole genres of music evolved which revolved around solo artists utilising, indeed, machines, tapes and electronic set ups.
However, at that moment, it's unlikely many viewers were bothered about the uncanny prescience of The Doors' frontman. Other aspects of his persona were more notable. At the beginning of March 1969, after a concert in Miami, he was charged with "lewd and lascivious behaviour in public by exposing his private parts and by simulating masturbation and oral copulation." He was also pulled up for drunkenness and profanity. A month later, the FBI arrested him in Los Angeles for flight from one state to another to evade the Miami charges. As a result, live shows were put on hold. The TV programme, an episode in the PBS series Critique titled A Profile of Jim Morrison and The Doors: On and Off Stage, was their only opportunity to widely showcase the songs from their forthcoming album The Soft Parade.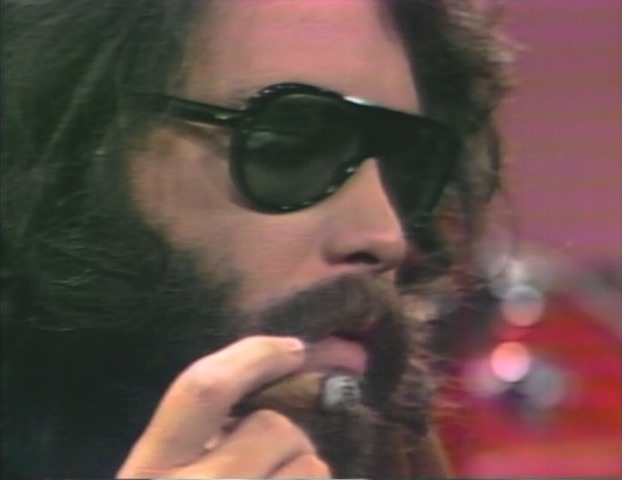 For the historic Critique appearance, filmed on 28 and 29 April 1969, the heavily bearded, sunglasses-sporting Morrison (pictured right) was reflective – he also ponders the psychedelic era's hot topic of the rock singer as shaman. The full programme needs to be seen complete with its six songs and interview uncut. However, the newly reissued DVD The Soft Parade, the ostensible spine of which is this programme, features only two songs from Critique and a couple of sections plucked from the interview. Worse, random visuals are inserted into or overlain over the performances, detracting from the impact of the band in full flow. Crazily, the unadulterated programme can be seen on YouTube.
Elsewhere, the DVD collects a grab-bag of late-Sixties TV and film clips – mostly not seen in full: Morrison's encounter with a pastor from their Feast of Friends film, miming for German TV in September 1968 to "Hello I Love you"; snippets from the 1968 UK Granada documentary The Doors are Open; the promo film for "The Unknown Soldier". Despite the DVD's title, none of these have anything to do with the album The Soft Parade.
The cobbled-together The Soft Parade first surfaced as a VHS tape in 1991 and this reissue appears to be drawn from the same master, with no visual upgrade. The Critique extracts were blurry and murky then, and still are. While all the raw source material is essential and fantastic, it is impossible to escape the impression that whoever originally compiled and edited this mess did not think The Doors on their own were enough. Seeing one of America's greatest and most perverse rock bands doing their thing is enough. Watching The Soft Parade is deeply frustrating.
The Soft Parade is accompanied into the shops by another reissued DVD. Dance on Fire was also originally released on VHS in 1985. Again, it has made the journey to this new DVD edition as it was and with no upgrade. Another haphazard collection of frequently arresting TV and film appearances, it includes the 17 September 1967 Ed Sullivan Show "Light my Fire", amongst rock's most breath-taking moments of live TV during which the band perform before an unironic backdrop of household doors, the evocative promo film for debut single "Break on Through" and the wondrous 6 December 1968 Smothers Brothers Show rendition of "Touch me" (pictured left). But Dance on Fire suffers from the same afflictions as The Soft Parade. Chronological order is lacking, there is no annotation detailing sources, restoration has not been undertaken, clips are ruined by the insertion of arbitrary visuals, home-movie filler and clunky link pieces.
Amongst the clips on Dance on Fire is a ripping live "The End", filmed at Hollywood Bowl in July 1968. This concert has also previously been around the houses as Live at the Hollywood Bowl and is concurrently reissued on DVD with, again, no aural or visual upgrade.
These three releases are part of similarly messy wider picture. A lot more Doors material is available on DVD, including The Doors are Open, a September 1968 in-studio performance for Danish TV (snippets are seen on The Soft Parade, whole songs are filleted for Dance on Fire) and Feast of Friends. Considering the attention lavished on their aural archives, these reissues – though fine when originally released – are not good enough.
The Doors camp needs to get a grip, go back to all the source material, collect new things which have surfaced, scour archives, undertake the necessary restoration and upgrades, and then collect it all on one properly annotated and presented release. For now, though, watch these curate's eggs judiciously.
These three releases are part of similarly messy wider picture and the Doors camp needs to get a grip
Explore topics
Share this article