Sand in the Sandwiches, Theatre Royal, Haymarket review - delightful but sanitised
Sand in the Sandwiches, Theatre Royal, Haymarket review - delightful but sanitised
Hugh Whitemore's skilful highlights reel over-eggs a complex poet's charm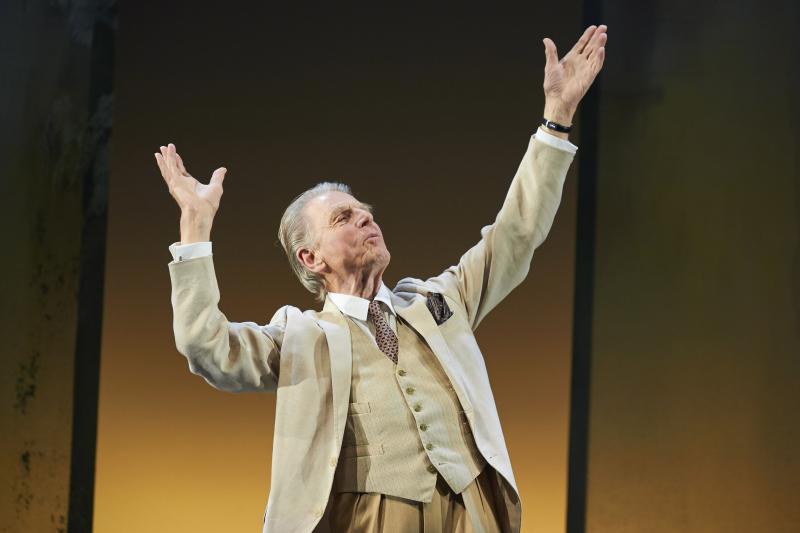 Edward Fox: bravura performance of a slightly twee role
Bard of Metroland and scourge of Slough, John Betjeman is, alongside Philip Larkin on parenthood, still one of the 20th century's most-quoted poets. Hugh Whitemore's play, part highlights reading and part biographical drama, offers a hugely charming account of a poet who, for many readers, epitomises a nostalgic but conflicted view of England.
While the bonhomous atmosphere, similar to a Tony Benn or Alan Bennett diary reading, is part of the appeal, Whitemore focuses too much on the whimsy, and too little on the lust and vanity, creating an ever-so-slightly sanitised portrait.
As Betjeman, Edward Fox is a tour de force. A solo show, which includes substantial sections of poetry reading, with little respite for so much as a walk across the stage, this is a peculiarly intense role, and Fox carries it off with aplomb. He's particularly good at Betjeman's gleeful, toothy grin. Fox can't help looking much leaner and healthier than Betjeman was in later years; my only slight quibble was with the enunciation, which occasionally quavered to such a dizzy pitch that the sense was smothered. Yet an audience studded with theatrical glitterati gave Fox a well-deserved ovation.
Whitemore's selection of telling detail is superb
Set and costume are simple and impressionistic: this is a show about speech and imagery. Fox wears a young beau's linen in the first act, and an architecture critic's grey suit in the second. Otherwise, the bench Fox sits on is probably (since he's drinking Mâcon-Villages throughout) in his garden, but it could be in a churchyard, or one of the parks of Metroland, and the leaves with which the stage is strewn evoke the sense of good times fading that pervades both the poet's own life and the England he depicts.
Whitemore's script moves deftly between quotation and biographical narration, so much so that audience members without a detailed knowledge of the Betjeman oeuvre may not always know where one finishes and the other starts. No matter, however; the collage is an agreeable one, and the narration captures the poet's whimsical and apparently self-deprecating style convincingly. In many cases, Whitemore's selection of telling detail is superb. Betjeman's resentful relationship with his disapproving father is outlined in a few perfectly weighted lines, while his trepidatious dealings with women, a source of such delight and anguish for him, are allowed more space.
The title refers to Betjeman's reminiscence of one of his happiest moments, on holiday in Cornwall as a child (and where he later lived and is buried), and this familiar and nostalgic image of the poet is what we largely focus on. In less than two hours on stage we cover his entire life, so coverage of some parts of his life is inevitably a little sketchy, but there's a clear bias towards the formative experiences of the poet's youth. Some of these - Cornwall, family and various early infatuations - became crucial subject matter, yet others seem to be little more than floral wallpaper.
Betjeman's social and intellectual baggage of church architecture and high society has dated fast
There's a substantial (and in fairness, amusing) section on Betjeman's early twenties, when he was (improbably and incompetently) teaching in a prep school, having been sent down from Oxford; but little of lasting importance occurred then. By contrast, once he had become a published poet in the 1930s, he had a colourful social life involving some of society's best-connected Bohemians, which we hear almost nothing about. This raises suspicions that this production - with a tour planned through the leafiest of shires - is aimed at confirming the poet's cuddly and nostalgic image. Indeed, the production's press refers to Betjeman's "light verse", but there's much more to both his work and life than this.
In particular, there is a certain holding-of-the-nose about his sex life (the insufficiency of which was Betjeman's final regret). Though we do hear part of his wife Penelope's angry letter, from 1956, issuing an ultimatum to him (which neither he nor she acted upon) to give up his London flat and "Cavendish entanglements", such fragrant euphemisms don't convey the tumultuousness of his marriage, or voracity of his desires. His long-standing relationship with Lady Elizabeth Cavendish gets only the most glancing of mentions, while another affair, with Margie Geddes, (revealed by Geddes' son in 2007) was touched upon even more subtly.
Unfortunately for Betjeman, his social and intellectual baggage of church architecture and high society has dated fast, even though his best poetry has those timeless qualities of fear, love, humour and sadness aplenty. He needs a show that brings out his adult qualities; Sand in the Sandwiches, for all its charm, confirms his position, unfairly for him and unfortunately for poetry, as the nation's teddy bear.