theartsdesk on Vinyl 27: Spoon, Hauschka, Emerson, Lake & Palmer and more |

reviews, news & interviews
theartsdesk on Vinyl 27: Spoon, Hauschka, Emerson, Lake & Palmer and more
theartsdesk on Vinyl 27: Spoon, Hauschka, Emerson, Lake & Palmer and more
The most diverse record reviews out there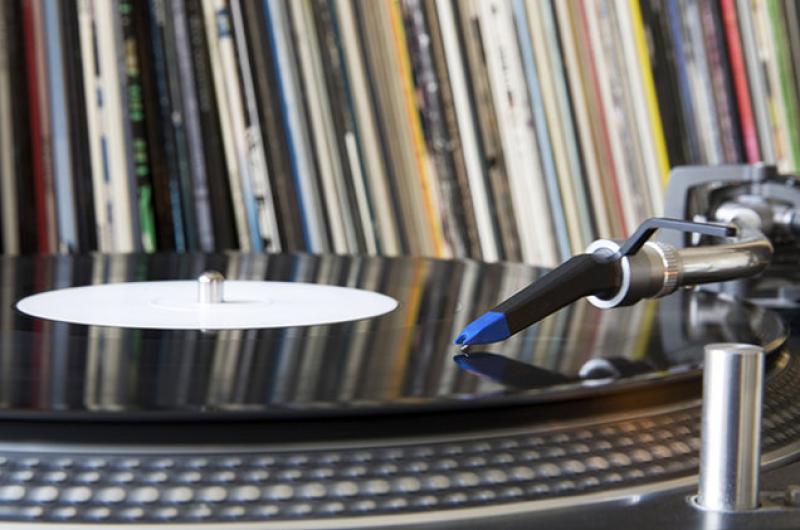 Time to hit the deck
Despite vinyl's return to popularity, there has yet to be a realization by most users of the measures needed to keep their records and their kit clean. Cue the old Danish company AM relaunching their kits to do just that.
Despite vinyl's return to popularity, there has yet to be a realization by most users of the measures needed to keep their records and their kit clean. Cue the old Danish company AM relaunching their kits to do just that. They
have waited around long enough for the revival and are offering wipes, anti-static cloths and brushes, cleaning fluid, etc, all that stuff your dad – or, more likely, your grandad – used to have to keep his home hi-fi set-up showy. Some of the music we cover on theartsdesk on Vinyl is as old as that too, for we have no temporal boundaries, but mostly we review brand new sounds cut to plastic, ready to make the speakers rattle. Dig in…
VINYL OF THE MONTH
Hauschka What If (City Slang)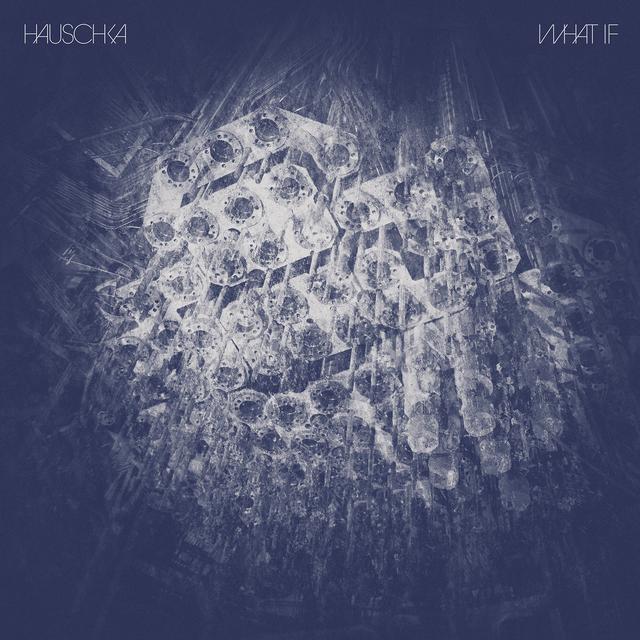 German musician Volker Bertelmann – Hauschka – appears to be currently rising to a career peak. His soundtrack work on the recent Dev Patel/Rooney Mara-starring Lion saw him nominated for an Oscar, a BAFTA and a Golden Globe and his new album is, for this writer, his best work. Hauschka has slowly built a reputation over the last decade in the terrain where post-rock meets avant-classical, working with a who's who of names from that area. His MO is treated piano, touched up with glitch-electronics, and, while he's pushed at the envelope of what musical performance can be, on record, I've sometimes found an emotional shortfall or a quietitude that fails to fully engage. No longer. What If, using a couple of old analogue synths beside his piano treatments, places melodic ideas into a looping framework that ebbs and flows, gradually winning the listener into a soundscape that's beautiful. It's gorgeously accessible, by Hauschka's standards, and deserves any acclaim that comes its way.
Various Back on the Streets Again: Australian Funk, Soul and Psyche (Mostly) From the Festival Vaults (Festival) + Various Running the Voodoo Down: Explorations in Psychrockfunksouljazz 1967-80 (Festival)
A couple of tasty compilations from one of Australia's biggest labels, an imprint long in the hands of the Murdoch dynasty (until they sold it to Warner Music Australia in 2006). One of these sets makes fine use of back catalogue material while the other is a winner for concept and licensing choices. Back on the Streets Again collates a broad range of Aussie funk and associated lighter and heavier music, running the gamut from a rather lame Stevie Wonder cover to the truly Curtis Mayfield-like funk of Billy Thorpe, from the semi-lounge cinematic orchestrations of the Festival Studio 24 Orchestra to the Funkadelic-meets-Janis Joplin moves of long lost heavy squad McPhee to the progressive lysergic rock of Count Copernicus & the Cosmic Fire. Comes on double vinyl in a gatefold filled with historical detail. Running the Voodoo Down, on the other hand has no liner notes on its gatefold sleeve, only a wildly psychedelic image. The cover is also on a large enclosed poster and the vinyl is fantastically coloured, two explosions of pantone aquamarine green and navy-purple.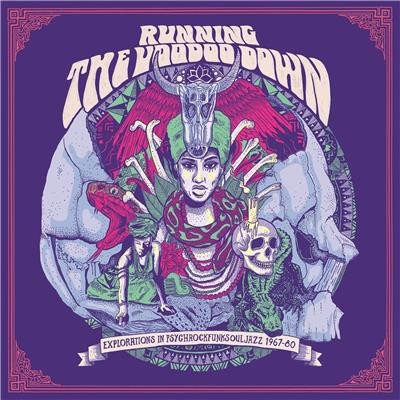 The contents chart the love affair that jazz had with rock music under the influence of LSD and countercultural politics as the Sixties turned into the Seventies. Which is to say you'll find HEAVY funk, weighted down in a thousand chillums' worth of Afghani hash, run through the consciousness of James Brown, Miles Davis, Santana, Funkadelic and Buddy Miles, as well as a 1969 jam between Jimi Hendrix and Last Poet proto-rapper Lightnin' Rod on the mic. There are also lesser known acts such as Motown psychedelic experiment The Undisputed Truth and George Clinton associate Eddie Hazel, contributing spun-out versions of "Like a Rolling Stone" and "California Dreamin'", respectively. All in all, more wah-wah than you can shake a stick at, and absolutely drowning in fuggy, druggy sounds that stick it to the Man. So a must.
Moscoman Judah's Lion EP (Treisar)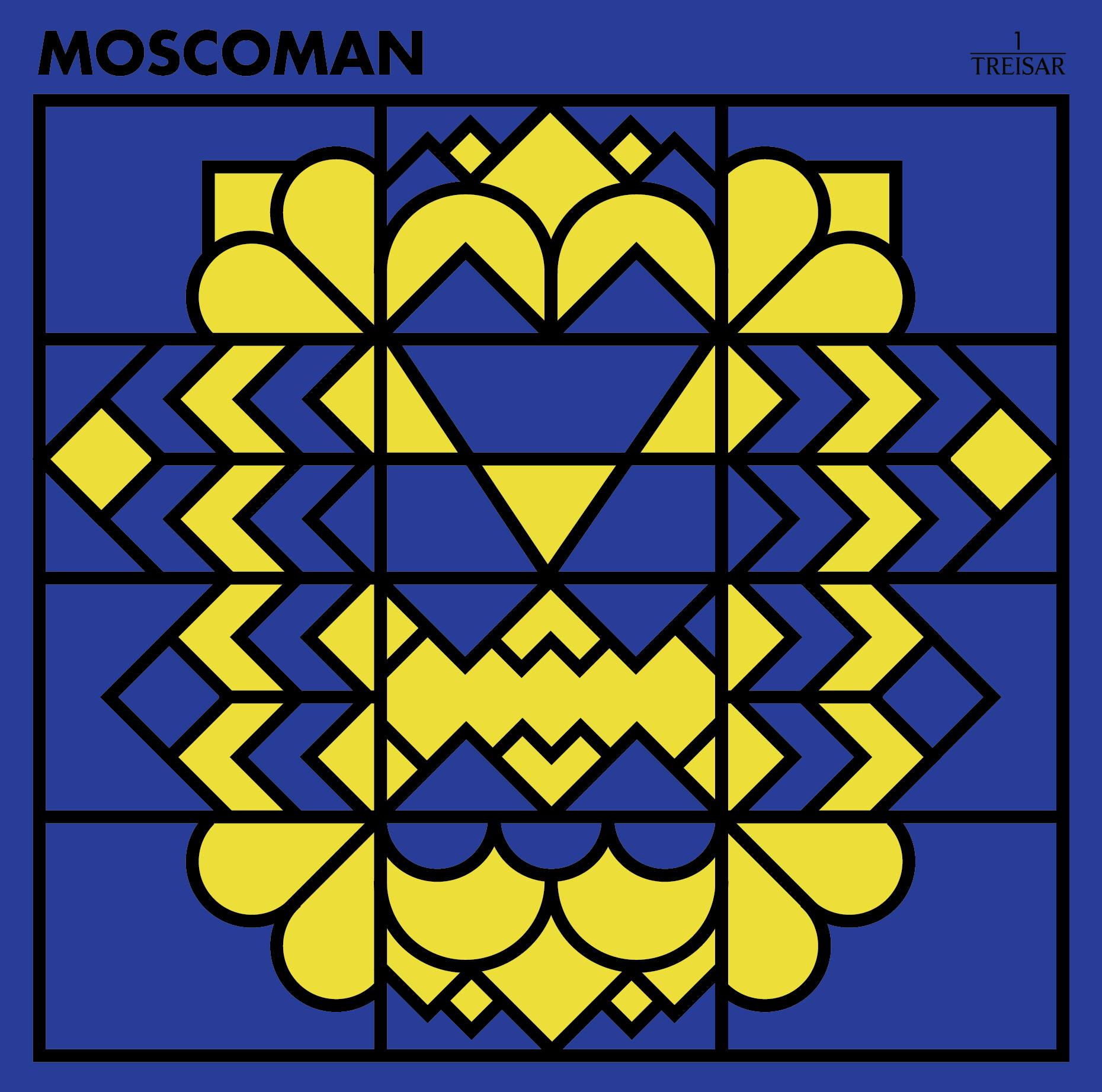 Some electronic dance producers make music that's simply aimed at DJs, characterless tools that work a floor. Others make tunes that stick about in the brain. Berlin-based Israeli Chen Moscovici falls into the latter category. Releases on Eskimo, I'm A Cliché, Correspondant [sic] and his own Disco Halal, have proved him to be an eclectic producer, willing try new styles, speeds and flavours, from synth-pop to the Middle Eastern touches on his remix of "Imarhan" by Imarhan. The Judah's Lion EP is the first in a series of twelve on new label Treisar (12 in Hebrew), to be released during 2017. Not sure how the schedule is going as this is the first one, so presumably January's. Its contents are persuasive. Lead cut "Dalmar Arbon in the Club" is insidious in the best way, a high-pitched voice waffling unintelligibly, like Gonzo off The Muppets having an episode of some kind, over twisting, revolving tech patterns, while flip-side "A Saint And A Sinner" [Sic] is a warmly tuneful, easy-paced Euro-disco-house head-nodder. Makes me want the other 11…
Spoon Hot Thoughts (Matador)
Talk about late developers. Like Flaming Lips before them, Texan band Spoon have gradually assimilated their edgier influences into a sound that's both catchy and accessible, yet they've done so without losing their sense of adventure. Hot Thoughts has "HUGE" written all over it, and has been their most successful album in a nigh-on 25 year career. It sounds like a career-defining album. Riding around on fluid basslines, with an electro-funk elasticity to its production, and injections of guitar attack where necessary, it comes on like an amalgam of The Cars, The Killers and early Mark Ronson, yet with none of the off-putting slickness of those reference points. Coming in a lyric inner sleeve, it's not one that's vital to own on vinyl, but it may turn out to be one of the year's most more-ish pop albums.
Emerson, Lake & Palmer Works Volume 1 + Works Volume 2 + Love Beach (BMG)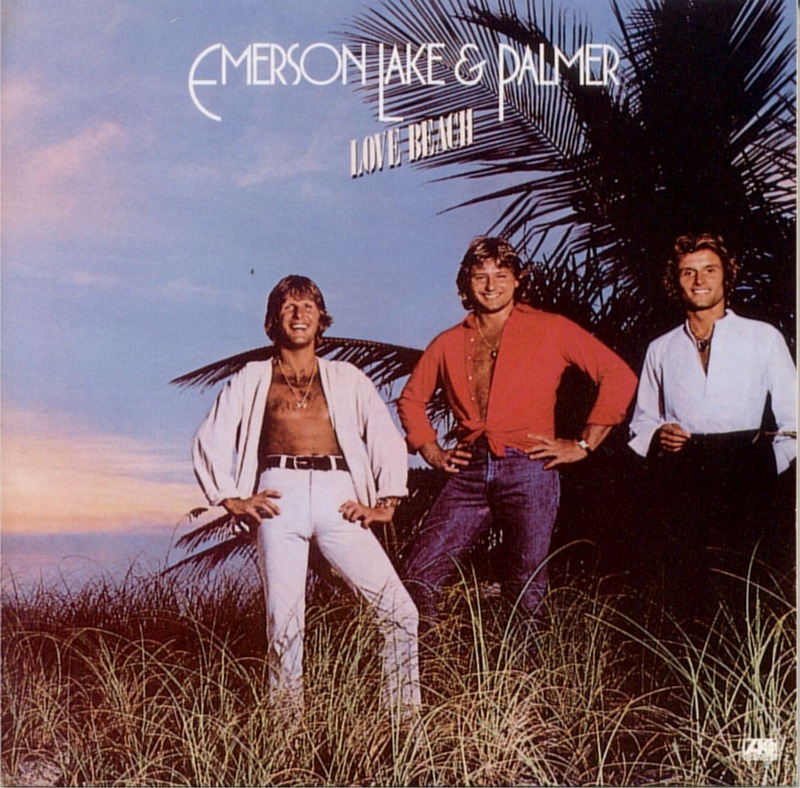 While I've never been a fan of ELP, it was sad news last year when Keith Emerson committed suicide, possibly, it's been suggested, due to depression over the way arthritis was affecting his ability to play. Greg Lake also passed away last year, from cancer, just as December was gearing up to repeatedly feature his deathless seasonal hit "I Believe in Father Christmas" (present on Works 2). These three reissues are dedicated to their memory. In fact, all three came out as punk was going on and Works 1 (1977) represents a high water mark of the kind of pretentiousness that sent the likes of Johnny Rotten into a snarling fury. Emerson's "Piano Concerto No 1" performed with the London Philharmonic Orchestra opens Works 1, across the whole of side one, and it says everything about the band's idea of themselves. It's not a piece of music I can get along with. Greg Lake and Carl Palmer also take a side each, and then the trio conjoin for the final side. Works 1 comes on double vinyl in triple gatefold with info inner sleeves and extensive notes. Works 2 (also '77), in a photo/info inner sleeve, is much more fun, and, as well as that Yuletide hit, includes the likes of speakeasy jazz explosion "Barrelhouse Shake-Down", a speeding orchestral assault on Scott Joplin's "Maple Leaf Rag" and an equally Dixieland-tastic crack at "Honkytonk Train Blues". All in all it's a far cry from what most of us know of ELP and is really rather likeable. The same cannot be said of Love Beach (1978). From its inner sleeve, with the three musicians open-shirted, tanned and rich, up to their waists in a tropical sea, to the contents, a horrific attempt at late period Eagles-style yacht rock-pop, it's best left well alone. Works 2, then, is the pick of this lot, by a distance.
L Pierre 1948- (Melodic)
A conceptually brilliant release from Aidan Moffat, occasional sparring partner of Malcolm Middleton in Arab Strap. In a superb Situationist art statement – and, please, boring majority musicians, can we have more of this sort of thing? – Moffat puts his L Pierre moniker to bed with a completely sleeveless album ("I don't want a pristine, digital document that could last forever," he says, "I want the music left to the elements, I want it to live and scar, with each record's acquired crackles, pops and scratches making them unique and identifiable to their owners"). It's entirely sampled from the first 33 1/3 rpm vinyl album, Nathan Milstein and the New York Philharmonic's 1948 recording of Mendelssohn's Violin Concerto, and has a locked groove at the end so "the album won't stop until the listener decides it should". It is, of course, a comment on the death of the album as a format. As a listening experience, some of it is intriguing, especially the haunted, electronically smudged opening to "Part 1" (there are no track titles), but as a work of art, it's an act of Duchampian near-genius and should be celebrated as such.
Mental Overdrive Hardware (Ploink)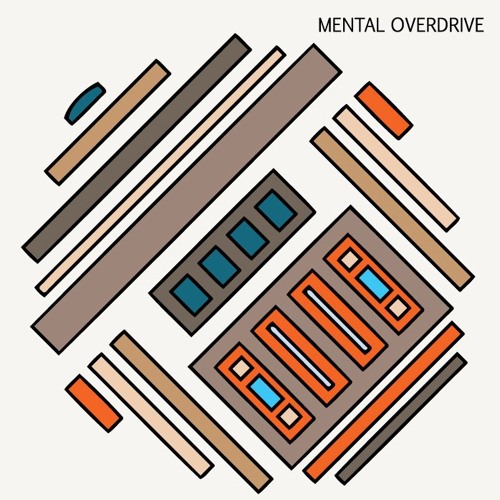 There was a time – let's call it the Nineties – when techno was techno, when it was fuck-off dance music to take you through the night, the punk side of rave culture. The matter later became confused with sub-genres (tech-house, minimal, blah blah) which licensed any butter-soft DJ prick who played feeble 125 BPM sparse instrumental house to claim the genre as theirs. Thankfully, this is changing. Someone who's always known what techno was is Norwegian electronic music don Per Martinsen, whose heritage goes right back to the R&S glory days, before all the fucking trainspotters got involved. He has created many techno greats, with 2008's You Are Being Manipulated perhaps his unheralded masterpiece. Hardware comes out of the traps with its eyes open and its robot fists up, whether on boshers such as "Descent" or starker turns such as the whooshing "In Flight", or the dark attack of "Swagger". It's not messing, it's techno on four sides of vinyl. Slap it on and dance to it.
Tom Hickox Monsters in the Deep (Family Tree)
Third album from Brit singer-songwriter who made waves a few years ago with some TV ad hook-ups, but he's welcome on theartsdesk on Vinyl as he write lyrics with substance. He understands, like the best songwriters, that universal truths are best relayed via emphasis on the particular, rather than the current trend for nebulous generalizations that hope to catch the widest audience possible. His voice is atypical, a rich tone that can quaver when required but is equally capable of poetic Len Cohen-esque authority. The music ranges from burlesque rockers such as "The Fanfare" to the waltzing pop of the title track and the gently brass-fuelled storytelling songwriting of "Korean Girl in a Waiting Room". With its hat subtly dipped towards pre-rock'n'roll songwriting, it exudes more alluring, genuine and varied emotion than the post-James Blake, post-Ed Sheeran brigade. Comes in lyric/photo inner sleeve.
75 Dollar Bill Wood/Metal/Plastic/Pattern/Rhythm/Rock (tak:til)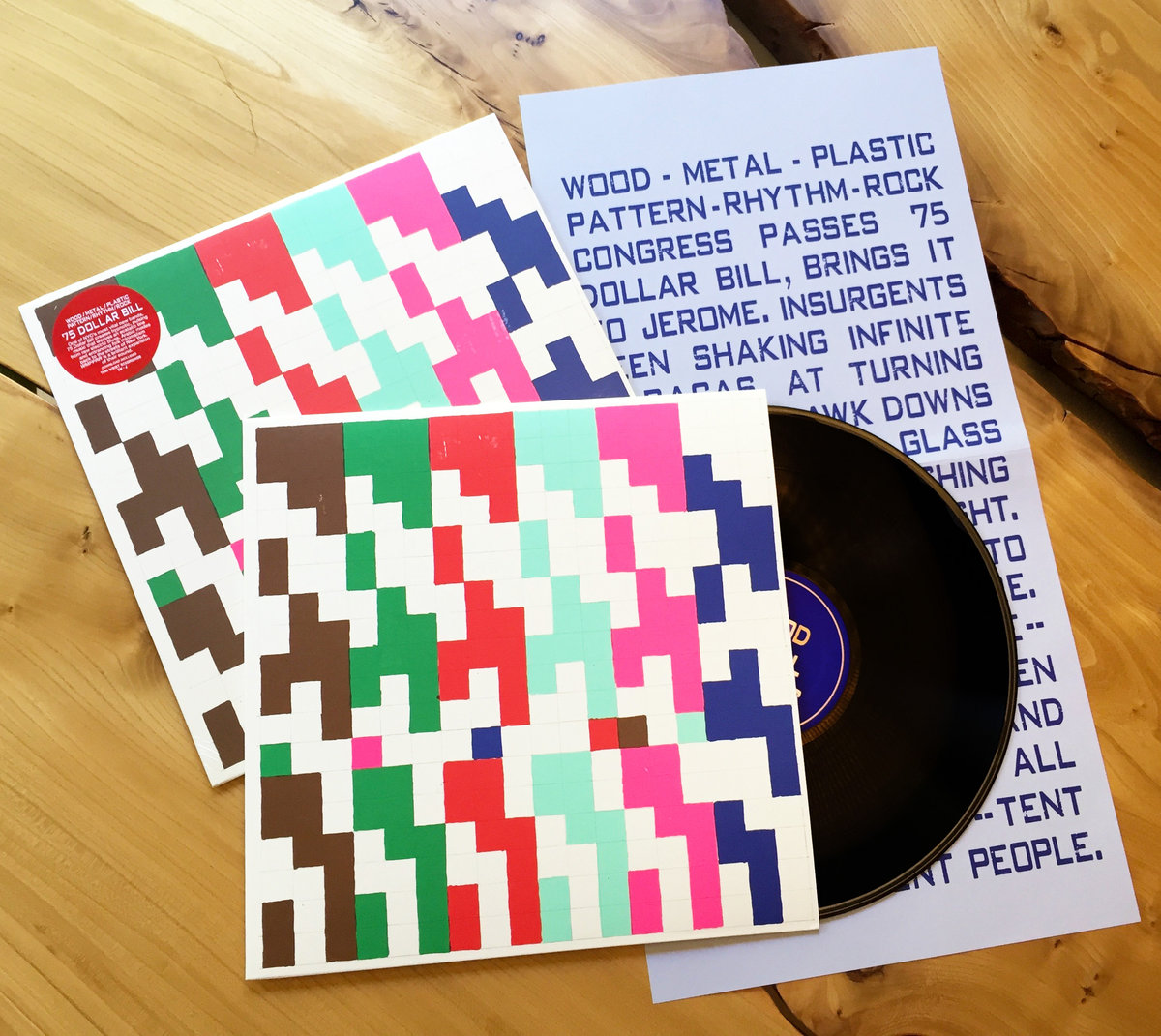 Sir John of Peel, patron saint of a number of generations of music-lovers, once said something to the effect that he didn't have to like music to play it on his radio show, in fact he could actually not especially enjoy it, as long as it was interesting, original, doing something different. Thus it is with this release by New York duo 75 Dollar Bill. I don't currently understand it but I'm working on it. It appears to be the guitar equivalent of DJ tool minimal techno. The four tracks consist of Middle Eastern-sounding drones played on rock guitar, cycling endlessly round and round with little change. It's not quite hypnotic but it doesn't sound like anything else I can think of. The crux of the dilemma; it's either Emperor's New Clothes tosh or next week I'll be in love with it. Comes with a 12" x 24" wordy print.
Samuel Rohrer Range of Regularity (Arjunamusic)
The one to buy this for is "War on Consciousness", which takes over the whole of side C of this double set. Samuel Rohrer is a Swiss jazz percussionist who has seen the potential in working in the world of abstract, minimalist electronic music. He has put out a wide range of music over the last decade and, while sides A and B, are more for head-nodding ambience and cerebral sound deconstruction, "War on Consciousness" takes the listener on an echoing, spaced out journey that could be onto the trance dancefloor but needn't be. It's psychedelic in its true head-wibbling sense (rather than meaning that it sounds like something from the late 1960s). The final side is also well worth dropping the needle onto, another hypno outing that won't quit. Ricardo Villalobos is going to remix some of this album for future release, which makes sense as it's very much in that down-the-K-hole terrain. Unique, fascinating and mind-invigorating.
Goose What You Need (Believe/Safari)
A decade-and-a-half ago, appearing out of Belgium around the same time as Soulwax and signed to the then-unstoppable Skint, Goose were one of electronic dance music's most likely to, a band who played techno-styled pop-rock, with the emphasis firmly on dancefloor bosh-bosh-bosh. Their appeal, however, did not explode internationally and, while they remain stars in Belgium (this album was a chart-topper there) their UK profile is minimal. However, arriving on cadmium red vinyl (ie, veering on pink) in picture/details gatefold with lyric/photo inner sleeve, their fourth album sounds like a festival-headlining band. The songs are there, boasting an Eighties electro-pop sound midway between Talk Talk, Ultravox and A-Ha, which comes to the fore on cuts such as "Trip", "Where Are We Now?", and the instrumental "Nightfall". Make no mistake, it's Euro-pop unafraid of veering into the cheese zone, but it does what it does with commitment and tunefulnes
The Hot 8 Brass Band On The Spot (Tru Thoughts) + Quantic & Nidia Góngora Curao (Tru Thought)
A delicious double bill of releases from Brighton's Tru Thoughts label. Keith Richards famously commented that recent music's problem is that it's all rock and no roll. On The Spot indicates this is because New Orleans' Hot 8 Brass Band stole it all. Emanating vast bounce, they roll hither and thither with jazz-funkin' abandon on a double album on transparent vinyl bespattered with flowery pastel streaks, and a 12" x 12" art/details card insert. Full of whoops and encouraging shouts, billowing about joyfully in the mix, it ranges from rousing covers, such as Louis Armstrong standard "St James Infirmary" or Sade's "The Sweetest Taboo", to originals, jammed with party sass, that are, if anything, even more of a blast. Next on the Tru Thoughts schedule of upbeat sounds is globe-trotter Quantic's latest tropical adventure. This time he's hooked up with his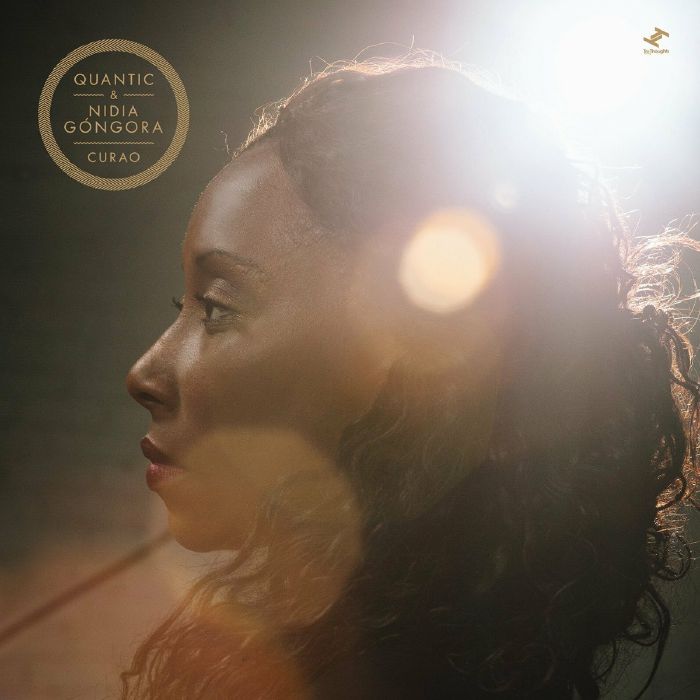 Combo Bárbaro buddy Nidia Góngora to peruse the music of her home village of Timbiquí, and the surrounding southern coastal region. Coming on double in gatefold inner sleeve, with pic discs in blue-blobbed red and limey yellow, the idea is a fusion with electronics but there's a real organic feel amongst the percussion, even if it is thrust forward in the mix by synthetic bass and drums. Sure, a track such as "Que Me Duelle?" blooms into ravey keys at one point and "Ojos Vicheros" has deliberately intrusive programmed backing, but the majority of this music brings Columbia closer to most UK listeners rather than diluting it. Both releases showcase a label that is, once again, going from strength to strength.
Various Tropical Drums of Deutschland Compiled by Jan Schulte (Music for Dreams)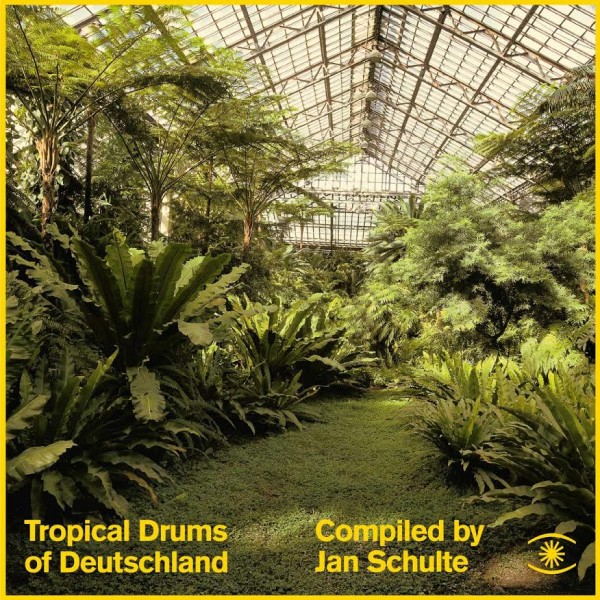 Dusseldorf club night Salon Des Amateurs prides itself on an uber-eclectic anything-goes approach. One of the residents is Jan Schulte, who also goes under the name Wolf Müller (and also records as Bufiman). His new compilation gathers together a selection of micro-releases, mostly from the 1980s, by German musicians, usually in the new age sphere, each seeking to evoke some version of sunlit percussive paradise, sometimes replete with parrot calls and so forth. Schulte has done a couple of edits but mostly these are originals and, while some of it is unsurpisingly noodly, given its origins, there are sparse drum cuts that have power, such as the African chant-led "Sounouh" by Sanza, the kitsch lo-fi "Akili Mali" by Ralf Nowy and Schulte's own electro-palpitating mix of TCP's "At the Waterhole".
Pins Bad Thing EP (Haus of Pins)
The new EP from the Mancunian all-girl outfit shows them moving toward a catchier, buzzier bubblegum sound. Gone are their original indie-Velvets affectations and their more recent Breeders-lite guitar sound. From the cover onwards, this five-tracker is bright, precise and full of pop aspiration. Their mate Iggy Pop appears, chatting, on "Aggrophobe", but it's songs such as stompy, glam A1 cut a "Bad Thing" and the loosely ska-riffing shout-along "All Hail" that'll put them on the radio, meanwhile the moody synth-pop of "In Nightmares" and the New Order-ish "Dead Souls" maintain their contact with their musical past. A limited edition 500 run in cadmium red vinyl (a popular shade this month, it seems), this is a band on sparkling, brash pop form, more Runaways than Raincoats.
ALSO WORTHY OF MENTION
Telepathy Tempest (Golden Antenna): Telepathy are basically Mogwai or Explosions in the Sky for metalheads. By which I mean they play a proggy but tight, tough, and exploratory instrumental version of their chosen genre. On double vinyl in black'n'white art gatefold, the second album from this half-Polish quartet from Colchester is epic in scope, classical in construction, but weighted very much in chugging, titanic bass-end riffs that are pure sludge. The Black Sabbath minor key groan of it all is very much present, but the music then wanders off on journeys that make the band less easy to categorize. A thudding, invigorating, relentless racket.
Various DJ Marky: Influences Volume 2 (BBE): BBE offers up a second cross-section of Brazilian drum & bass master DJ Marky's formative influences. Unusually for a BBE compilation, the selection does not focus on one area but offers a chronological overview of Marco Silva's journey to the clubland sound that made him drum & bass's man-of-the-moment as the 20th Century became the 21st. With two cuts per side on double disc in gatefold, it closes with Chicago pop-house producer Maurice Joshua's breakthrough track "This Is Acid" and Origin Unknown's early drum & bass blueprint "Truly One", but it starts back in the disco-soul era with Clyde Alexander and Esther Williams. In between, there's a corking side of Latin cuts, including The Manuel Azevedo Quartet's storming percussive dance assault, "Futebol De Bar". A juicy one to cherry pick.
Arca Arca (XL): Arca – AKA Venezuelan producer Alejandro Ghersi – exists on the Venn graph crossover between the super-rich and the bearded hipster brigade, so a hyper-trendy, underground Mark Ronson. This makes him sound deeply unlikeable, which is unfair. He may live in Dalston and be a collaborator with FKA Twigs and Kelela (and Bjork and Kanye West) but let's not consign him to the quantum hole of sucky, media-age, ultra-zeitgeist quite yet. His third album is a squidgy, backwards-recorded glitch concoction of abject, gothy electronica over which he choirboys in mournful falsetto. It is original and often intriguing, like ANOHNI mixing it up with Gazelle Twin. The sleeve is covered in unreadable scribbles that meant it took a while to work out who it was even by, while the gatefold contains a blurred photo of someone in wrecked fishnets scratching their arse. Comes with a 12" x 12" eight page booklet containing fleshy abstract photos and lyrics, again written incomprehensibly. The effect of such wilful avant-garde-ism is tempered by the knowledge he may not care if it sells anyway, because he's minted.
Andrew Combs Canyons of My Mind (Loose Music): Suspiciously good-looking Nashville-based Texan singer Andrew Combs fires out his third album and, as with previous outings, he efficiently rides the high wire between heartfelt country-rockin' singer-songwriter fare and American mainstream radio friendliness. His music is often punched up a notch by the imaginative use of piano (especially on opener "Heart of Wonder"). Songs such as "Blood Hunters" and "Sleepwalker" have a widescreen post-grunge FM rock heft and an easy, shuffling groove, respectively, but, then again, there's schmaltzy easy listening stuff here too, like "Silk Flowers" ("My love is like the roses, dying to be true"). Combs is a fan of Harry Nilsson and, like that musician, there's something going on, even in the wettest moments. It's not this writer's bag, for the most part, but there's something here that deserves attention, even if it's just as a thoughtful, plausible, lyrical alternative to the usual falsetto voice-breaking sop.
Jakuzi Fantezi Müzik (City Slang): A classic and tasteful cover! For those who wish to wake up to Istanbul electro-pop artist Jakuzi peering, gimped up, from their wall every morning, there's a 12" x 12" poster of it with the lyrics on the back. The latter are all in Turkish which means that non-Turkish speakers (such as me) must go on the music alone. It's mannered, unhurried stuff, smooth but quirky and with more in common with FM easy listening than archetypal synth-pop. "Bir Düsmanim Var", for instance, sounds like a naff Eighties ballad. Overall, imagine Kajagoogoo having it out with Jimi Tenor and you'll be halfway there. An acquired taste, then
Taffy Nyctophilia (Club AC30): Remember Echobelly and Sleeper? Japanese four-piece Taffy do but, unlike when they began half a decade ago, they seem to have fallen out of love with directly emulating those bands. On Nyctophilia, it's as if they're exorcising their inner Echobelly/Sleeper inclinations by car-crashing them into walls of guitar noise. The result is certainly loud and smeared, raised up by the delicate female vocals in the midst of the storm, yet it lacks a certain energy and originality to move it to the next level. Comes in card inner sleeve with details, on semi-opaque off-cream vinyl flecked with smudged black and tiffany blue.
Daphne's Flight Knows Time, Knows Change (Fledg'ling): 22 years ago at the Cambridge Folk Festival a group of already acclaimed folk singing women got together, formed a band and released an eponymous debut album. Now they return. Christine Collister, Melanie Harrold, Julie Matthews, Helen Watson and Chris While's second album, in lyric inner sleeve, shared between them in various combinations, consists of original material seasoned with songs such as a sweet easy listening take on the early Sixties Nancy Wilson hit "(You Don't Know) How Glad I Am" and a version of Elvis Costello's "Shipbuilding" (a decent take but it's a song that should probably be left alone since Robert Wyatt's rendition is so definitively heartbreaking). The latter song sums up some of the album's mood and motivation, a response to a Britain being broken by Tories and Brexit, especially Julie Matthews' closing song "Split". NB. The track-listing and actual order on the record do not match.
Toydrum God Song (Frank Wiedemann Remix) (Skint/BMG): On silvery grey 12" vinyl, with the B-side a dub-mix, this is one of those pulsing, techy, gradually building 4/4 bangers with someone talking over it portentously, working its way to explosive release. Toydrum – AKA Pablo Clements and James Griffith, once of UNKLE - are better known for their film soundtrack work, most recently on the rated pregnant woman killer horror comedy Prevenge, but this is a moody throbber remixed decently by one half of two quality electronic duos, Âme and Howling.
Deez Nuts Binge & Purgatory (Century Media) + Blood Youth Beyond Repair (Rude) + Arch Enemy As The Stages Burn (Century Media): A plethora of metal to chew on. Australian shout attack, Deez Nuts' latest comes in lyric photo-art inner sleeve and continues the band's mission to amalgamate hip hop into hardcore thrash. In practice, to the layman, this means that the music is mid-paced tough metal chug but the words are stated rhythmically rather than sung. It can hardly be called rapping, but the result has a jabbing power, particularly when they grow manically frenetic, as on the likes of "Antidote". Where Deez Nuts have been going for a decade, Blood Youth seem like their young pretenders. The trio, from Yorkshire, fire out their debut album, which comes with 12" x 12" lyric/band photo card and contains similar tropes to the Aussies, albeit with more roaring, as well as choruses that, like Bring Me The Horizon, have actual melodies, indicating the future possibility of commercial success. Arch Enemy, on the other hand, already have a successful 20 year career in the bag, which they celebrate on their third live album, on double with DVD in gatefold. Recorded at Germany's Wacken Open Air, the most striking aspect is the growled death metal vocals coming from Canadian singer Alissa White-Glutz, as it's not often you hear a woman embracing this style. It's quite a thing as she roars and the crowd howl backing vocals to the 2001 song "Ravenous". Of the three albums, it is, perhaps, the most uncomplicatedly energized set.
Jonny Velon Goodness Flows (Scratchy): Jonny Velon is a singer from Bristol whose debut album mostly recalls David Bowie. His lyrics are more direct, but the voice is a ringer, whether he's going for Sixties folk Bowie's whimsy on "The White Rabbit", Berlin Bowie on "High As a Kite", Young Americans brassy Bowie on "The Cambridge Squeeze", or not sounding very much like Bowie at all on "The White City". Let's be clear, this isn't a pastiche, there are some fine songs here, but it is Bowie-esque in the extreme.
Kevin Over Mobilee Back to Back Volume 11 (Mobilee): The latest collection from Anja Schneider and Ralf Kollmann's well-regarded Berlin label comes on vinyl as a showcase of rising producer and fellow German, Kevin Over, who's released cuts on Truesoul, Get Physical and others in the recent past. Whereas the CD/download version of this release is a mix album featuring various artists, the vinyl restricts itself to Over's own work, which is sparse, techy and elegant, owing a debt to classic Detroit/Chicago fare. To get a flavour of where he's at, check out "Vember" which is archetypal Over. Mostly one for DJs, really, but there are some smooth grooves here.
Various Moana: The Songs (Walt Disney): Disney hired in multi-award-winning Broadway composer-playwright Lin Manuel Miranda to work with orchestrator Mark Mancina and Samoan musician Opetaia Foa'I (of New Zealand's Pacific fusion collective, Oceanic) on their Polynesian island animated adventure Moana. I've not seen the film so I've no context but the music has a typically syrup-sweet Disney aspect. Low key tribal percussion and choral chants never interfere with very precise musical theatre obviousness. Are there any "Let It Go"s here? "How Far I Go" might be a contender but, mainly, I'm enjoying listening to Dwayne "The Rock" Johnson make a fine effort on the cheery "You're Welcome". He can come and sing that round theartsdesk on Vinyl's karaoke anytime.
Tuxedo Tuxedo II (Stones Throw): Second album from neo-soul singer Mayer Hawthorne and Drake/Kendrick Lamarr producer Jake One. They're very good at reanimating the spirit of early Eighties disco-funk-pop, brass-touched and consciously sexy, so enjoyment is based very much on your relationship with that style. It's all a bit smooth and soul boy for me. I love full-on disco but there's a point where it grooves off super-slick, electro-sensuous into the kind of yacht-funk that pastel-clad casuals used to listen to when I was a teenager (say 1983-85). They were always forcing this sort of thing onto the turntables at house parties they'd gate-crashed and were liable to kick your head in if you took it off. Mind you, I was probably trying to put on Alternative TV or something similar, while they were trying to pull, so you can hardly blame them. Anyway, the short of it is I've been left with permanent psychological hang-ups about such sub-Shalamar fare.
Cobalt Chapel Cobalt Chapel (Klove): On double with a 12"x 12" photo/lyric insert, this is the debut from London vocalist (and actress) Cecilia Fage and Sheffield musician Jarrod Gosling of the underrated easy listening-electronic band I Monster. The duo major in gothic psychedelia, dipped in spooked choral folk, emphasized by Fage's chamber music-friendly soprano emoting. Much organ is to be heard, even on their punchy version of English composer John Tavener's "The Lamb", but all to positive effect. It's an eccentric album, with a whiff of Seventies Hammer House of Horror about its uncanny aspects, yet it never veers into kitsch. All in all, an intriguing outing. The music covers three sides with the fourth left blank, and the whole thing is on bright green transparent vinyl.
Stefan Wesolowski Rite of the End (Mind Travels/Ici d'ailleurs): Stefan Wesolowski, as a child in post-Soviet Poland, developed a fascination with Christian religious music and ritual. He must have been a very serious and intense child, by his own account, and his second album for Mind Travels, the sub-label of the French avant-classical/soundscaping label Ici d'ailleurs, is absolutely downbeat. Woven with Wesolowski's violin, plucked dirge-like or bowed slowly, it's a doom-laden affair from which depression bleeds. There's beauty here, but of a very forlorn kind. Too soul-sapping for me but, for those who wish to bathe in a floatation tank of haunted gloom, it could be the very thing.
We welcome any and all vinyl for review. Please hit thomash.green@theartsdesk.com for a postal address.
It charts the love affair that jazz had with rock music under the influence of LSD and countercultural politics
Explore topics
Share this article