Russell Howard, Touring - 'the passion and anger are real' |

reviews, news & interviews
Russell Howard, Touring - 'the passion and anger are real'
Russell Howard, Touring - 'the passion and anger are real'
An amiable mix of sex and politics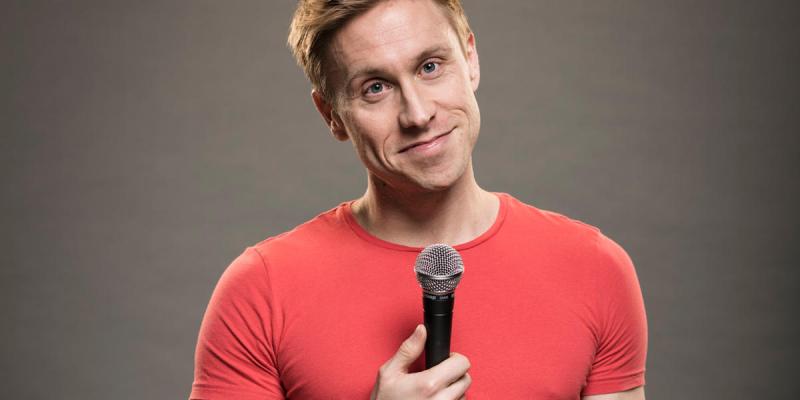 Four-continent comedy: Russell Howard is on chipper form
Russell Howard is in typically chipper form, and so he should be. Dismissed by some at the start of his career as just one of the slew of beige twenty-something blokes emerging in stand-up in the Noughties, he has built a solid television career and a huge stand-up following.
Now, after a hugely successful UK tour, which included a record-breaking 10 consecutive nights at the Royal Albert Hall – overtaking the six shared by comics Victoria Wood and Billy Connolly, and the eight shared by singers Frank Sinatra and Barry Manilow – he's embarking on a lengthy worldwide tour.
He's living up to its title – Round the World – and he'll visit four continents. Clearly his feelgood comedy travels, and his smiley, energetic delivery helps. His reach may be universal, but Howard starts by keeping things close to home – telling us about his dodgy bladder, why we should cull stupid people, and several tales about his daft extended family from Bristol, including his mum, with whom he recently filmed a US road trip shown on Comedy Central. I'm sure they're all wonderful people but it's possible to have too much of a good thing...
Howard can definitely no longer be called beige
But while he's a regular on interchangeably anodyne panel shows on British television and his Good News programme on the BBC was rarely cutting, Howard can show some bite. When he talks about what the NHS means to him (his girlfriend is a doctor, so there's added reason to care about it), or mentions Donald Trump, Nigel Farage and Piers Morgan, the passion and anger are real.
That fame-hungry trio are easy targets, of course – but Howard has an original take. Referring to the Ukip MEP's recent bizarre claim that rudeness from liberal folk means he's now afraid to go for a pint in Wetherspoons, the comic observes drily: "Everyone's afraid to go to Wetherspoons." And he muses on how the Queen might behave behind the scenes when Trump is in the UK for his state visit later this year. Howard's racy fantasy is probably borderline treason but it's a clever way of insulting the US President while bigging up Her Majesty.
There's some good honest filth as Howard fondly remembers his teenage years when he was obsessed with sex, and is nostalgic for the days when making a girl a mix-tape was an innocent declaration of love. He thinks it's sad that today's teenagers, who live their lives online, have to establish themselves as a brand on various social media.
There's some terrific material in this section, but the strong language and deliciously rude images he conjures up while describing the minefield of modern dating have a serious and heartfelt undertow, that boys should respect girls because they're pretty wonderful creatures.
Liberal, politically correct and crowd-pleasing, yes. But Howard can definitely no longer be called beige.
There's some good honest filth as Howard fondly remembers his teenage years
rating
Explore topics
Share this article