Harlots review - 'fun quasi-feminist costume romp' |

reviews, news & interviews
Harlots review - 'fun quasi-feminist costume romp'
Harlots review - 'fun quasi-feminist costume romp'
Morton and Manville go head to head as Georgian madams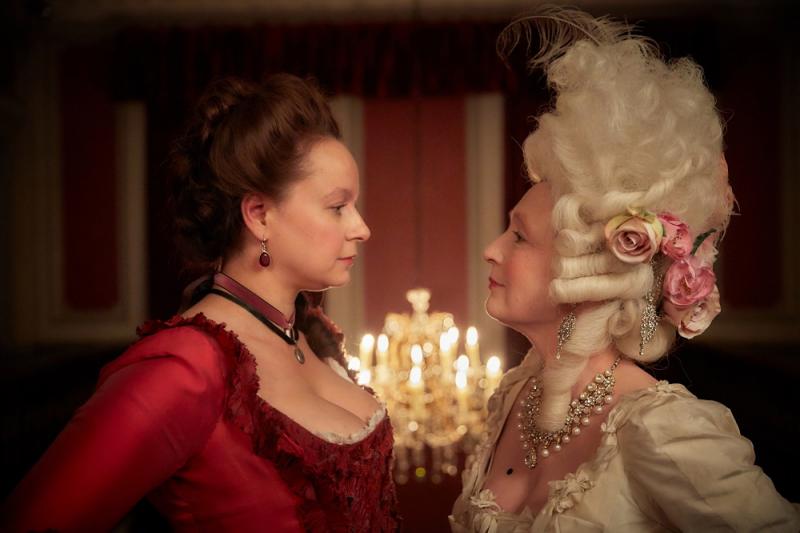 Face off: Samantha Morton and Lesley Manville in 'Harlots'
We like to think of Georgian England as a wellspring of elegance: the Chippendale chair and the Wedgwood teapot, the landscaped vista and the neoclassical townhouse. But, as subversively embodied in the mock heroic couplet, the seemly Age of Reason had a seamy underbelly. There was order, but also ordure.
Take Harris's Life of Covent Garden Ladies, published in 1789 and updated four years later, advised on the services available to gentlemen of leisure. Miss All-s-n of No 4 Glanville Street, it reported, is "now just in her prime… rising seventeen… can trot, amble, & even gallop, if required." In the entry for Miss Char-rl---n of No 59 South Moulton Street there is much laboured punning on the word "bush". Both working girls, just a couple of entries among many, are complimented on their teeth.
This very tome was exhibited a couple of years ago in the British Library's Georgians Revealed. It seems to have been a primary source for Harlots. The new television drama set in London's 18th-century whorehouses opened with tarts reading their own just published reviews. "Her bosom enchants to rapture and her wit makes the very meteor of the hour." So it is written of blue-eyed brunette Charlotte Wells (Jessica Brown Findlay, pictured below, who on this evidence has very much recovered from expiring in childbirth as Lady Sybil).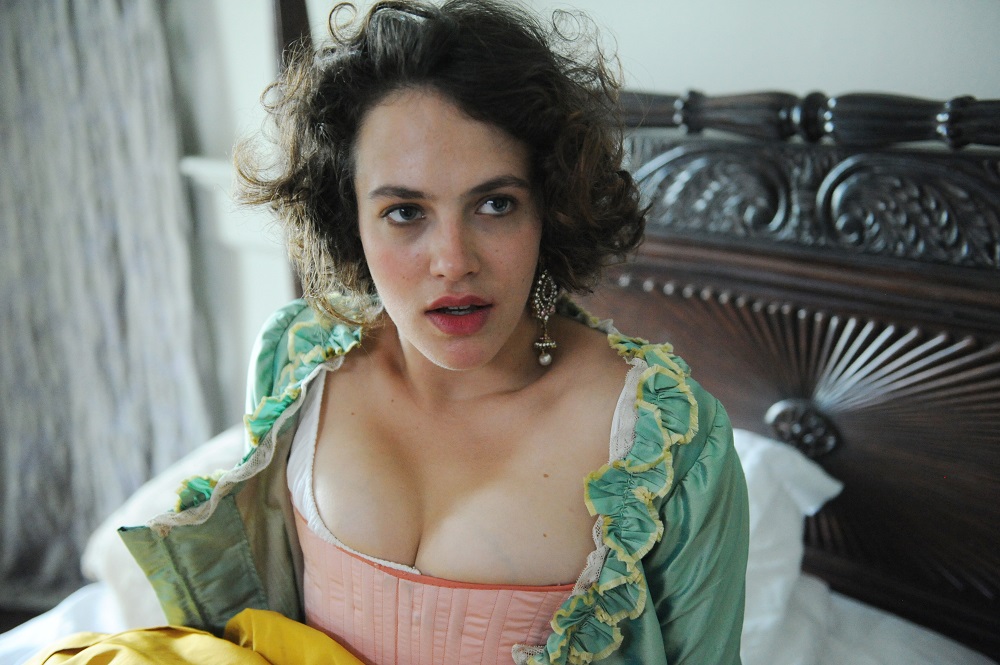 There are plenty of others to choose from, in amplitude, attitude, and technique. But the main choice for potential punters is between two houses. At the downmarket establishment of Margaret Wells (Samantha Morton), there's rather greater chance of getting raided and arraigned in court. At the more refined outlet in the heart of Golden Square run by Lydia Quigley (Lesley Manville) the clientele can expect improving horizontal chat about the arts from her well-read ladies.
Needless to say these two madams don't see eye to eye. Wells is buxom with a mouth like a sewer, and knows no other way than to auction off her daughters' virginity to the highest bidder. Charlotte started at 12. Meanwhile the powdered and peruked Mistress Quigley has walked out of a bawdy poem by Swift. Their uncivil footing was made even more so when, fearing arrest and having pleasured one too many clients in passageways, blonde Betsey (Alexa Davies) defected from the former to the latter. "What instruments do you play?" asked Quigley in Betsey's job interview. "The male instrument," said Betsey.
The oldest profession has been good to ITV. It gave Morton an early break 20 years ago in Kay Mellors' Band of Gold. Then Belle de Jour's superbly written blog was adapted The Secret Life of a Call Girl. For reasons that aren't entirely clear, unless it's plain squeamishness, ITV's splendidly dressed (and, here and there, undressed) new eight-parter is going out on ITV Encore. Odd, as the cast alone merits transmission on the primetime real estate of ITV's main channel.
Kate Fleetwood (pictured below), whose motivations are not yet clear, seems to be channelling Cap'n Jack Sparrow in a raffish tricorn hat, Dorothy Atkinson plays a righteous scourge of prostitution, while Fenella Woolgar's society hostess positively thrusts her husband at the virginity of Charlotte's younger sister Lucy (Eloise Smyth). "My husband loves a hymen!" she snorts in the foyer at the opera (a nice cameo for Wilton's Music Hall). There are also some male characters, but they're mostly ghastly and not why we're all here.
Harlots is a quasi-feminist costume romp with shit on its shoes. No male talent is listed among the creatives – show-runners Moira Buffini and Alison Newman are among five writers credited, while its three directors are female. The task they have set themselves is to come up with an honest but entertaining portrayal of a Georgian woman's lot in London. Twenty percent apparently sold themselves for sex, they are referred to as chattels by men and even in the neuter ("it's looking for a position," says Quigley's fat son). These women, while boarded by countless men asserting "an Englishman's right to go whoring", have only their wits to fall back on. "What's your real name?" Quigley asks the slatternly new girl. "Sally Piddle?" "I'm the Duchess of Quim!" she retorts valiantly.
There's plenty of such rambunctious Anglo-Saxon to ravish the ear. "I got an officer out with such a hard prickstand he can hardly walk," says Mrs Wells. Buffini and her co-scholars have certainly pored over the glossary of bawdy euphemisms for the nether parts and what to do with them. Manville and Morton offer the prospect of a pair of powerful women going head, as it were, to head. Those catering to moneyed phallocrats also include a historically accurate smattering of black characters. It's diverting, with a fun contemporary soundtrack that gently suggests this story isn't over by any stretch.
There are also some male characters, but they're mostly ghastly and not why wer'e all here
rating
Explore topics
Share this article