Ordinary Lies, Series 2, BBC One |

reviews, news & interviews
Ordinary Lies, Series 2, BBC One
Ordinary Lies, Series 2, BBC One
Cardiff is a new setting for dark stories of office workers' secrets
Wednesday, 19 October 2016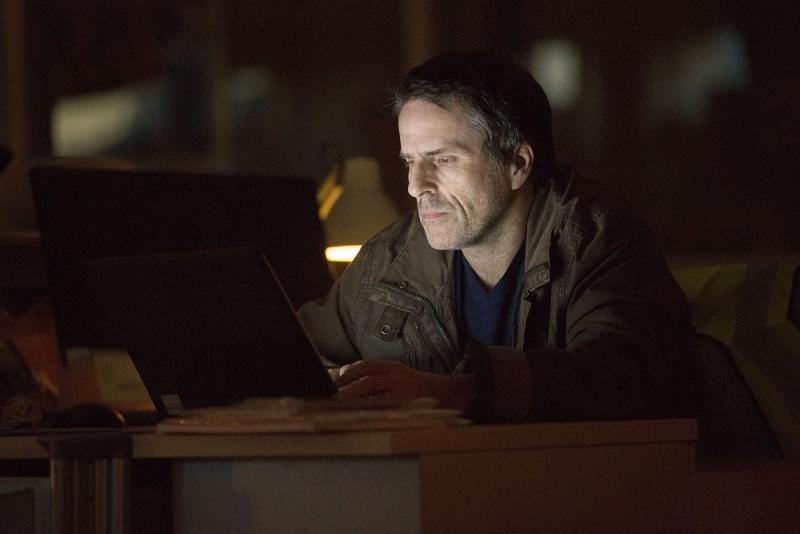 Con O'Neill snoops on his family in 'Ordinary Lies'
The concept is somewhere between single drama and series: to stay in one place while shifting focus from one character to another. Paul Abbott did it in Clocking Off, telling a different story each week about a group of workers in a Manchester textile plant. Jimmy McGovern exported the idea to The Street, where he opened one door at a time to find out what was going on inside. The common denominator of both series was scriptwriter-for-hire Danny Brocklehurst.
Brocklehurst took the format and made it his own in Ordinary Lies. The first series was set in a car showroom in Warrington which was witness to all sorts of desperate stuff: not just common-or-garden adultery, but drug-smuggling, theft, blackmail and sundry other domestic pastimes. In one of the episodes a man having problems in his marriage stayed at his boss's home and had sex with the boss's 15-year-old daughter. That territory was revisited in the first of the new series.
The question raised by the episode was all about the morality of snooping
The setting has moved on to a sports goods warehouse in Cardiff (good choice: it's an underused city for drama, with lots of lush actors). New faces, same formula: everyone's cheerful at work but more or less dismal at home. Without wishing to aggrandise Ordinary Lies, Brocklehurst adheres to the Tolstoyan maxim that unhappiness brings out the individuality in people. In the first episode, sales manager and office joker Joe (Con O'Neill) was injured when, larking around, a bunch of boxes toppled onto him. He was sent home only to discover his door locked and his wife Belinda (Jill Halfpenny) not at work. Not trusting her excuses, he had soon rigged a spycam system in the fire alarms all over the ground floor (surprisingly cheap if you happen to be considering it) and set about snooping on the rest of his family.
Joe was soon surgically attached to his laptop, viewing the results at his desk, on the lav, in the basement. He was willing the worst to happen: to discover Belinda at it with another bloke, the way he thinks she did a few years back when he was still an alcoholic. As one co-worker says, "If it looks like a duck, quacks like a duck, it's probably your partner shagging someone else." Instead he finds a strange woman letting herself into his house and his son necking a girlfriend he doesn't know about.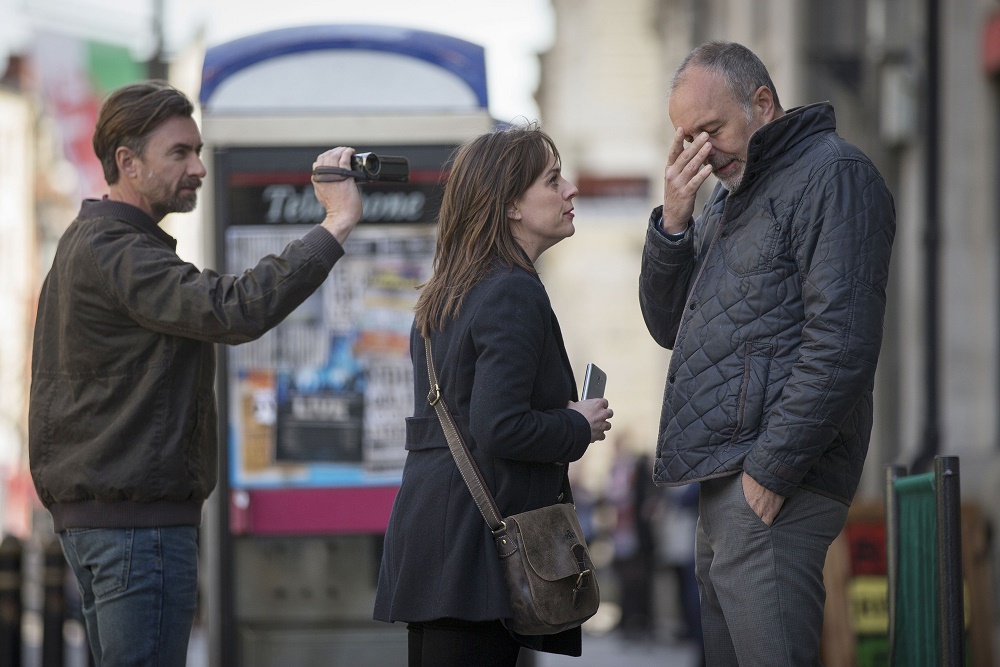 The question raised by the episode was all about the morality of snooping. His recovery from alcoholism was a handy tool for exploring his conscience, as he had somewhere to go to talk out loud about private anxieties. "Have I got a right to know everything?" he wondered at an AA meeting. "Am I God? Or have I just found a new addiction?"
Eventually the new addiction got the better of him and he tailed his wife, only to discover that her secret activity was the entrapment of paedophiles (pictured above, Jill Halfpenny, centre). It turned out that his alcoholism and her sort of affair both derived from the trauma suffered by their daughter, who was interfered with by a man who got away with it. And now their 16-year-old son was having sex with an underage girl too.
A fraught household then, if somewhat calm on the surface. It was all held together by O'Neill, adept at switching from relentless bonhomie to febrile suspicion. But it was a lot to cram into an exhausting hour which also introduced half a dozen other characters who'll all get their own episode later on. The ethics of naming and shaming paedophiles perhaps merits a little more focused analysis than a hectic BBC One drama can supply. Still, quite gripping.