Star Trek Beyond |

reviews, news & interviews
Star Trek Beyond
Star Trek Beyond
Jokes and derring-do in a galaxy far, far away
Jaylah (Sofia Boutella) and Scotty (Simon Pegg) search for the exit
This is the third of the rebooted new generation Star Treks, and ultimately leaves you with the feeling that the intrepid crew of the starship Enterprise continue to boldly go, but still haven't quite arrived. On the other hand, the fact that a sprawling high-tech movie like this can manage to recapture some of the friendly intimacy of the old TV series gives it an undeniable charm.
The opening sequence, where Captain James T Kirk is on a diplomatic mission to deliver a peacemaking gift to a funny-looking race called the Teenaxi, suddenly turns to farce when the angry locals prove teeny indeed. It alerts you to the fact that this movie may not be exclusively concerned with grandiose space battles and intergalactic megalomaniacs, although there's plenty of that to come. The fact that Simon Pegg co-wrote the screenplay (with Doug Jung) not only finds his character, Scotty, getting as much prominence as Chris Pine's Kirk (pictured below) or Zachary Quinto's Spock, but also guarantees that an ironic wink is never far away.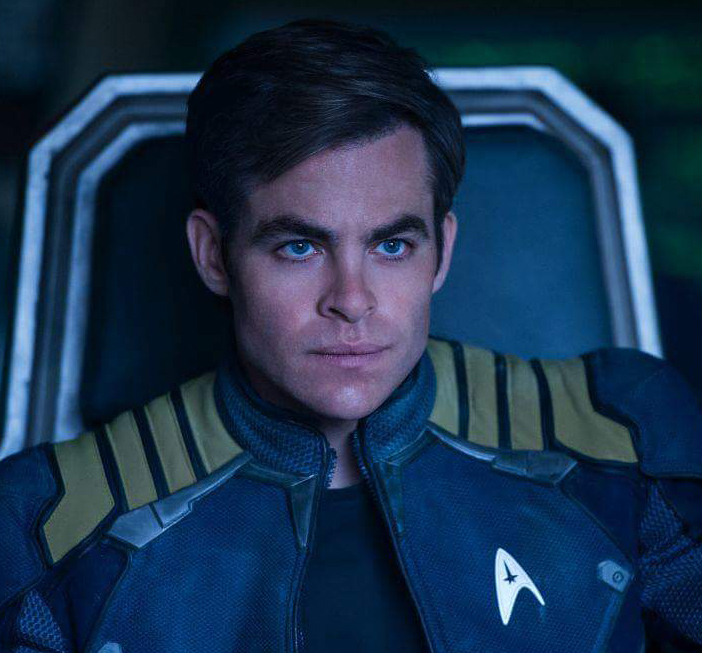 There's room for a little existential angst too, with Kirk confiding to his log that five-year missions through the infinite wastes of space can bring on a debilitating anomie, while Spock, agonising over his relationship with Zoe Saldana's Uhura, battles mid-life crises of both the philosophical and emotional varieties. As the story develops into the Enterprise versus a brutal and merciless adversary called Krall, it's the crew's shared history and well-observed individual characteristics which come to the fore when the going gets rough. There's a bit of old-fashioned Gene Roddenberry-style preachiness about harmony, togetherness and pan-galactic positivity, but basically it's an up-market action yarn with a good heart.
The character interplay is skilfully handled, with Karl Urban's "Bones" McCoy enjoying some nicely abrasive banter with the permafrosted Spock, and Chekov (Anton Yelchin, who was tragically killed in an accident last month) babbling like a speedfreak while Sulu (John Cho) maintains his consummate professional focus, not least when their ship plummets off a mountain while the engines are still trying to warm up. The girl-power quotient gets a boost from new arrival Jaylah, played by Sofia Boutella like an amazon-ninja with a Russian accent, who hooks up with the Enterprise squad when they find themselves incarcerated on Krall's sinister prison-planet.
But viewers desirous of a good old special-effects set piece will not be disappointed. An early shocker is Krall's arrival on the scene as a mysterious swirling cloud, which turns out to be a bee-like swarm of spacecraft systematically aiming to cripple and dismember the Enterprise in the search for the mysterious artefact that so offended the Teenaxi. The on-board hand-to-hand combat is surprisingly vicious, considering that the Enterprise is essentially crewed by a bunch of hippies (the off-duty cast mucking about, below).
The finest technical feat is the creation of the starbase Yorktown, an artificial metropolis revolving majestically in space. With its walkways, monorails, boulevards and futuristic skyscrapers arcing away into the distance, it's like a futuristic super-Manhattan filtered through Christopher Nolan's Inception. The way they park the Enterprise in a vast underground hangar with transparent walls is especially striking.
After all this, it's a shame they couldn't dream up a better ending, because this one (in which rap music saves the universe) is even more preposterous than the one in the original Independence Day. As for Idris Elba's role, I shall say only that he's at the centre of the movie's big surprise twist. Although having said that, they already gave the game away in one of the trailers. As Kirk puts it, "There's no such thing as the unknown, just the temporarily hidden."
Overleaf: watch the trailer for Star Trek Beyond
Subscribe to theartsdesk.com
Thank you for continuing to read our work on theartsdesk.com. For unlimited access to every article in its entirety, including our archive of more than 10,000 pieces, we're asking for £3.95 per month or £30 per year. We feel it's a very good deal, and hope you do too.
To take an annual subscription now simply click here.
And if you're looking for that extra gift for a friend or family member, why not treat them to a theartsdesk.com gift subscription?