Carole King performs Tapestry, Hyde Park BST Festival |

reviews, news & interviews
Carole King performs Tapestry, Hyde Park BST Festival
Carole King performs Tapestry, Hyde Park BST Festival
Kitsch and intensity collide in a performance of the blues at the heart of the mainstream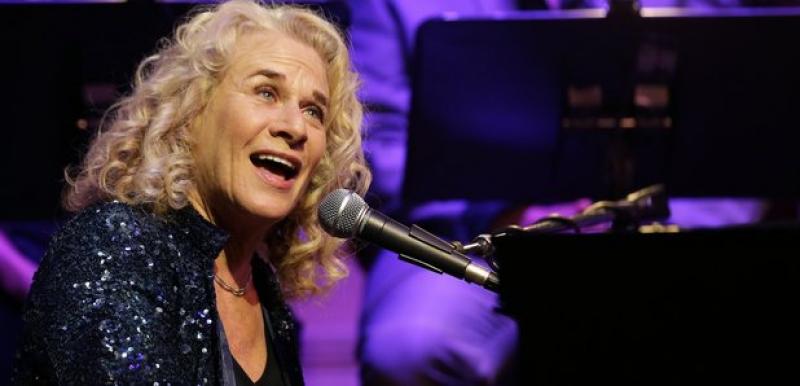 Carole King: singing the hell out of 'Tapestry'
If last night made anything clear it's that some things are still some way beyond the reach of hipster reappropriation. The audience in Hyde Park for Carole King was 99% white and middle-aged, with the very few younger people scattered about appearing to be teenagers there with their parents.
Within that, though, there was a broad spread of class, and – reflecting the appeal of King's
Tapestry
album at the time of its release – everyone from grizzled old hippies to a whole legion of straight-as-a-die mums and dads of the kind who have probably only bought half a dozen other albums since the mid seventies.
All this gave the afternoon part of the event the air of a suburban summer fete writ large. Other than the glaringly-branded experiental marketing stalls that surrounded the periphery of the festival site – where gaggles of student casual workers tried to get you to get involved with some jolly activity designed to make you feel warmly towards a credit card, video game console or food delivery service – there was very little sense of hustle and bustle, just lots of groups of friends enjoying a picnic in the park while a variety of charmingly inoffensive singer-songwriters took the main stage, and various mainstream-indie youngsters mithered away on the small Barclaycard Stage at the back.
Ki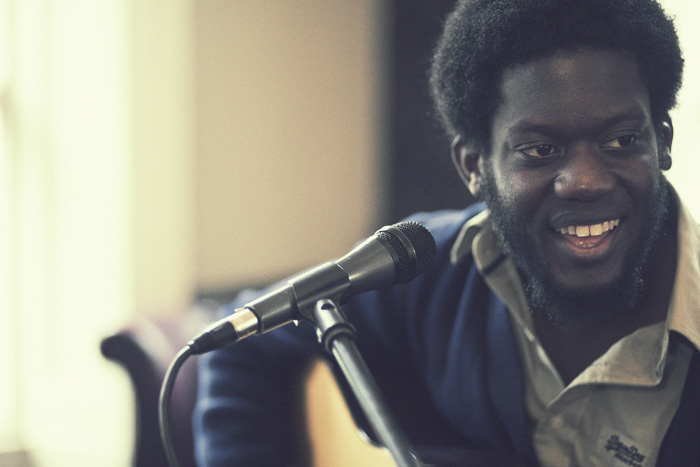 ng's daughter Louise Goffin upped the ante a bit with a very solid set, but there was a much bigger ripple of interest for British singer Michael Kiwanuka (pictured right). Kiwanuka has often been pushed as a soul artist, but in fact his set drifted into action on a cloud of mid-Seventies Pink Floyd synth chords and infinite-sustain guitar soloing, and proceeded to work its way round the more philosophical and downbeat end of classic rock. His outstanding new single "Black Man in a White World" (its message thrown into relief in this context) certainly did bring the soul and blues groove, but he is clearly about so much more than that, and appeared to win a lot of new fans.
Don Henley (pictured below) had no need to win fans. There were so many clearly devoted Eagles fans in attendance that he probably could've sung the phone book and got a good response. Indeed, his between-songs chat had a very distracted, even baffled, air but still received enthusiastic applause. He was anything but absent in performing the songs though. From a beautiful Texan country close harmony intro, through some of his Eighties solo tracks and a few covers, to the inevitable big Eagles hits and "Boys of Summer", despite the occasional strain in his vocal tone, he proved the power of huge production values and the easy virtuosity of musicians with decades of experience.
Funnily enough, it was those Eighties songs that really stole the show. Though they were not short of bombast and gloss, "Sunset Grill," "New York Minute" and the oddly Bowie-ish "Dirty Laundry" reminded us how much Henley's songwriting was capable of evocation and hidden subtlety. The big hits later were inevitably rousing, and the finale of "Desperado" – dedicated to his Eagles (figurative and literal) sparring partner Glen Frey who died at the start of this year – was certainly touching, but it was the early part of the set that had us going back to put Henley albums on when we got home.
Finally, Carole King came on, to perform Tapestry in its entirety, and there was a wave of excitement. King herself radiated warmth onstage and from the perfect piano-pounding start "I Feel the Earth Move" she sang the hell out of the songs like she was thrilled to be doing it. At 74, inevitably her voice was showing the ravages of time, but rather than tone anything down, or let her glorious backing singers do the heavy lifting, she let the cracks show, and this just added to the deep sense of blues that underpins all of Tapestry, which after all is one of the great expressions of lost time and disappearing dreams.
The album was already looking back when it was released in 1971 – to the glory days of the late Fifties and early Sixties when King and her husband Gerry Goffin (who she divorced in 1968) conquered the world and, along with their fellow New York Jewish songwriting teams, more or less invented pop music as we know it. But with 45 years of added shifting sands, the generalised loss and yearning of lines like "Doesn't anybody stay in one place any more?" (from "So Far Away") only gain in poetic weight.
The whole of Tapestry was delivered with love and panache. A gutsy "Smackwater Jack" was a high point, and even the mass singalong of "You've Got a Friend" and "Will you Still Love me Tomorrow", performed by King and Louise Goffin (pictured together, right) to a backdrop montage of King and Gerry Goffin working together, didn't feel like mawkishness at any point. All of which is testament to the absolute perfection of the concise poetic and musical expression in those songs.
Sadly, it did all go a bit kitsch in the final section of the show. A writer with a catalogue of sheer genius like King doesn't need to do fragmented medleys, and to hear some of the greatest pop songs of the 20th century - "I'm into Something Good," "It Might as Well Rain until September", and especially the crushingly beautiful "One Fine Day" – reduced to single verses was frustrating. To then have her bring on the cast of the West End musical of her life for a reprise of "I Feel the Earth Move", feeling like not much more than an advert for the show, completed the sense of a trivialising of her talent.
But then I suppose that wasn't the point – this audience wasn't here for the songbook, they were here for Tapestry, an album that means a lot to all of them, and they got a fantastic party in the sun built around it. We can but hope that while King is still alive, she'll do another show without the showbiz whistles and bells that showcases the full depth and breadth of her career, but despite the froth of the second half, the performance of Tapestry itself still gave us a concerted blast of her genius, and left us with renewed love for one of the very best to ever do it.