The Good Wife, Series 7 Finale, More4 |

reviews, news & interviews
The Good Wife, Series 7 Finale, More4
The Good Wife, Series 7 Finale, More4
Outstanding legal drama draws to a not-quite-perfect close
Legal powerhouse: Julianna Margulies as Alicia Florrick (left) with Christine Baranski as Diane Lockhart
It's amazing that they've managed to sustain The Good Wife over seven series and 156 episodes which have, by and large, maintained a standard of writing and acting which can stand toe to toe with anything else on TV. Apparently it's now being dubbed "television's last great drama" in some quarters, not just because of its quality but also because it aired not on some boutique cable channel or on-demand subscription service but on the mainstream CBS network.
You don't miss 'em until they're gone, and all that.
That said, this final series has sometimes felt as though its creators were a little distracted by the knowledge that the end was nigh. There was a bit too much furniture being moved for no particular reason, particularly in the plotline in which Diane Lockhart (the stupendous Christine Baranski) was manoeuvring to create an all-female law firm. This had the effect of prising stalwarts David Lee (Zach Grenier) and Cary Agos (Matt Czuchry) away from the core of the story – Czuchry in particular has been wasted this season, though he was belatedly given a bit more to chew on in this finale (Matt Czuchry pictured below with Julianna Margulies).
Another big hitter, Kalinda Sharma, was written out at the end of series 6 (along with her nemesis, the devilishly charming drug baron Lemond Bishop), which left a void filled this time around by Lucca Quinn (Cush Jumbo). Excellent though she has proved, there was still that lingering fin-de-siecle feeling that the core of the enterprise was crumbling from within. Perhaps there's some consolation in plans for Quinn and Lockhart to return in a spin-off series.
There have still been plenty of positives to accentuate, not least the way The Good Wife never lost its knack for pulling hot-button issues from the headlines. In this series we've had Julianna Margulies' Alicia Florrick seconded to a top-secret intelligence committee debating the legality of killing terrorist suspects with drones, the case of an online mapping system with built-in racial bias, and the theft of the prototype of an iPad-style electronic tablet, while drones made a comeback in a case about privacy and surveillance. The flagrantly unconstitutional behaviour of the National Security Agency, plus the Edward Snowden-style whistleblower Jeff Dellinger, reappeared to prick the collective conscience.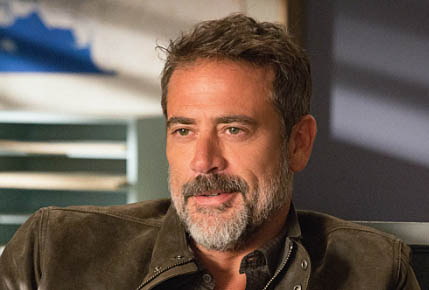 Humming away steadily in the background has been Peter Florrick's latest and last entanglement with the law, particularly his alleged interference in a murder case which allowed a killer to go free. Though Peter and Alicia's relationship was the original basis for the show (and its title), you sense the writers have had trouble maintaining their enthusiasm for it, though it was delightful to have David Paymer back as the eccentric Judge Cuesta.
Still, the will-Alicia-finally-turn-her-back-on-Peter saga became nearly as wearisome as Patrick Jane's interminable hunt for Red John in The Mentalist. It bled fatally into Alicia's exasperating dithering over whether to embrace (in all senses) cool, laid-back investigator Jason Crouse (Jeffrey Dean Morgan, pictured above), with Crouse finding more of his confidence in Alicia draining away every time she rushed back to Peter's side. The writers eventually fudged the issue entirely by wheeling out Alicia's dead paramour Will Gardner (Josh Charles), looking remarkably hale and hearty for a ghost, to impart some cosmic wisdom.
Ok, so this wasn't the conclusion the world had been waiting for, but the absence of The Good Wife is going to leave a gaping hole that, I would hazard, will be impossible to fill. Great characters, strong stories, always ingenious writing... No, Holby City won't fit the bill.