The Iris Murder, Hebrides Ensemble, Edinburgh |

reviews, news & interviews
The Iris Murder, Hebrides Ensemble, Edinburgh
The Iris Murder, Hebrides Ensemble, Edinburgh
Exquisite music in an oblique, elusive new opera from Alasdair Nicolson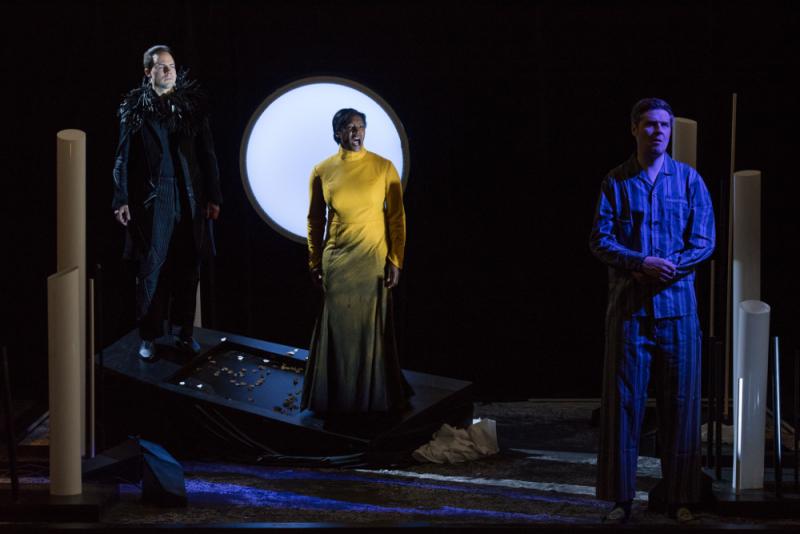 Colours and nervy energy: Andrew Fellows, Elizabeth Llewellyn and Christopher Bowen in 'The Iris Murder'
It just goes to demonstrate the breadth and ambition of the Hebrides Ensemble's work.
For its 25th anniversary, the Scottish new music group (although its output delves a bit further back in time than that description might suggest) had commissioned a brand new chamber opera from Inverness-born Alasdair Nicolson, unveiled at Glasgow's Cottier Chamber Project festival, with subsequent performances at Edinburgh's Traverse Theatre and Orkney's St Magnus International Festival, where Nicolson is artistic director.
To be honest, though, The Iris Murder was a pretty mystifying experience, as elusive as it was allusive – but bewitching nonetheless. To a libretto by New Zealand-born, now UK-based poet John Gallas, and with shades of Gawain-era Birtwistle, it lined up reflections on the passing of the seasons, cycles of life and death, with the strange, allegorical story of one Rawley Beaunes who beheads the lovely Iris in the woods. That's after lamenting the passing of Daisy, Rose, Lily and others (geddit?), whose graves he also tends. As a result of the murder, he's summoned before the Green Man and, after a night/winter of bitter regret, forced to pay for his crime the following morning/spring.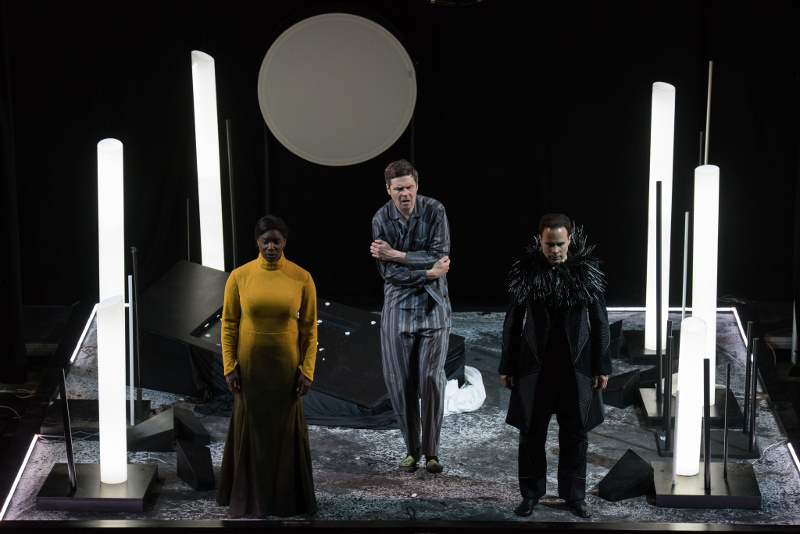 Nicolson's magical music, however, fitted the story gloriously – quirky, jerky, it was full of little hocketing cells that bounced back and forth between the players, never quite the same, but managing to lodge themselves firmly in the memory nonetheless. He drew a remarkable range of colours from his quartet of clarinet, cello, accordion and percussion, sometimes acid-hued but always glittering with a febrile light in his nervy textures. The Hebrides players tackled it with vigour and utter conviction, under the gentle sweep of cellist/conductor William Conway's bow.
Despite Nicolson's evocative score, however, the opera's pacing was less assured, especially its long stretches of instrumental music, which left the singers sometimes looking rather awkward, as if they hadn't been given enough to do. That wasn't helped by Martin Constantine's somewhat static direction, which emphasised the opera's ritualistic aspects in its deliberate movements and determinedly non-naturalistic setting, but could have done with simply a bit more happening. Gabriella Slade's simple set, lit ably by Mark Doubleday, was eerily evocative with its glowing pillars and piles of cinders (pictured above right).
Elizabeth Llewellyn stood out as the serene Iris, soaring effortlessly through Nicolson's grateful vocal lines with a nuanced, rich soprano of ever-changing colours. Christopher Bowen was all nervy energy as anti-hero Rawley Beaunes, with crystal-clear diction and considered meaning behind everything he sang. Andrew Fellows (pictured above left) was vocally indisposed as the Green Man, but appeared on stage anyway, lip-syncing to the singing of Oliver Hunt, drafted in at the last minute to sing from a score at the side of the stage. It was a bizarre but inventive solution to a problem that could have scuppered the whole project, and in fact the disconcertingly disembodied voice only added to the opera's otherworldly strangeness – and both performers portraying the Green Man turned in very fine performances.
Despite its rather disappointingly uneventful staging, The Iris Murder was an exquisite offering, oblique, unsettling but captivating. However, it's one that probably needs a more assertive sense of drama and activity to bring its delights truly alive.