David Baddiel - My Family: Not the Sitcom, Menier Chocolate Factory |

reviews, news & interviews
David Baddiel - My Family: Not the Sitcom, Menier Chocolate Factory
David Baddiel - My Family: Not the Sitcom, Menier Chocolate Factory
Funny and challenging show about the comic's parents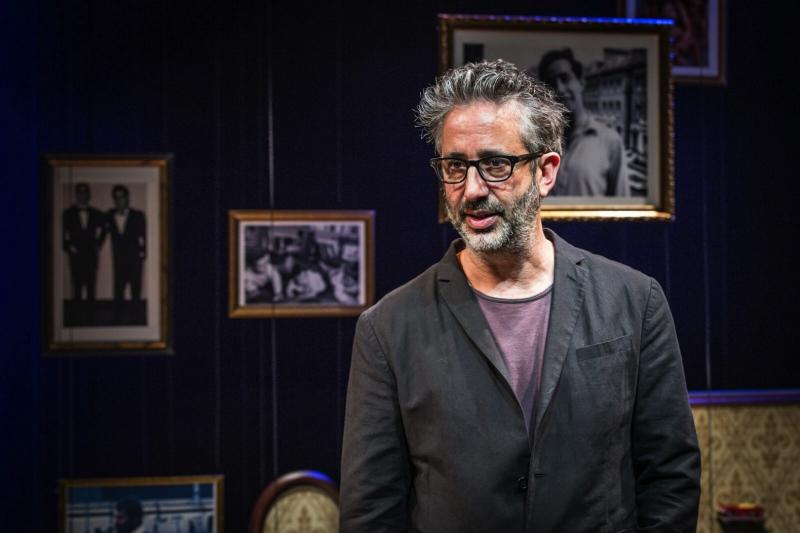 David Baddiel's new show raises some interesting ethical questions
David Baddiel's new show, funny though much of it is, raises some interesting ethical questions. Described by the writer and comic as a "massively disrespectful celebration" of his parents' lives, My Family: Not the Sitcom certainly lives up to that, but, considering his mother is dead and his father is suffering from a form of dementia, neither could give their approval for the material used.
Yet because it is done with such obvious affection, that becomes a nagging doubt rather than a burning issue during the engrossing 110 minutes.
Baddiel's starting point is that, at his mother's funeral, people described her as "a wonderful woman" – which he thought were well-intentioned but meaningless tributes. I'm with Baddiel here; just once when someone dies I'd like an obituary to say, "She was a rather complicated person to deal with", or even "He really was a nasty piece of work and won't be missed", which would at least chime with our own experience of a less than perfect colleague or neighbour. Baddiel wants to flesh out the "wonderful woman" and give us the not always edifying context of her life.
His parents, Sarah and Colin, were both born in Nazi Germany, and there's a quietly celebratory element of Jewishness running through the show by this "fundamentalist atheist who is also very out about being Jewish". As Baddiel says drily: "That combination is only available to Jews." He paints a portrait of a sex-obsessed mother and an emotionally distant father, with a remarkable story running through his childhood in north London.
Sarah conducted an affair for 20 years with a man who was part of their family circle – right under the nose of Colin who, Baddiel is still not sure which, either ignored the obvious or really didn't twig despite the overwhelming evidence, not least the fact that Sarah openly described him as "my lover". She even developed an all-consuming overnight interest in her lover's passion, golf (covered in Baddiel's excellent previous show, Fame: Not the Musical). Surrounded by family photographs and with an onstage screen, Baddiel makes good use of Sarah's large archive of letters, emails and poems (again, there's that nagging doubt...) to illustrate her story. He believes – and I suspect he's right – that she would be delighted to be the subject of his comedy.
Colin's story, told in the second half, may be more problematical to some, as he can't give informed consent. For what it's worth, I agree with Baddiel's notion that making comedy out of an extremely distressing disease is right and important (some of the funniest and most memorable moments I had with my mother, if accidentally so, were when her dementia began to take hold). So when Baddiel accompanies Colin to hear the diagnosis of his father's illness, the consultant says the symptoms of Pick's disease include coarse language, inappropriate behaviour and disinhibition; Baddiel asks him incredulously: "Sorry, does he have a disease, or have you just met him?"
Baddiel teeters on the edge of sentimentality as he draws the show to a conclusion, but he doesn't spare himself in the Q&A he does as an encore, when some inevitable questions come up. There aren't many comedy shows where questionable paternity, "world-class pornography collections" and your mother's clitoris are the source of some cracking off-the-cuff jokes.
This is a brilliantly constructed show with some really clever callbacks, and it's full of big laughs. As for the ethics? Well, nobody will leave without being grateful for their, perhaps less "interesting", parents, nor without a lot to discuss on the way home. A fine and funny work that pushes the boundaries of comedy.
Baddiel teeters on the edge of sentimentality, but he doesn't spare himself
rating
Explore topics
Share this article