The Iliad, Royal Lyceum Theatre, Edinburgh |

reviews, news & interviews
The Iliad, Royal Lyceum Theatre, Edinburgh
The Iliad, Royal Lyceum Theatre, Edinburgh
A fast-moving, thoughtful Homer adaptation marks Mark Thomson's last production in charge of the Lyceum
Emanuella Cole (centre) plays a snarling, slippery Hera in Chris Hannan's masterly dramatisation of Homer's Iliad
And so, it's farewell to Mark Thomson with his final production as artistic director of Edinburgh's Lyceum Theatre, after 13 years in the job (incoming artistic director David Grieg unveils his new season next week). With Homer's The Iliad, in a new dramatisation by Clydebank-born playwright Chris Hannan, Thomson is going out with a bang – it's a big, bold show that tackles one of our culture-defining myths, albeit a lesser-known one ('the greatest story never told" is how the goddess Hera describes it within the play itself). And while their Iliad has got its flaws, you can't help but admire its ambition and gutsiness.
In the sheer scale of what they're taking on, if nothing else. Hannan has his work cut out in even trimming down Homer's epic to just short of three hours on stage. We're at the fag end of the Trojan War, with the Greeks camped outside Troy and seemingly unable to settle the decade-long conflict that was sparked by an apple, until the gods intervene to swing things one way then another, Achilles loses his boyhood chum Patroclus and takes it out on Hector, and Priam makes a startling plea for peace. There's a lot for Hannan to cover – not just the convoluted story itself, but also its background, context, and hints of what's to come. By and large, though, he manages pretty effortlessly, with a text that's dense and swiftly moving, but covers a lot of ground without you even much noticing. Big themes emerge naturally, and his storytelling is crystal-clear. His language – from the commonplace and colloquial right through to the poetic, even elusive – speeds us through the events with surprising gracefulness.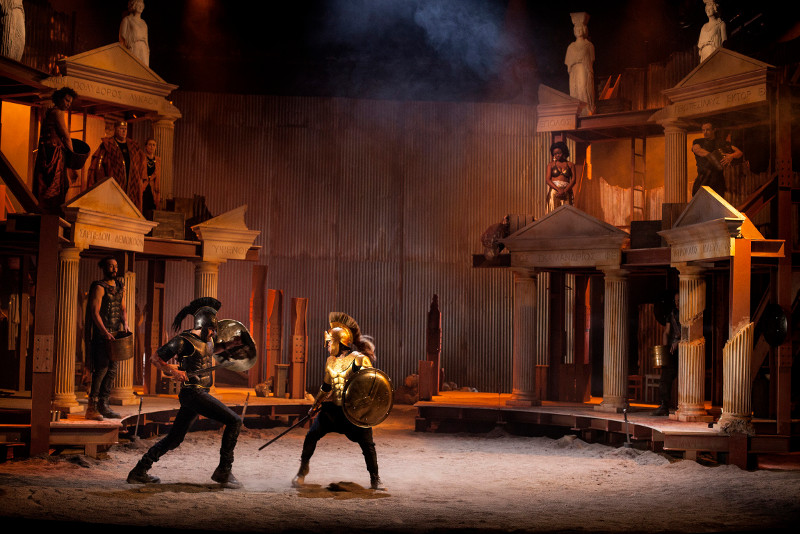 And Thomson has a bit of a ball with his staging. His gods are gold-bikini'd second-rate reality TV stars, sipping cocktails, and conjuring storms and fireballs with a laptop keyclick, while his humans – Greeks in black, Trojans in red – are grubby, venal, often blood-spattered from Raymond Short's deliberate but highly effective fight sequences, accompanied by gobbets of the red stuff flicked from atop the towering set (pictured above).
That set, in fact, feels almost like a character of its own, designed with decaying beauty by Karen Tennent, all corrugated iron and Greek columns crumbling to reveal their girders underneath, as tired, dilapidated but strangely full of life as the characters Thomson puts on it. Under Simon Wilkinson's painterly lighting, it all glows with a crepuscular beauty.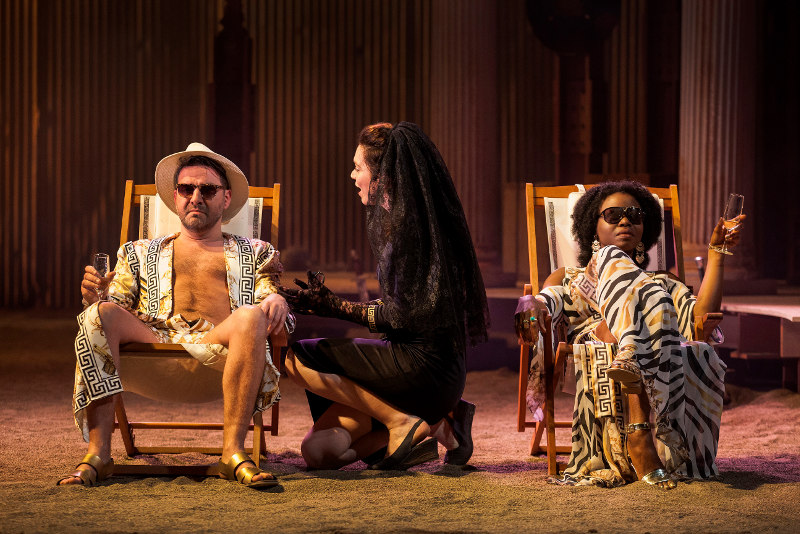 It's in Thomson's 12-strong cast, however, that things fall down slightly. They're sharply defined as individuals, but their characterisation is so blunt that they never quite gel as a true ensemble. Ben Turner is all restless energy as Achilles, but he spits out his words in an unstoppable (and seldom modulated) raging fury, and he's contrasted with Peter Bray's wonderfully vacant Paris, Benjamin Dilloway's striding, confident Hector and Ron Donachie as a superbly war-weary Agamemnon, doubling up as the saintly Priam. But as she herself tells us at the start, it's really all about Hera, and Emanuella Cole is commanding as the wronged wife of ageing playboy Zeus (an oily Richard Conlon) (pictured above, with Melody Grove as Thetis and Emanuella Cole), a snarling mix of contempt, sarcasm and regret, investing everything she says with a slippery multitude of meanings.
They're fine singers, too, in Claire McKenzie's entirely vocal/choral score – especially Amiera Darwish, role-swapping as spoil-of-war concubine Briseis and a peevish Aphrodite, with hugely expressive inflections to her vocal solos. And even if at times it feels like the music lacks a bit of variety, there's a lot to be said for the intensity and focus McKenzie's approach brings to the show, as well as its telling subtleties.
There's a point, though, coming up to the interval, where you begin to wonder, despite all the Classical swashbuckling and exuberant inventiveness, where it's all heading, what Thomson is saying, and what it all means to us now. And indeed, Hannan's fast-moving, bitty first half feels in retrospect like a scene-setter for the show's pivotal two final scenes – two of the evening's quietest and stillest moments, ironically. In which the beatific Priam astonishingly asks forgiveness from his son's killer Achilles, seeming to point towards a resolution to the interminable conflict. And in which Zeus flippantly declines his wife Hera's plea for dignity, ensuring the conflict will never end – and, perhaps, that her constant assertion that conflict is the meaning of life has been right all along.
At almost three hours, it's a long evening, full of action, noise and visual flamboyance. But what makes Thomson's last Lyceum show truly memorable is its quiet contemplation of our paradoxical, inescapable conundrum.