Shakespeare: The Top 10 Deaths |

reviews, news & interviews
Shakespeare: The Top 10 Deaths
Shakespeare: The Top 10 Deaths
Four centuries on from the Bard's passing, director Tim Crouch picks his favourite death scenes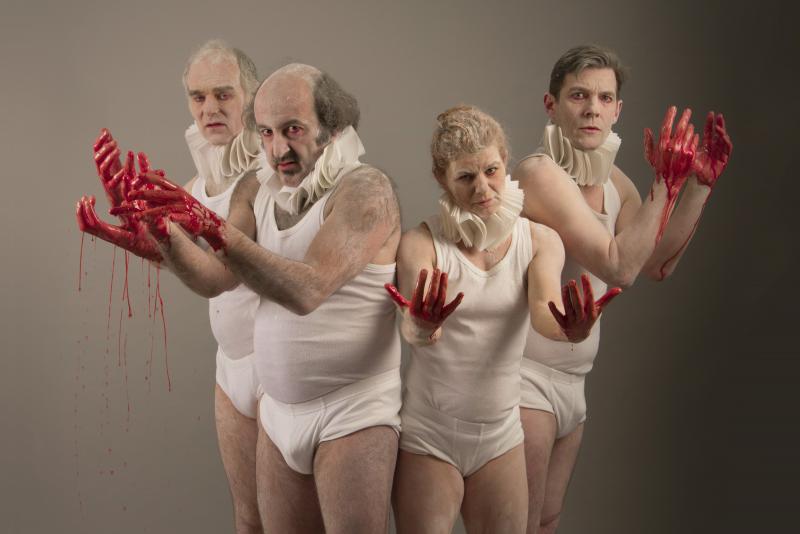 Spymonkey getting bloody with the Bard
Today marks 400 years since the death of William Shakespeare. To celebrate this and, indeed, put the two together, the Brighton Festival 2016 commissioned The Complete Deaths, a show based around the 74 deaths that take place onstage in the work of the most renowned playwright in history. It's a collaborative effort between physical theatre group Spymonkey and theatrical innovator Tim Crouch, both acclaimed Brighton talents.
Here, digging deeper into this morbid, poignant, and sometimes unexpectedly comic subject matter, Tim Crouch reveals, exclusively for
theartsdesk
, his own Top 10 Deaths in Shakespeare.
Arthur (King John)
Poor Arthur. He has a really rough time in King John – but he also has some of the best scenes in the play. He's King John's nephew. He's 12 or thereabouts, he becomes a pawn in a power struggle for the English crown and his mum goes mad. His uncle instructs Hubert to bump Arthur off and, in a scene worthy of Stephen King, Hubert very nearly succeeds.
ARTHUR: Must you with hot irons burn out both mine eyes?
HUBERT: Young boy, I must.
ARTHUR: And will you?
HUBERT: And I will.
In the event, Arthur's innocence overwhelms Hubert's conscience and he is saved. He then attempts to escape by jumping off the castle wall.
ARTHUR: The wall is high and yet I will leap down. Good ground be pitiful and hurt me not.
This is a major miscalculation on Arthur's part and the good ground is not pitiful. Not at all. Goodbye Arthur.
Cinna the poet (Julius Caesar)
Cinna the poet has 14 lines in the whole of Julius Caesar. He's a poet. He's nothing special. He appears at the end of Act 3 when Rome is descending into chaos in the aftermath of Caesar's funeral. He deliberates about whether he should go outside to witness the commotion. He does so, whereupon he is mistaken for somebody else called Cinna (the conspirator) and is torn to pieces by the mob.
CINNA THE POET: I am not Cinna the conspirator.
FOURTH CITIZEN: It is no matter, his name's Cinna; pluck but his name out of his heart, and turn him going.
I wrote a solo piece about Cinna the poet because he is so perfectly at the wrong place in the wrong time – with the wrong name. His death completely refocusses Julius Caesar to help us understand the larger consequences of the play's action. It is a stroke of genius by Shakespeare.
Clarence (Richard III)
There's quite a lot of fratricide (or attempted fratricide) in Shakespeare. Edgar kills Edmund. Antonio thinks he's killed Prospero. Claudius kills King Hamlet. And Gloucester, soon to be Richard III, kills his brother Clarence. He doesn't do the deed himself but commissions two murderers to do it. Clarence's murder is one of the most chilling scenes in Shakespeare. It's like Tarantino.
CLARENCE: Who sent you hither? Wherefore do you come?
2ND MURDERER: To, to, to –
CLARENCE: To murder me?
1ST MURDERER: Ay, ay.
2ND MURDERER: Your brother Gloucester hates you.
CLARENCE: Oh, no, he loves me, and he holds me dear.
1ST MURDERER: Tis he that sent us hither to slaughter thee. Make peace with God, for you must die, my lord.
2ND MURDERER: Look behind you, my lord
1ST MURDERER: Take that, and that. And if all this will not do,
I'll drown you in the malmsey butt within.
The Fly (Titus Andronicus)
Like Cinna the poet, the death of the fly in Titus Andronicus messes with our sympathies. Titus and his brother, Marcus, are talking. Marcus strikes out at a harmless fly and kills it. Titus then launches a tirade against his brother at the injustice of the act.
TITUS: What dost thou strike at, Marcus, with thy knife?
MARCUS: At that that I have kill'd, my lord; a fly.
TITUS: Out on thee, murderer! thou kill'st my heart.
But how, if that fly had a father and mother?
How would he hang his slender gilded wings,
And buzz lamenting doings in the air!
MARCUS: Pardon me, sir; it was a black ill-favor'd fly.
This is from a man, Titus, who chops his own arm off, kills two of his own children and bakes people in pies. A bit rich, really.
The Pie (Titus Andronicus)
We never see the baking process in Titus Andronicus. It's not Bake Off. Shakespeare does show us the recipe and the prep.
• Take one Chiron and Demetrius. (Any Goth will do.)
• Slit their throats and put the blood in a basin.
• "Grind the bones to powder small".
• "Temper" the powder with the blood.
• Make a "paste".
• Bake the "vile heads" in the paste.
We don't get timings or temperatures. We do, however, get the reveal. Titus, dressed like a cook, serves the pie to the contents' mother, whom he then proceeds to stab to death. No garnish. Mary Berry would have had a thing or two to say.
Brutus (Julius Caesar)
You're the great Marcus Brutus. You have a vision for a more democratic future. A vision that, after much careful deliberation, necessitates the removal of a potential dictator. The dictator dead, you think democracy is secure. But then the project fails. Civil war ensues. And here you are, on the losing side. The Roman way is to fall on your sword. Your friend Cassius has done it. Titinius did it unaided. You look around your last remaining supporters for someone who will help you. "Hold thou my sword hilt, whilst I run on it." Three of your friends decline – "I'll rather kill myself." Eventually, Strato agrees. "Hold then the sword, and turn away thy face."
Brutus's suicide is unbearably heartbreaking. The monumental scale of political discourse in that play, brought to a single moment of personal ending. "This was a man."
Desdemona (Othello)
The end of Othello is a total bloody mess of tragic misunderstanding and malevolence. When watching the play, it takes all my will not to get up and yell at everyone. We know Desdemona is innocent; we know what Iago has done – and yet we are prepared to sit there, stupefied, in our comfy theatre seats, and watch it all implode. Shakespeare stretches it out, to give us even more opportunity to intervene. "Kill me tomorrow, let me live tonight," says Desdemona. Othello smothers her – but she revives. She pleads her innocence again. She's every woman abused by a jealous partner. We are pinned to our seats. We know more than anyone and we can't say a word.
Lear (King Lear)
For centuries, the death of Lear (and his daughter Cordelia) was so unacceptable that it was cut from the play. Nahum Tate's happy ending version was the standard performed text from 1681 to the mid 19th century. And it's not hard to see why. The idea with drama is that it takes you to a very dark place and then brings you back. King Lear doesn't do that. I remember my English teacher at school saying that Lear's heart bursts with joy because he thinks Cordelia is still alive – "Look on her: look, her lips. Look there, look there!" But this is scant consolation. He doesn't have to die. There's no precedent in the source material. The playwright elects to kill him and, in so doing, heralds a new age. God is dead. Samuel Beckett is knocking on the door.
Young Macduff (Macbeth)
My mum could never watch the Lady Macduff scene in Macbeth. She would always cover her eyes. She knew what was coming. From the moment Macbeth kills Duncan a thick crust of ice starts to form over the play – and Young Macduff's death is when it starts to crack. As if the world is not able to sustain such wickedness. "He has killed me, mother. Run away, I pray you." Young Macduff also has the best put-down of a murderer ever – "Thou liest, thou shag-haired villain." For one so young, he is mightily brave. But resistance is useless. I remember one production where the murderer bounced the boy playfully on his knee and, as he bounced, he bounced him onto his knife's blade.
Cleopatra (Antony and Cleopatra)
The death of Cleopatra is three deaths: the queen herself and her two handmaidens, Iras and Charmian. Iras's death is a mystery. She kisses her mistress and down she goes. From this "vanishing", Cleopatra understands death to be as a "lover's pinch which hurts and is desired". All the deaths in Antony and Cleopatra are "desired". Even Enobarbus, who takes himself away to a ditch and dies from grief and shame. The build-up to Cleopatra's death is a model of dramatic tension. She takes possession of the snakes from a "clown" who wishes her "all the joy of the worm". She places a snake to her chest – "Dost thou not see my baby at my breast, That sucks the nurse asleep?" – and down she goes. Finally her loyal servant, Charmian, goes the same way. Few significant female characters survive Shakespeare's darker plays: none remaining at the end of Hamlet, none remaining in Othello, Macbeth, King Lear, Titus Andronicus. All dead at the end of Antony and Cleopatra. All dead.
Clarence's murder is one of the most chilling scenes in Shakespeare. It's like Tarantino.
Explore topics
Share this article