David Bowie: Unforgettable and Unrepeatable |

reviews, news & interviews
David Bowie: Unforgettable and Unrepeatable
David Bowie: Unforgettable and Unrepeatable
Charismatic alchemist of music, fashion, stage and screen
Bowie and his wife Iman in New York in 2002
If each man's death diminishes us, we're all about a foot shorter today. When Elvis Presley died, his manager Colonel Tom Parker said "this won't change anything!", and he promptly set about ensuring his client's immortality by turning him into a production line of merchandise and memorabilia. This won't happen to David Bowie, because he had already seized control of his own myth.
It will continue to be felt indefinitely in his influence on music, video, art and the the nature of stardom itself.
Anyone who thought Bowie had made his last big artistic statement will have been confounded by the release of his new album Blackstar. Time will tell how it will eventually be regarded in a vast career which stretched back to the mid-Sixties, but unveiling the album to the world on his 69th birthday on 8 January, two days before his death, was the final theatrical coup from an incorrigible showman. In his lifetime, at least (Bowie and first wife Angie in 1973, pictured below).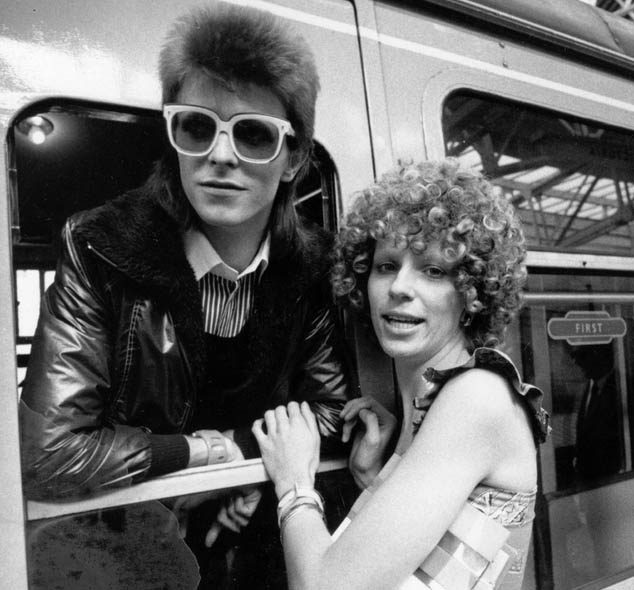 Midge Ure, of Ultravox and Band Aid fame, expressed it eloquently: "I think if you spoke to any musician who has been around in the last 30, 40 years, we all have benchmarks that we try and emulate and that we put our feeble efforts next to, and somewhere along the line you do think, 'well, what would David Bowie do here?' Because he wasn't just a brilliant songwriter and an amazing creator, he excelled at everything. He gave us the point to run towards, we are all still trying to run towards that, everyone."
Bowie wasn't just a musician of course, and chalked up a substantial list of acting roles. His film work included The Man Who Fell to Earth, The Hunger, Just a Gigolo, Merry Christmas Mr Lawrence, Zoolander and The Prestige, and he delivered a memorable stage performance as The Elephant Man. But it's the musical upheavals he pioneered that will remain his greatest legacy. He devised his most successful and transformative work in the Seventies and Eighties, his creativity and imagination expanding at a rate which seems incomprehensible in hindsight.
His Ziggy Stardust period, in which he both authored and enacted his own vision of an unearthly and impossibly glamorous and androgynous star, only lasted from 1972-'73, a period during which he also managed to revive the career of Mott the Hoople and produce Lou Reed's Transformer and the Stooges' Raw Power. And even before all that he'd flexed his muscles on a couple of masterpieces, The Man Who Sold the World and Hunky Dory. His "plastic soul" era began with Diamond Dogs in 1974 and encompassed the brilliant Young Americans and even more brilliant Station To Station before ending in 1976. Then Bowie headed east for Berlin, where he re-drew the musical map again with Low and Heroes. The Berlin gambit was so inspired that U2 borrowed it to reinvent themselves with 1991's Achtung Baby (Bowie meets Princess Diana at Wembley Arena in 1993, below).
Not even Bowie could sustain this pace, even with round-the-clock ingestions of cocaine, but commercially the best was still yet to come. On Let's Dance, he relaunched himself as a blonde, pastel-tinted global rock star, scoring massive hits with "Let's Dance", "China Girl" and "Modern Love" and packing in the crowds on his Serious Moonlight tour. Subsequently his work grew erratic (we shall not speak of the dire Tin Machine project), but he never stopped. He topped the charts with '93s Black Tie White Noise, and on Earthling ('97) he had a plucky if implausible shot at drum'n'bass. Heathen (2002) sold two million copies and brought him a Mercury Prize nomination. The shock arrival of The Next Day in 2013, his first collection of new songs in a decade, was a sleight-of-hand mix of old Bowie with an overlay of fin-de-siècle bleakness.
Clearly we'll never see his like again, but we'd never seen his like before either.
He gave us the point to run towards, we are all still trying to run towards that, everyone
Explore topics
Share this article