Piano Circus, Juice Vocal Ensemble, Kings Place |

reviews, news & interviews
Piano Circus, Juice Vocal Ensemble, Kings Place
Piano Circus, Juice Vocal Ensemble, Kings Place
A reinvented minimalist classic is let down by poor sound quality
Piano Circus performing earlier this year
It is not surprising that Piano Circus rarely play on six real pianos (although the photo on last night's programme cover shows just that). The expense, the stage space required and the logistical complexity all militate against it.
But the sound produced by six highly amplified digital keyboards is so far removed from that of six pianos as to be another thing entirely, and the overriding memory of this concert is an unpleasant, and unpleasantly loud, piano-ish blast of sound beating me about the ears.
Which is a shame as some of the playing was spectacular, incredibly tight and together. Piano Circus are individual virtuosos who put their egos to one side to produce a unity of approach which is more than impressive. To play so many streams of semiquavers without any one of the six putting a finger wrong witnesses to metronomic techniques and hours of rehearsal.
That said, the Piano Circus – and the music they play – make a reviewer's job hard. There is little nuance to pick up in the music in terms of touch and articulation, melodic line or the weighting of chords, even if the instruments permitted such things. None of the pieces have solo moments to identify, or individual contributions to applaud. In fact, it really isn't possible even to identify particular players; the group members are listed in alphabetical order, which may or may not be the order in which they sit, and there is no one leader. The performances stand or fall on the communal effort and contribution to the overall sound.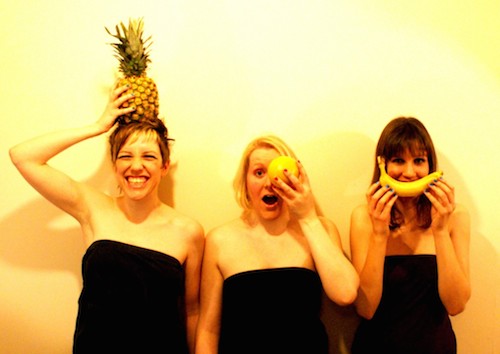 The only sonic variety was courtesy of Juice Vocal Ensemble (pictured right), usually three singers but augmented to four for the world premiere of a new version of Louis Andriessen's seminal De Staat. Originally composed for one of Andriessen's typically idiosyncratic ensembles – quartets of female voices, oboes, horns, trumpets and trombones as well as pairs of pianos and harps with electric guitar and bass – this transcription (by James Young of Piano Circus) was true to the hard-edged original.
Andriessen (born 1939) is the leading Dutch exponent of the minimalist style and De Staat (The Republic) was written in the early years of his success, and premiered in 1976. Taking extracts from Plato's dialogue on the ideal state as its text, it is an avowedly political statement, and an unforgiving listen. Andriessen takes the repetitive gestures of Steve Reich but couches them in much harsher, more dissonant harmonies. He also throws influences ranging from Stravinsky to pop music into the mix, and churns them all up.
De Staat was one of the first minimal pieces to use the human voice, and Juice Vocal Ensemble, brilliant as they ever are, brought a welcome variety to the sound, although Andriessen's stern and didactic vocal declamation does not give much scope for interpretation or conventional musicality.
By the end my ears were battered and ringing, and desperate for some respite
In the 1980s Andriessen co-wrote a wonderful book on Stravinsky called The Apollonian Clockwork, and the name could well apply to De Staat. It is music which sounds like a machine-like plaything of a god, both ordered and slightly chaotic. The piano arrangement flattens out the timbral rawness of the original, but points up Andriessen's obsessive exploration of individual tetrachords, often minutes at a time on a single chord. Piano Circus rose to the challenge with a marvellously committed performance, although details of the playing were often lost in the amplification.
The pieces either side of De Staat did not rise to the same heights. David Lang's face so pale, replacing the billed world premiere, was that saddest of pieces: one that sounds more interesting when described in the programme that it does when played. Apparently, but not audibly, built from a Dufay ballade, it made little impression.
More stirring, but outstaying its welcome somewhat, was Graham Fitkin's Log, Line, Loud, a trilogy written for Piano Circus in 1989-1991. Fitkin's language in these pieces is modal, as harmonically smooth as Andriessen's is spiky. There are some well paced build-ups, textures becoming more and more layered and frenetic, with pounding boogie-woogie basslines and manic scales at the top end. But the last movement, Loud, is very true to its title and by the end my ears were battered and ringing and desperate for some respite.
The overriding memory of this concert is an unpleasantly loud, piano-ish blast of sound beating me about the ears
rating
Explore topics
Share this article