Flowering Cherry, Finborough Theatre |

reviews, news & interviews
Flowering Cherry, Finborough Theatre
Flowering Cherry, Finborough Theatre
A husband and father goes to seed in Robert Bolt's first play
Saturday, 21 November 2015
Dominating, in different ways: Catherine Kanter as Isobel Cherry, with Liam McKenna as husband Jim
In the world of dramatic rediscoveries, half a century may not count as a long time. Slightly more, in fact, with Robert Bolt's first performed play Flowering Cherry, which premiered in 1957 with Ralph Richardson and Celia Johnson in the leads as the eponymous husband and wife, Jim and Isobel Cherry. That production ran for 450-odd performances, allowing Bolt to give up teaching for the writing career that would see his best-known work, A Man For All Seasons, appear in 1960, as well as his momentous screen collaborations with David Lean over the decade that followed.
The reviews were full of praise, immediately drawing comparisons with Arthur Miller – "Death of a Salesman with a Clapham accent," the Evening Standard wrote. Clapham has certainly changed in the intervening years – no longer just a convenient name-check for generic suburbia – rather more than Flowering Cherry has. Benjamin Whitrow's production at the Finborough – following on, florally at least, from his excellent revival of RC Sheriff's The White Carnation there two years ago – makes a case for the play as a valuable, rather than essential piece.
Bolt shows us the disintegration of this world on a more profound level
Bolt's writing catches the everyday details of family life well, while the kitchen-cum-dining room that is the play's single space fits the Finborough nicely, with Alex Marker's design – flowered wallpaper, dresser with crockery – depicting the crowded environment of a family house where the children have grown up and are about to leave home. There are the tribulations of changing circumstances: son Tom (James Musgrave) is apprehensive about National Service, while daughter Judy (Hannah Morrish) is completing her design studies before moving on into a job that will allow her to rent a flat with a friend. But Bolt shows us the disintegration of this world on a more profound level: as the family unit breaks, we come close to – but never quite reach (and possibly it's not exactly the target, either) – a sense of tragedy.
It's the parents who dominate, albeit in completely different ways. Father Jim (Liam McKenna) is all talk and bluster: the play reveals him increasingly as a fantasist who's going to rapid seed (not in the agricultural sense) as his fondness for a drink becomes increasingly a need. His wife Isobel (Catherine Kanter) is timid, somehow bowed-down, contracted even by long years of marriage, and raising a family on what's probably been a budget – though we sense they've now stepped up into the gradually expanding middle-class band.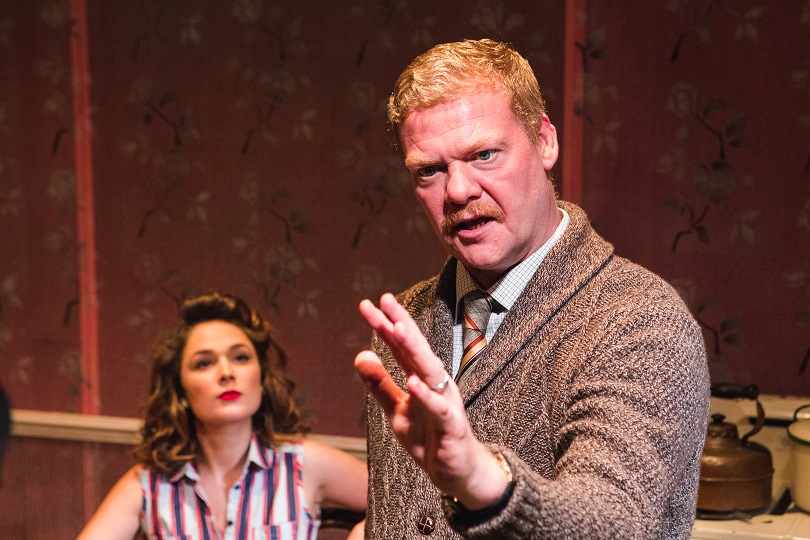 Bolt's stage directions include insightful character studies of both. About Jim, "there is about the eyes and mouth the sadness and confusion of the immature"; of Isobel, "the fundamental pattern of her features is one of melancholy; the liveliness is purchased with a certain amount of strain." If we were watching their story unfolding a couple of decades later, the stress of this marriage would surely have emerged sooner and more directly.
It's precipitated here by Jim's recurring dream of escape, to sell up in London and abandon the thankless, if secure insurance job he feels to be alien, and buy a small apple orchard in Somerset – the location of his childhood, and origin of memories which have been very likely inflated into myth. Isobel's dream seems simpler – that her husband just pay her more attention, stop taking her for granted, and that any growth would come in their emotional life.
Kanter emanates that inner sadness beautifully, "disappointment" probably being the wrong word since it would assume she's expected anything different. McKenna, so far at least, hasn't quite stretched into Jim's character to the full – and it's a mighty challenge to evoke real empathy for a character for whom that "immaturity" highlighted by Bolt is indeed key. Especially when he stoops really pretty low in what he gets up to: the gradual dilution of the scrumpy with shots of gin may be one way to deal with disillusion, but the lifting of notes from his wife's purse – light fingers being something of a family trait – in a particularly humiliating scene is another. His flirting with Carol (pictured above, Phoebe Sparrow with Liam McKenna), who begins as Judy's best friend before she moves on to treating the whole family for her own convenience, is typical, while his relations to others outside the family, like his reticent fellow office-worker (a beautiful cameo from director Whitrow) are one-sided, verging on patronising.
Finally he's revealed as a coward who declines to pursue his dream, even when it's virtually offered to him on a plate. From the decade that brought us the angry young man, Jim Cherry is an angry middle-aged man, the origin of whose anger lies in himself rather than his world.
Subscribe to theartsdesk.com
Thank you for continuing to read our work on theartsdesk.com. For unlimited access to every article in its entirety, including our archive of more than 10,000 pieces, we're asking for £3.95 per month or £30 per year. We feel it's a very good deal, and hope you do too.
To take an annual subscription now simply click here.
And if you're looking for that extra gift for a friend or family member, why not treat them to a theartsdesk.com gift subscription?