The Moderate Soprano, Hampstead Theatre |

reviews, news & interviews
The Moderate Soprano, Hampstead Theatre
The Moderate Soprano, Hampstead Theatre
This Glyndebourne play will charm Glyndebourne's core audience, but is that enough?
John Christie (Roger Allam) and Audrey Christie (Nancy Carroll) start the Glyndebourne journey with a cocktail
Remember back when David Hare was left-wing? I'm not sure that he does.
Between the affectionate, bittersweet nostalgia of
South Downs
and now
The Moderate Soprano
– a stroll through the verdant history of England's most exclusive opera company – we're suddenly a long way from the school of
Slag
or the urban anger of
Racing Demon
. Which isn't necessarily a bad thing, but when – as here, in the programme interview – Hare claims that "heritage theatre is not my thing" it's getting harder and harder to believe him.
The anger has drained out of this theatre. There's still subversion, but it's of the quietest kind possible. Writing a play about Glyndebourne – that most English of English institutions – that stresses its European (specifically German) origins is a bit like all those jokes about the Royal Family: true certainly, amusing perhaps, but only shocking in a Christmas-crackerish sort of way.
Carroll is captivating – the gravitational centre of the piece
Glyndebourne's roots in the Sussex Downs go surprisingly deep, tangled up in wartime politics, national identity and a personal love-story. It's the latter that drives the drama, powered here in Jeremy Herrin's production by the partnership of Roger Allam as Glyndebourne's founder John Christie and Nancy Carroll as his opera-singer wife, Audrey. A story that dips in and out of chronology demands jumps between ageing frailty and illness and youthful (on Audrey's part, at least) energy.
Carroll (pictured below with George Taylor) is captivating – the gravitational centre of the piece. In her younger incarnation Audrey is still, poised, speaking less than almost anyone else on stage while wielding more power. Such is the fizzing energy and intelligence behind Carroll's eyes, projected with so much force, that her influence is never in doubt. Still more potent is her late-life ferocity, her energy channelled into anger at the husband patiently adapting to this new creature in his life.
Allam – barely recognisable as the balding, paunchy John Christie – captures both the single-minded drive and the childish querulousness of Glyndebourne's founder. The humour that dominates the earlier scenes all stems from Allam, gamely stepping up as the archetypal English eccentric – overwritten to the point of parody at times, but always anchored by an essential humanity that connects this material to the gentle tragedy of the ending.
Chafing up against all this bristly ambition is George Taylor's cashmere-smooth Rudolf Bing – his future at the Metropolitan Opera already written in the easy charm of his youthful diplomacy – and the efficient double-act of Paul Jesson (pictured below left with Allam) and Nick Sampson as Glyndebourne's first conductor and director Fritz Busch and Carl Ebert.
Rae Smith's designs blend drawing room and proscenium stage in an allusive all-purpose space that captures Glyndebourne's unique duality – simultaneously private home and public concern, with a mistress who is also its principal soprano – framing Herrin's production, with its quick shifts of mood and place, elegantly.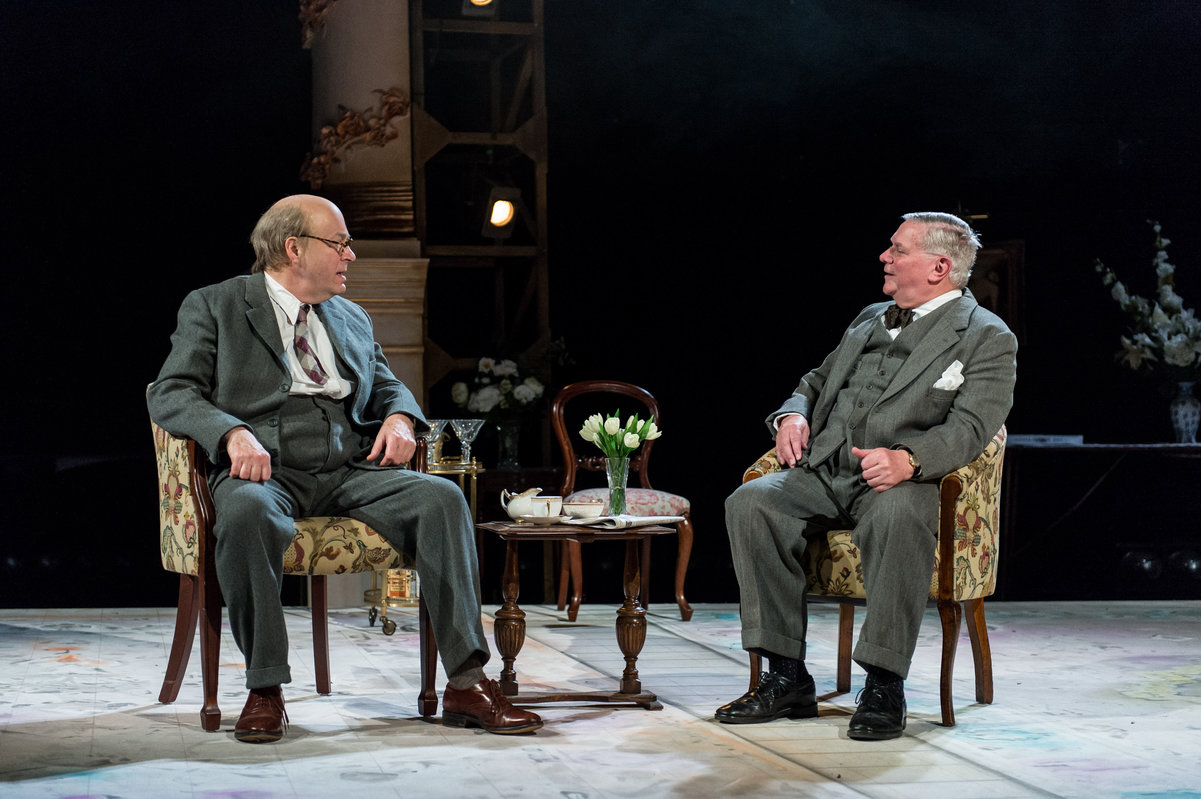 But for all its visual attractions and the quiet weight of the direction, there seems to be a tension in Hare's latest play that is never fully resolved. Having set out to write a play about Glyndebourne, Hare is so keen to widen his lens – to take in Nazi atrocities and the relationship between war and art, art's role in society and its relationship to daily life – that his original subject can feel like the unwelcome guest at this theatrical party, lingering with light chatter while there are more important things to be discussed. The relationship which is the most interesting thing about Glyndebourne's story is too often sidelined while the play gets through its narrative business.
Hare also fails to reconcile the social conscience at the heart of Christie's ambition – "I want to give my country a model of perfection" – with the rarified product he offers. The "If you build it, they will come" model doesn't quite work when the "it" in question is a jewel-box opera house, capable of seating only a few immensely wealthy patrons, and for all his obvious passion for his subject matter (there is a wonderful scene justifying the opera's ticket prices), Hare can't quite square this circle.
The Moderate Soprano is a play about Glyndebourne calculated to appeal to Glyndebourne-going audiences. It's all very nicely done, but – despite the fine central performances – it's hard not to leave asking, "So what?"
There is a tension in Hare's latest play that is never fully resolved
rating
Explore topics
Share this article