theartsdesk at the Lammermuir Festival |

reviews, news & interviews
theartsdesk at the Lammermuir Festival
theartsdesk at the Lammermuir Festival
Pleasingly provocative quartet of concerts ends this year's East Lothian event in style
Monday, 21 September 2015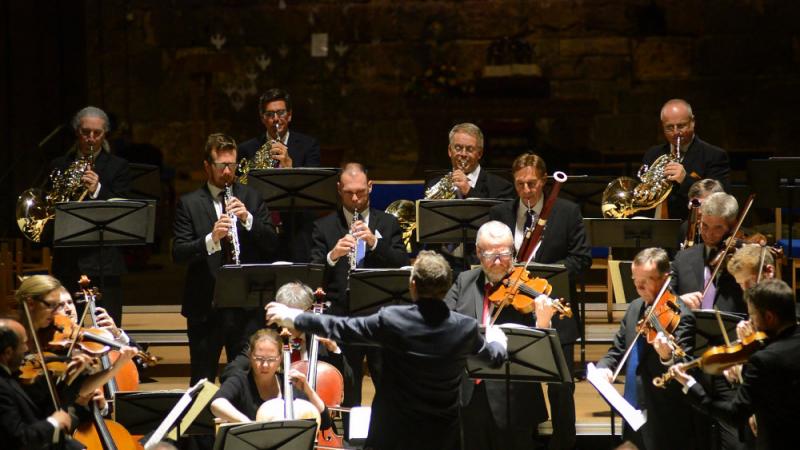 Fizzing with electricity: Lars Vogt conducting the Royal Northern Sinfonia in Haddington
It's hard to believe that East Lothian's Lammermuir Festival has only been around for six years. In that short time, it's become a cherished fixture in Scotland's musical calendar. For regular concert-goers, it's a calmer antidote to the August festival mayhem of Edinburgh, just half an hour away, and just a couple of weeks after the capital's wall-to-wall chaos ends.
And for East Lothian locals, it's a well-appreciated intensive burst of classical music in the beautiful but decidedly untouristy villages and historic buildings of their neighbourhood.
And it's to the credit of co-artistic directors Hugh MacDonald and James Waters that they seldom go for the easy option when programming. One of last year's highlights was local boy Steven Osborne in an astonishingly accomplished Messiaen Vingt regards sur l'enfant-Jésus. And for this year's festival closing weekend, we got the somewhat eyebrow-raising combination of György Ligeti and Orlando Gibbons – hardly names to draw a Saturday night crowd, you might think, but lapped up with relish by the Lammermuir audiences.
The Ligeti – books one and two of his complete piano Études, played by London-born pianist Danny Driver (pictured right) in the intimate, light-filled Holy Trinity Church, Haddington – felt like a bit of a gamble, even with Debussy's Images scattered among them to leaven the load. But they were adored by the appreciative festival crowd – and it's not hard to see why, with Driver's steely, driven pianism, and a warm spoken introduction in which he gave a few insights into the formidable challenges of playing them. The cataclysmic showpiece "L'escalier du diable" was suitably infernal, but it was in others where Driver's immaculate, finely balanced pianism really shone through – in the steely gleam of "Fém", or the gleeful, Bartók-like "Fanfares", or the towering, Brancusi-inspired "Coloana infinita".
The Debussy pieces provided moments of respite from Ligeti's often furious rhythmic workouts, but if anyone was expecting them to be dreamy oases of pastel-tinged calm, they'd have been very disappointed. Driver's Images were lively and sharply etched, with sometimes quite brittle articulation. It was an approach that shone a fresh, bright light on some (radiant chords emerging as if single sounds in "Cloches à travers les feuilles", for example), but left others feeling a bit too deliberate. Driver's "Reflets dans l'eau", for example, was surprisingly forthright, and he made sure we heard every note, bright and clear, even when they might have been better simply merging into texture. Still, it was an astonishing achievement, both technically and musically, and lapped up by the Lammermuir crowd.
The second event in Saturday's daring combination – back-to-back choral and viol-consort music by Orlando Gibbons – took place up the road in Haddington's larger St Mary's Church, and the concert's radiant simplicity and glowing consonant harmonies felt like a bracing contrast to the thorny complexity of the Ligeti, although there were pleasing connections too in Gibbons's intricate counterpoint. Six-piece viol consort Phantasm and the eight voices of Nigel Short's Tenebrae (both pictured above) delivered impeccable, exquisite performances, breathing and flowing together with near miraculous ensemble – how they managed to sculpt their closing chords with such microscopic finesse without someone directing remains a mystery – and an astonishingly pure sense of intonation, to which St Mary's church acoustic added a gentle bloom of resonance. But despite their astonishing clarity and precision, these were far from cold performances: with a judicious bit of viol vibrato here and there, and individual singers swelling from Gibbons's textures as their lines elaborated, they were rich, warm and thrillingly expressive. Their "See, see the word is incarnate" felt almost like a miniature opera, and they savoured every harmony in their closing, caressing "The Silver Swan", achingly beautiful.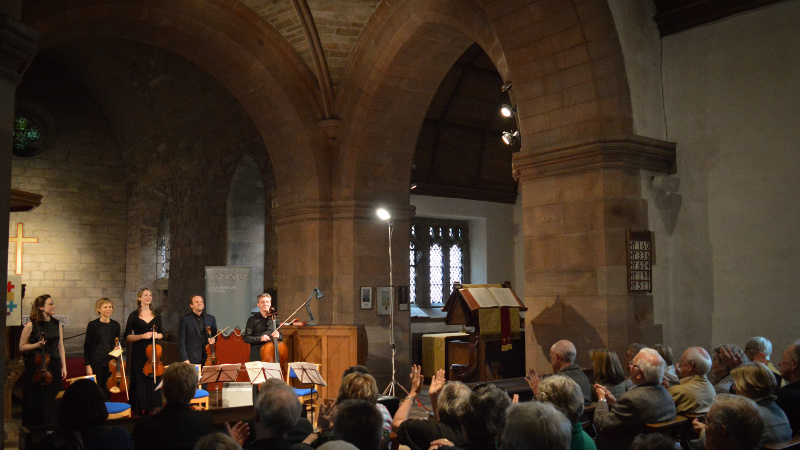 The following day, it was a swift ride through East Lothian's twisty country roads to Whitekirk's remarkable 15th-century St Mary's Church, with its sober stone interior and magnificent vaulted ceilings, for an enterprising afternoon recital from the Hebrides Ensemble (pictured above) that seemed to strain at the edges of what a string chamber group can actually do. In the first (and only complete) movement of Sibelius's early G minor String Trio, it felt like Benjamin Navarro's violin and Catherine Marwood's viola were standing in for full orchestral string sections in their aggressive, outspoken gestures, and the group's account of Brett Dean's Epitaphs conjured a panoply of unusual sounds and textures from just five players – even if the Ensemble could probably have done with a dramaturge to clarify Dean's dramatic intent. It feels as if Anton Bruckner, too, was striving for orchestral richness in his String Quintet, and the Hebrides players' account was appropriately big-boned and long-limbed. It was here, though, that they sounded most like five players brought together for this performance rather than a permanent chamber group, with doggedly individual takes on articulation, vibrato and attack – a shame, as it was a furiously compelling performance.
Sunday evening's closing concert, back at St Mary's, Haddington, was something truly special – and a bit of a coup for Lammermuir. Newcastle's Royal Northern Sinfonia was making a return visit following their warmly received festival debut last year, but this time it was with their brand new music director Lars Vogt (pictured below), in only his second gig in the role (the first had been the previous Friday in Gateshead).
Right from the start, it was clear he was determined to make his mark with the band – and in the minds of the listening audience, too. His opening Sibelius Andante festivo was silky smooth, microscopically articulated, and full of stark (probably over-emphatic) contrasts – and it was an astonishingly vivid, dramatic approach he continued in the Mozart Symphony No. 25 that followed, and for which the orchestra (wind, horns, everyone bar cellos and basses) remained standing. Vogt's opening movement was urgent and full of pent-up energy, with principal oboe Steven Hudson soaring in an aria-like solo in the transition, and his slow movement slithered with deep seriousness, horns, oboes and bassoons shifting around as if soloists. You might not like everything Vogt was doing to the music – and in places, indeed, it did seem pretty calculated – but boy, he had something to say and was saying it loudly and clearly.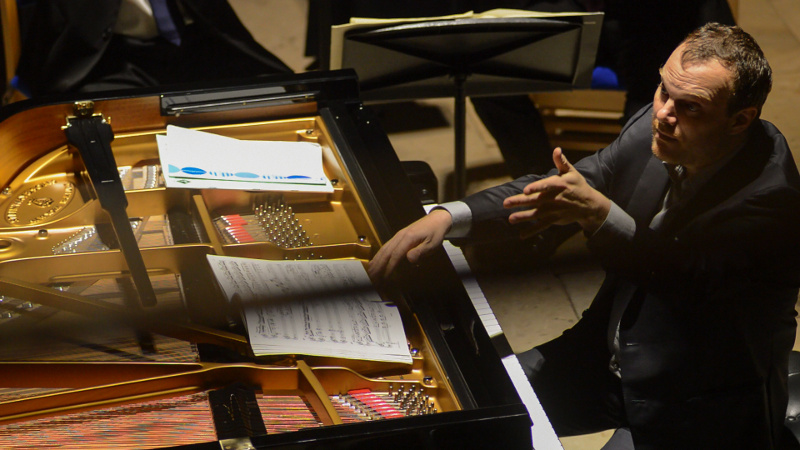 The drama continued in a thrillingly fresh Grieg Piano Concerto after the interval, which Vogt directed from the keyboard with his back to the audience, exposing his powerful, driven pianism for all to see. He's played it countless times before, but never like this: it's not the most obvious work to direct from the keyboard, nor even originally intended for performance without a conductor, but Vogt made it seem both terrifyingly demanding and effortlessly logical, leaping from a weighty chord to direct a sudden shift in tempo, and achieving a lot with a simple look or nod across to his orchestral colleagues here and there while he was negotiating some passagework. There can be very few concerts where the orchestral musicians have had such smiles on their faces as they too glanced around the orchestra and played off each other, but Vogt's Grieg Concerto – forceful and hard-driven though it sometimes was – felt truly like chamber music writ large, fizzing with electricity and bouncing with energy. It made for a roof-raising end to this year's eclectic, brilliantly satisfying Lammermuir festivities, as well as a provocative curtain-raiser for Vogt's coming seasons at the Royal Northern Sinfonia.
For this year's closing weekend, we got the eyebrow-raising combination of Ligeti and Gibbons – hardly names to draw a Saturday night crowd
Explore topics
Share this article