Dunedin Consort, Butt, Brunton Theatre, Musselburgh |

reviews, news & interviews
Dunedin Consort, Butt, Brunton Theatre, Musselburgh
Dunedin Consort, Butt, Brunton Theatre, Musselburgh
Cantatas, coffee and cake mingle to quietly revelatory effect
Monday, 14 September 2015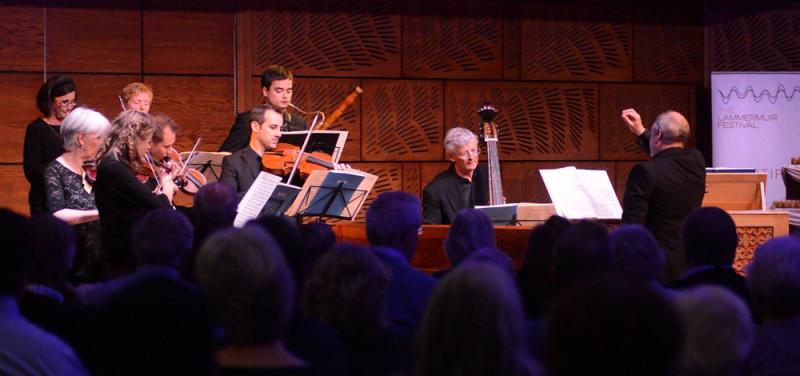 Edinburgh's Dunedin Consort and director John Butt: impeccably stylish Bach
It was, admitted the Lammermuir Festival's co-artistic director James Waters, 'a bit of an experiment'. And trying to recreate the fertile atmosphere – intellectual, musical and culinary – of a Leipzig coffee house from the 1730s, complete with Bach, coffee and cake, could so easily have become just an excuse to expand the waistline in the name of art. Or worse, a tempting tasty marketing ploy to bring in reluctant new audience members.
In the end, though, through music, discussion, informal chit-chat and, yes, very fine baking, it was a bit of a quiet revelation.
This was the Sunday afternoon treat in the first weekend of the Lammermuir Festival, the annual bit-more-than-a-week of fine music making – now in its sixth year – that takes over churches and historic buildings in the villages of East Lothian, and follows hot on the heels of the August festival mayhem of Edinburgh, just up the A1.
Not that Musselburgh's 1970s Brunton Theatre, with its glowing neon and stripped word, exactly counts as a historic building. There might have been more atmospheric venues for the Festival's nod to the cultural life of 18th-century coffee houses, but then again, authenticity and historical appropriateness were both up for discussion across the whole event.
Musically, period-performance expert John Butt and his one-to-a-part Dunedin Consort gave impeccably stylish performances of two Bach cantatas plus his First Orchestral Suite. Butt was joined by Edinburgh University history lecturer Nicholas Phillipson for some ebullient discussion of the Enlightenment in Germany and Scotland, and the role of authenticity in performance and study. And German-born Konditormeister (or master baker) Falko Burkert (pictured below with his cake creation), now based in Scotland and with cafes in swanky Bruntsfield and Gullane, had concocted a special, historically appropriate almond cake for the occasion.
With its mixture of music, panel discussion and cake/coffee consumption, there was a danger that the event could lack focus. But each element was strong in its own right, and together they blended to create, maybe not a slavish recreation of Bach's own coffee-house experiences, but at least a modern-day opportunity to meet, listen, eat, drink and take time to consider some weightier musical and cultural issues.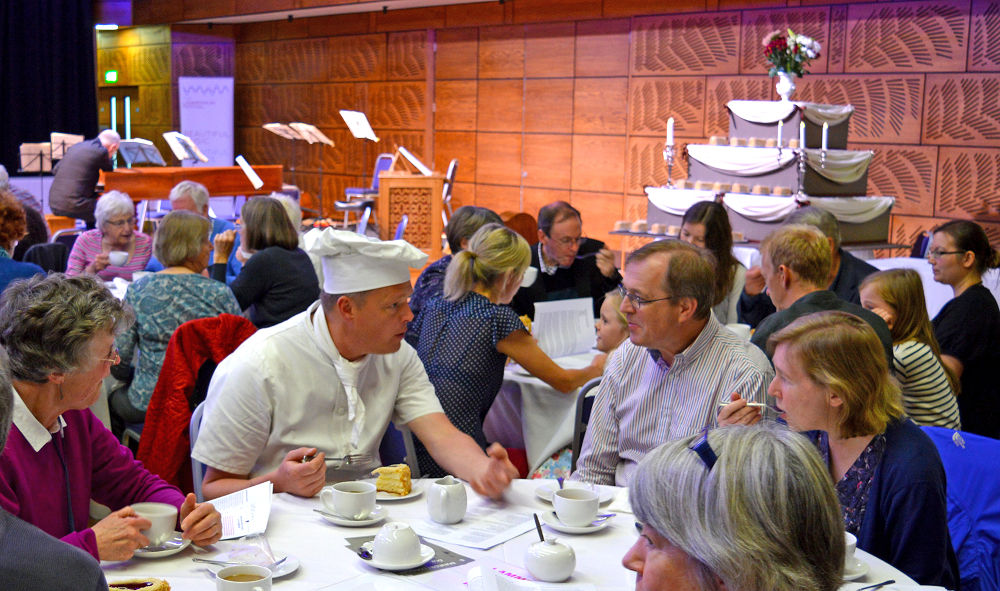 In terms of music, Butt's Dunedin Consort were perky and hugely characterful. They were joined by soprano Mary Bevan and bass-baritone Matthew Brook for a very entertaining account of Bach's Coffee Cantata that turned it virtually into a miniature opera, with Bevan's sulky, stoppy daughter, denied a husband because of her love of the drink, matched ably by Brook's wily, scheming father. It felt a bit less than apt – that question of appropriateness again – to close the concert with a sacred cantata (let alone one sixth of the Christmas Oratorio) that would never have been heard amid the chatter of a coffee house, but it was a beautifully judged account nonetheless, rich, brisk and fluid.
It was probably better not to think too hard, however, about the mind-bending self-referentiality of Butt and Phillipson's discussions about the discussions that might have taken place in similar situations in Leipzig's coffee houses three centuries previously. Instead, just sit back and admire the two men's easy erudition – which prompted many conversations across the afternoon tea tables that had replaced the Brunton's usual seating.
It was an experiment for sure. But it was one that paid off in terms of its abundant audience – drawn by the event's various elements, of course – but also in terms of the engaging, fresh light it shed on the cafe culture of Bach's time, and in provoking thoughts and discussion about our own.
Together they blended to create a modern-day opportunity to meet, listen, eat, drink and take time to consider some weightier musical and cultural issues
rating
Explore topics
Share this article