People, Places and Things, National Theatre |

reviews, news & interviews
People, Places and Things, National Theatre
People, Places and Things, National Theatre
New drama about addiction is informative, didactic, clever, funny and often very moving
Wednesday, 02 September 2015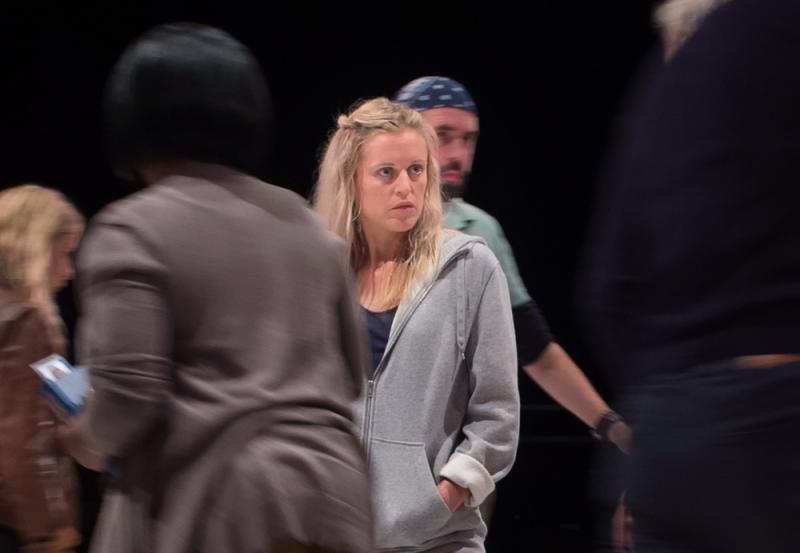 Drugs don't work: Denise Gough in 'People, Places and Things'
We all know what the word "addict" means, but what does it feel like to be one? Thirtysomething Emma – a minor actress played with immense conviction and quirky charm by Denise Gough – knows exactly. At one point in Duncan Macmillan's engrossing new play, she says, "People who aren't addicted to anything are really missing out, you know?" For the addict lives a life of glory: they feel complete, and loved and satisfied. Yes, that's it.
They love their addiction – and their addiction loves them back. Well, Emma should know: she has bottles stashed all around her flat, and a pharmacopeia in the bathroom.
But the trouble with addiction is that it interferes with your work. And threatens your life. In the first scene of the play, we see Emma playing the part of Nina in a small production of Chekhov's The Seagull – and she is visibly drunk. As she stumbles around the stage, her co-actor (playing Konstantin) is aghast and we the audience immediately experience the same sense of excruciating embarrassment that Emma's audience must be feeling. This clever beginning is typical of Macmillan's appealing intelligence and wry humour. But on with the story.
At first resistant to group therapy, Emma is gradually drawn in
Appalled by the blackouts she has been suffering, Emma soon fetches up at a rehab clinic and her doctor introduces her to the 12-step programme of Alcoholics Anonymous. When Emma objects to the spiritual side of the therapy, bigging up her own rationality, an interesting debate ensues about whether AA is a cult or a cure. At first resistant to group therapy, Emma is gradually drawn into the programme – with its inevitable downs as well as ups. This is no surprise: after all, most addiction stories are the same old story.
But if Macmillan's plot is not original, it is certainly compelling. People, Places and Things hums with ideas and occasionally shouts its message across the footlights. It is informative, funny and often touching. At times it even breaks down and the tears flow as unwelcome truths emerge. Yes, it's an emotional journey, and one which director Jeremy Herrin – in a co-production between the National and his Headlong theatre company – puts together beautifully on Bunnie Christie's white-tile set, which glows with a hard clinical aridity.
For better or worse, this is – despite a large cast of patients and carers – essentially a one-woman show. Everything is seen through Emma's eyes, and Gough is onstage for the entire two-and-a-half-hour show. At first scornful, armoured and intelligent, her desperate desire to stay in control gradually cracks, with her face dissolving into the agonies of cold turkey and then crumpling into the pain of facing reality. But if the whole play is her subjective experience, and Gough carries it all brilliantly, Herrin helps by illustrating her hallucinations, her delusions and her highs. Lights flash, clones dance and the music builds. Yes, that's the trouble with mixing drink and drugs – it can be fun.
The fact that it is one-sided means that the play has only brief interactions between the main characters. The chief casualty of this is the doctor, who is less a character and more of a mouthpiece for didactic statements about the theory and practice of therapy. And sadly, apart from an artfully constructed domestic family scene, when Emma goes home to confront her Dad and Mum, there are few moments of revelatory drama. Instead there are lots of ideas about addiction, about acting as a way of avoiding reality, and about, yes, the kindness of strangers.
Still, there's a lot to enjoy in a show that combines moments of pulsing dance music, of trippy lighting and dissolving walls, and some very good jokes. As well as Gough's bravura performance, there is excellent support from Barbara Marten, who doubles as the doctor and Emma's Mum, and Kevin McMonagle as Dad and a troublesome patient, while Nathaniel Martello-White (all three pictured above) is similarly excellent as the patient Mark, and Alistair Cope is a care-worker. The result is an informative, immensely absorbing, occasionally harrowing, often moving evening.
People, Places and Things hums with ideas and occasionally shouts its message across the footlights: it is informative, funny and often touching
rating
Explore topics
Share this article