Prom 25: Orfeo, EBS, Gardiner |

reviews, news & interviews
Prom 25: Orfeo, EBS, Gardiner
Prom 25: Orfeo, EBS, Gardiner
An operatic paean to the power of music
Wednesday, 05 August 2015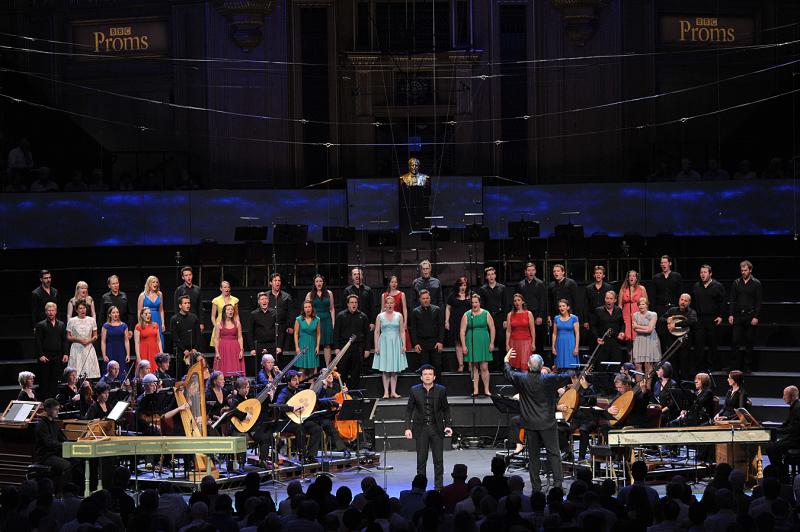 The young musicians of the Monteverdi Choir were the heart of this vital and dramatic performance
English choirs and early music ensembles have a bad reputation for stiffness, formality – nothing wrong with the music, just the presentation. But with this dramatic and Italianate Orfeo, John Eliot Gardiner, his English Baroque Soloists and Monteverdi Choir, reminded us just what is possible when you combine English musicianship with a looser, more instinctive presentation.
Gardiner and his forces have previous form; their 2012 Monteverdi Vespers at the Proms exploited every acoustic and spatial possibility of the Royal Albert Hall, and here once again their semi-staging inhabited the entire interior. The Messenger entered from among the Prommers, complete with accompanying Theorbo player, Gods descended from above, while echoes called back to Orpheus from the balcony. Even the ensemble weren't confined to their seats, standing for a triumphant opening Toccata, brass roaming about to catch the acoustic.
If John Eliot Gardiner and his musicians can't quite claim to raise the dead, they certainly know how to charm the living
There were no surtitles, and frankly they weren't necessary with so much stage business and vocal acting to narrate the familiar story. At the core of it all, the spirit of the performance, were Gardiner's Monteverdi Choir. Singing from memory, this small group of young singers filled the RAH with their focused and wonderfully flexible sound, offering as much variations of colour and expressive shading as if they were solo voices singing Monteverdi madrigals in the Wigmore Hall, and not massed forces in London's largest and most challenging classical venue. In addition to this they gamely danced, clapped and acted when required (which was frequently), bringing Monteverdi's drama to natural and fluid life.
Most exciting among an equally youthful team of soloists – many stepping out from the chorus – was Francesca Aspromonte, a piquant Music, seizing a baroque guitar from Gardiner to accompany herself in her opening sequence, and later a Messenger of tragic scope. Just occasionally pushed a little too hard, her tone offers everything from acid, bladed bite to softest caress. This is a voice, and a performer, to watch.
A softer Eurydice/Hope from Mariana Flores was a lovely foil to Aspromonte's vivid delivery – barely established before being snatched away from her wedding day – but physically very present in the drama thanks to some nice directorial touches and choreography. A trio of vividly characterised Shepherds from Andrew Tortise (also doing duty as Apollo, glowingly sung), Gareth Treseder and James Hall kept the music-drama flowing through their rather observational contributions aided by Esther Brazil's rich-toned Nymph, while Francesca Boncompagni made much of the cameo role of Proserpina, freshly and charmingly out of places in Hades, filling the space as easily with her light soprano as violinist Alina Ibragimova did over the weekend.
Deceptively understated, Krystian Adam's Orpheus played into the ensemble spirit of the show, only really stepping apart for the astonishing Act V monologue – meticulously embellished, but each ornament feeling like the natural extension of emotional extremity rather than a decoration. Never singing up to the venue, his performance demanded – and received – hush from a capacity crowd, all straining to catch every emotive detail.
Orfeo is an opera all about the power of music. If John Eliot Gardiner and his musicians can't quite claim to raise the dead yet, they certainly know how to charm the living, as this joyous evening of music-making proved so unarguably.
Read theartsdesk's reviews of other concerts from the BBC Proms
Never singing up to the venue, Adam's performance demanded - and received - hush from a capacity crowd
rating
Explore topics
Share this article