Dispatches: Escape from Isis, Channel 4 |

reviews, news & interviews
Dispatches: Escape from Isis, Channel 4
Dispatches: Escape from Isis, Channel 4
The horrific testimony of captured women who miraculously got out alive
Reunited: an IS captive returns home
"Say your last words before you leave this life." Somewhere in the so-called Islamic State, a woman was accused of adultery. Her father joined her accusers, then, as her shrouded body was lowered into a pit, picked up a rock and hurled it at her. We didn't have to watch her die, but Moona, an Iraqi activist using the internet to spread the truth about IS, did. It's remarkable that Moona is still alive. IS gunmen turned up at her flat to confiscate her laptop and threaten her family.
She now lives in exile in Turkey.
Escape from Isis was profoundly harrowing, geopolitically urgent and, unusually given the subject matter, eventually uplifting. For Dispatches Edward Watts travelled to northern Iraq to the border with territory captured by Islamic State – although everyone filmed referred to it as "Daesh" – to observe heroic efforts to spring captured women.
Set against these dismal accounts was the remarkable work of men like Khalil
Last year there were 3,000 women and girls taken prisoner by IS. Those who had managed to survive told of unimaginable torment. In one night an 18-year-old was raped by a commander and his six bodyguards, then handed over to a further 12 men. "I'm still in pain," she said, and she brushes her teeth 10 times a day to expel the memory of their foul smell.
Another woman, 21, tried to stop an IS guard raping a nine-year-old, and still has frequent panic attacks at the memory. Her tiny daughter saw it all too. "Show me what Daesh did," said the mother, and the child ran a finger across her neck as she snacked on a biscuit.
Alongside this devastating testimony, there was sober reporting of civilian life under IS, using film shot undercover. IS braggarts sat around swapping marrow-chilling banter of killing Yazidis and acquiring slave women, the blonder and more blue-eyed the better. Their female and mostly foreign black-shrouded Umm Hamza brigade patrolled the streets enforcing their misogynistic ideology. One was interviewed about lashing another woman. "I don't feel bad," she said. "I was doing the right thing."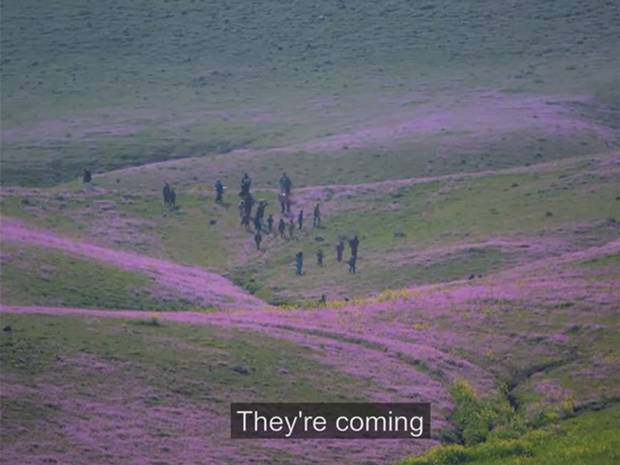 Set against these dismal accounts was the remarkable work of men like Khalil, a Yazidi lawyer who devotes himself to freeing IS prisoners. Remarkably, phone contact is often possible – a man called Faisal kept in touch with 24 female relatives through a mobile smuggled into captivity in a baby's nappy. Liberated women help draw up a map of escape options. And inside IS there are men willing to risk death to help. "It's like a suicide mission for people we send in," said Khalil.
Logistics were kept vague. A group of 11 women whom a Tunisian from IS tried to sell back to their family escaped while their unpaid captor was asleep; 34 women, forced to convert to Islam on pain of death, walked for two days across wild countryside to freedom (pictured above). The youngest among them was asked what she thought of IS. "Isis was all black," she said. She was five.
The scenes of reunion told of success in the face of terrible odds. "The sun will shine again one day," said someone as the Yazidis recommitted themselves to their faith. The reality is that the trauma of captivity must cast a long shadow even for the lucky ones who got out. And this film will presumably be seen by captors of other women, whose chances of escape may dwindle as a result. But if it's also watched by western Muslim girls pondering a life of voluntary enslavement, perhaps it might make one or two of them think again. This was reporting of the highest order. The film editor, for the record, went by the name of Bradley Manning.