Rigoletto, Longborough Festival |

reviews, news & interviews
Rigoletto, Longborough Festival
Rigoletto, Longborough Festival
Verdi's Mantua transplanted to Detroit but better sung than staged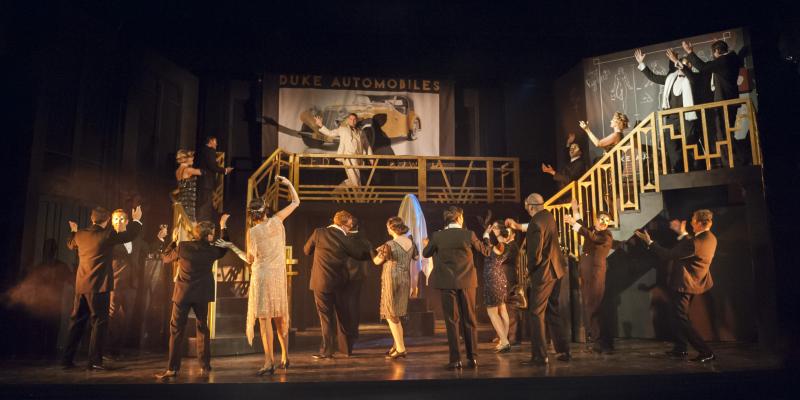 Duke's sports cars with Duke (Robyn Lyn Evans) and Rigoletto (Martin Kronthaler, right centre)
The gable end of Martin Graham's converted barn opera-house at Longborough is surmounted by statues of three composers: pride of place, not surprisingly, to Wagner – the festival's raison d'être – and with Verdi and Mozart on either side.
It's true one approaches Italian opera here with somewhat less confidence than Wagner. But it's refreshing to have it at all, and the new
Rigoletto
, though patchy, has enough good points to make it worth the visit, if not the detour.
Caroline Clegg's production, it's true, struggles to achieve the pace and tension that can always give Verdi the theatrical edge over Wagner. Given a small stage, she duly makes it smaller with a complicated arrangement of staircases and balconies (designer Lara Booth) that adapts well enough to the different settings but leaves too little room for manoeuvre. The opening party scene, relocated to the modern premises of Duke Sports Cars, is a decidedly flat, vulgar affair that makes moderate nonsense of the whole Monterone episode (including his condemnation to death in Act 2), not to mention everything to do with Rigoletto himself and his locked up daughter. In effect, it's Cosa Nostra without the ritual style.
This Rigoletto's hunched back does look more like a slight stoop than anything seriously orthopaedicClegg also has a bad habit of having her characters stand around with nothing much to do, or simply facing the audience. But in the quartet, under-production is matched by over-production, with (the) Duke engaged in heavy petting with Maddalena's amply displayed thighs, a somewhat basic reading of Verdi's exquisite "Bella figlia dell'amore". But then Rigoletto, for all its emotional and dramatic power, is tricky dramaturgically. How do you make the abduction as convincing visually as it is musically, on a shallow stage? How make the party go with a swing? These are spatial, choreographic problems which directors, for all their bright ideas, rarely solve.
On the musical front things are a little livelier. Longborough have a potentially excellent Duke in Robyn Lyn Evans (who also sang a promising Rodolfo here a couple of years ago). He is a Welsh tenor with an easy, natural Verdi style, still inclined to semaphore his top Cs and a slightly wooden actor, but musicianly and highly listenable-to. I also like very much Martin Kronthaler's Rigoletto, even if his hunched back does look more like a slight stoop than anything seriously orthopaedic. He has, it's true, a tendency to drift intonationally in lyrical music; but he uses his voice powerfully in the all-important dramatic confrontations with the courtiers (alias henchmen), and he is touching in the final scene.
Andrea Tweedale (pictured right with Martin Kronthaler) is an uneven Gilda, not yet wholly on top of the coloratura in "Caro nome" and also sometimes vague in intonation. The voice is certainly there, and needs only to develop more warmth and precision. But she deserves more sympathetic production, and the same goes, in spades, for Fiona MacDonald's nicely sung Maddalena, and for some of the same reasons. One often feels that directors and designers never look at their cast when evolving their concepts and costumes. But this is a dangerous subject that I prefer, in the present context, not to investigate.
The minor parts are well covered: Timothy Dawkins is a dry, suitably untrustworthy Sparafucile. Were there no honest men in Verdi's Mantua (or for that matter Clegg's Detroit)? Even Monterone (Howard Quilla Croft), presented here as a business rival, is probably a crook, though his dispatch still seems a bit unfair.
Which leaves the conductor, Gad Kadosh, a palpably honest musician with no bumps and no excesses. He could perhaps let Verdi explode more, and he could move quicker in the finale. But he gives a generally sound, dependable reading of this marvellous score, a wonderful antidote to last month's Tristan in case one were needed, which of course it isn't. What an astonishing fact about Romantic music that it could produce two such utterly different masterpieces in the same decade and, partly, in the same city, Venice, where Wagner composed his second act a mere seven years after Rigoletto had its premiere at the Fenice.