Dear White People |

reviews, news & interviews
Dear White People
Dear White People
Sophisticated, witty look at identity politics on fictional US Ivy League campus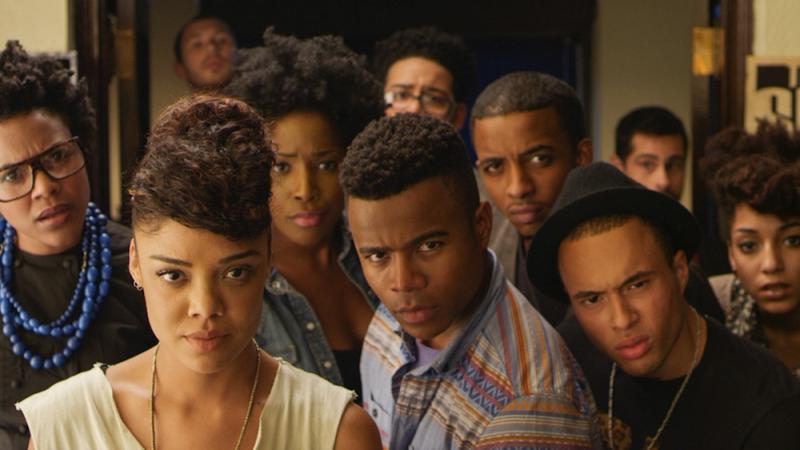 Tessa Thompson (front left) as cultural provocateur Sam and fellow activists in 'Dear White People'
US films about and aimed at African Americans broadly fall into two categories: gangsta life in the 'hood action flicks and broad comedies, the latter niche dominated by Tyler Perry, who does for Black Americans what Mrs Brown does for Irish women. Dear White People, on the other hand, is a sophisticated social satire in the vein of Spike Lee's early She's Gotta Have It or Bamboozled.
It's packed with ideas and waspish observations worthy of (in a somewhat different context) the Dowager Countess of Downton, and if the social commentary and media critique sometimes threatens to overwhelm the drama, it's still an outstanding debut for writer/director/producer Justin Simien.
Like Lee's School Daze, Dear White People explores the contradictions and pressures facing what Harlem Renaissance writer WEB Du Bois termed the "talented tenth", the cadre of educated, exceptional black youth he thought would provide a leadership class for the entire race – how much should they embrace their privilege and assimilate, how "black" should they be to keep it real, how much do they owe the wider community. It also considers how much young white people's appropriation of hip-hop culture (embodied in a particularly egregious wigga from Vermont) is based on genuine admiration or the propagation of a demeaning stereotype.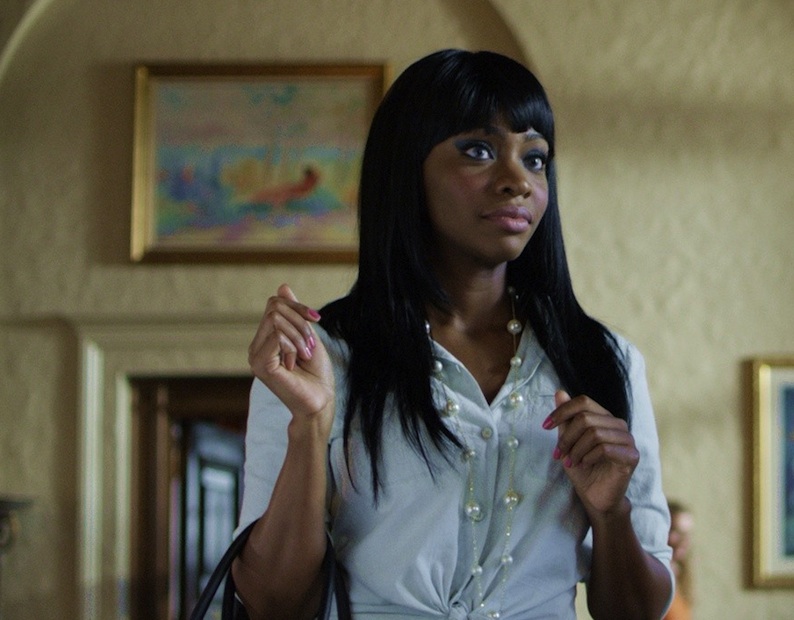 Strung out along the ideological spectrum are four students at elite Winchester, a mythical Ivy League school: Sam (Tessa Thompson), an acerbic cultural critic and activist ("it's like Spike Lee and Oprah had a pissed-off baby," one adversary describes her) whose blacker-than-thou stance may spring from her ambivalence about her own middle-class bi-racial upbringing; handsome, smooth, ambitious Troy (Brandon P Bell), a secret pothead destined for law school and a political career by his father, the University's Dean of Students (24's Dennis Haysbert), who constantly pressures Troy to be whiter-than-white, as it were; the fiercely ambitious Coco (Teyonah Parris, pictured above), who disguises her hood roots under a straight weave and preppy clothes and who wants money, fame, and to live in the rich white kids' dorm; and quiet observer Lionel (Tyler James Williams), triply marginalized as black, gay and (primarily) a nerd, who doesn't feel he fits in anywhere. Like many who rally to no particular flag, he ends up a journalist.
The film follows their different strategies for navigating the identity politics minefield of the modern American university, and, like all college students, learning to reconcile idealistic theory with messy reality. For Sam especially, the situation becomes complicated when she begins a relationship with a white grad student who truly appreciates her.
Simien's own attitudes are thankfully equally complex, with characters of all races (including the Asian girl who comes to the Black Student Union meetings because "you have better snacks") presented as individuals, not stereotypes (the director, pictured above).

The complexity is less helpful when it comes to the plot, which tries to pull together, among several other strands, Coco's determination to impress the producer of a proposed reality show set at the university ("Black Face in A White Place") and the ongoing rivalry between the Dean and the University's President, a conflict passed down to their sons, Troy and the entitled Kurt (Kyle Gallner), editor of the campus humour magazine Pastiche, explicitly referenced as an equivalent of the Saturday Night Live-feeder Harvard Lampoon. Indeed, in some ways the film is a love/hate riposte to the granddaddy of college comedies and similarly acute examination of undergrad social structures, Lampoon offspring Animal House.
All these elements come to a head when Coco mischievously suggests a hip-hop theme for Pastiche's annual Halloween party. White revellers turn up in blackface, the Black Student Union gets wind of this, and, as Harry Hill might say, Fiiiight! And if anyone thinks this concept is far-fetched, headlines about actual blackface parties at American universities, including Ivy League Dartmouth, accompany the end credits.
Dear White People embodies the virtues of the truly independent film, substituting strong writing, good performances from a largely unfamiliar cast, and a fresh, distinctive vision for the blockbuster's hefty budget. Besides Lee, the film evokes fellow independents Wes Anderson, another user of title cards and classical music for ironic effect, and Whit Stillman, no less a dissector of privilege and purveyor of witty aperçus. It can only be hoped that these qualities will help it find the audience it deserves even with a UK public less familiar with the many American-centric cultural references and the US's complex racial ecology.
Overleaf: watch the trailer for Dear White People
The film follows the characters' different strategies for navigating the identity politics minefield of the modern American university
rating
Share this article