Peter Pan, Welsh National Opera |

reviews, news & interviews
Peter Pan, Welsh National Opera
Peter Pan, Welsh National Opera
Barrie opera colourfully scored and staged but musically short-winded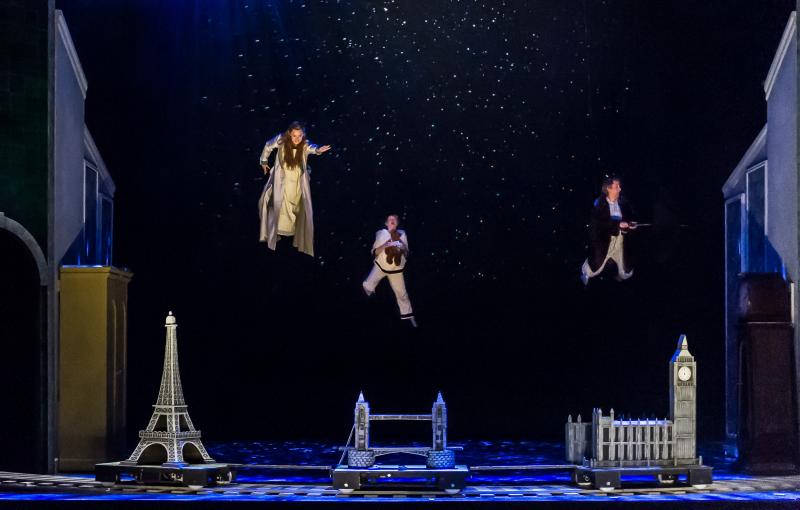 Marie Arnet, Rebecca Bottone and Nicholas Sharratt in flight: striking image but slow progress
I must have been one of the few in Saturday's audience for Richard Ayres's new opera who had never seen Barrie's play or read the book, so I'm unable to judge how faithfully it renders the original – in case that matters. Somehow one knows the dramatis personae: Peter Pan himself, the Darling family, Nana the dog-nurse, Captain Hook, Tinkerbell, Tiger Lily and of course the ticking crocodile, who swallowed Hook's watch along with his arm.
They are all here, wittily, sometimes brilliantly, reimagined in Keith Warner's panto-like staging. What eluded me, and perhaps not only me, was the narrative pacing that must be a feature of a play that has held the stage, in one form or another, for over a hundred years. And for this, one looks to the music.
A former student of Morton Feldman and pupil of Louis Andriessen, Richard Ayres has long since abandoned the spare gestures of Eighth Street expressionism and the noisy simplicity of Dutch minimalism in favour of an eclectic style that can, with considerable skill, soak up everything from blues to Richard Strauss to Philip Glass to Andrew Lloyd Webber. This Peter Pan is an ideas bank. Something new and worthwhile pops up every minute or so, richly and beguilingly scored, thumped at the audience with exhilarating panache. It may not be particularly a music for children, of whom there were a good many in Saturday's audience, to all appearances enjoying themselves, if without wild enthusiasm. But it colours the action vividly enough, dramatises its drama, tenderises its tenderness, and so forth.
It's a music that stops as often as it startsWhat it doesn't do is propel the plot in any way at all. It's a music that stops as often as it starts, a music that – while mobile in short bursts – continually hangs fire in the longer view. It has phrases and sentences, but few paragraphs. And while the orchestral writing shows flair, the writing for voice is uneasy. Ayres knows when lyricism is called for, but he has an odd way of answering the call. Wendy's second-act aria – though beautifully sung by Marie Arnet – has a line that seems to cut against the natural flow of librettist Lavinia Greenlaw's text. The pirates' music is lively and bouncy but fails to dance, in spite of some nice individual vignettes (Mark Le Brocq, Simon Crosby Buttle). Even Peter himself can't get a musical line off the ground half as easily as the wires that swing him and the Darling children so thrillingly above the stage and away to Neverland.
So it's an evening of striking images and frustrating discourse. Jason Southgate's sets work cleverly to suggest the immanence of fairyland on the outskirts of every child's bedroom, and there is endless wit and magic in Nicky Shaw's costumes and Bruno Poet's lighting. I loved Tinkerbell as a flickering ghost, and the crocodile as a grandfather clock (clock o'dial?). I liked the pirate ship with headlights, coming inshore like the Flying Dutchman. Maybe the stage is at times cluttered and movement stagnates; and it can't be said that the problem of Nana is entirely solved, though Aidan Smith woofs and snarls with impressive articulacy.
Above all, a strong cast and energetic chorus rarely get the chance to show their full mettle. Iestyn Morris (pictured right by Clive Barda) catches the disturbing, somewhat disagreeable darkness of Peter Pan with his disembodied countertenor, but really has little of note to sing, considering that he is the controlling character. Best served is Ashley Holland, with two good musical grumbles as Mr Darling struggling with his bowtie and Captain Hook lamenting the loss of his arm. Nicholas Sharratt and Rebecca Bottone are excellent as Wendy's siblings, Hilary Summers adequate but one-dimensional as their Mother, more notable, briefly, as the squaw-like Tiger Lily, whose surrogate motherhood consists of threatening to cut Wendy's throat.
In the end it's the orchestra, under Erik Nielsen, that comes out best. They have bravura moments, a few spectacular solo breaks, and in general they carry the musical plot. What this says about Peter Pan as an opera is a good question. We'll have to ask the kids.