Election Night, BBC One/ITV/Channel 4/Sky News |

reviews, news & interviews
Election Night, BBC One/ITV/Channel 4/Sky News
Election Night, BBC One/ITV/Channel 4/Sky News
A night of exit polls, caveats and Ashdown's marzipan hat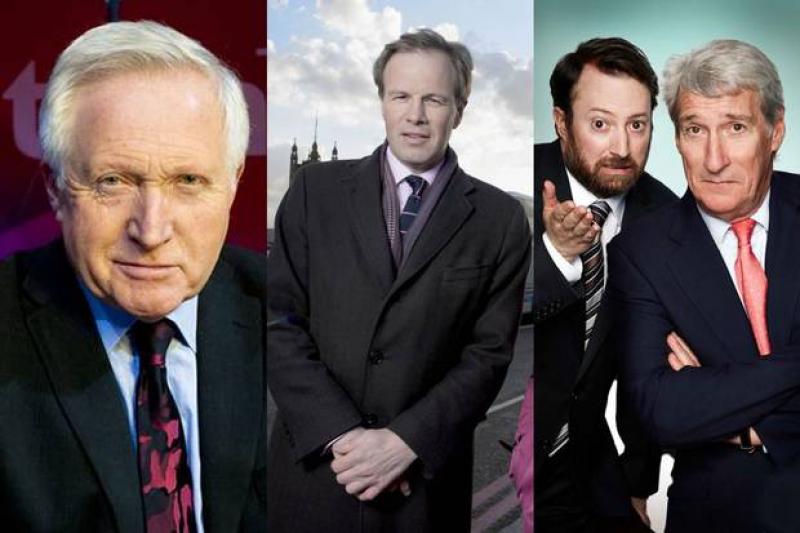 The presenters vying for the post-vote vote
After the most TV-based election build-up ever seen with big debates, small debates and, for the two main party leaders at least, a traditional Paxo stuffing, the battle buses were parked up as the electorate settled down to watch the big night on the small screen.
Channel 4 was up first in a bizarre decision to bolt out of the traps a clear hour before polls closed. This left Jeremy Paxman and David Mitchell with very little to do other than complain about the Ofcom rules that wouldn't let them discuss politics until 10pm and the Channel 4 schedulers who were, presumably, busy keeping their heads down after this blinkered balls-up. Still, it was a gift for Mitchell, who thrives on skewering bad logic and fuzzy reasoning. It also led to a surprisingly enjoyable outing for The Last Leg, a recurring strand throughout the night ("As if we weren't handicapped enough," quipped Adam Hills of the broadcasting straightjacket they found themselves wearing). As for Paxman, well… more of him later.
As the big boys (BBC, ITV and ...ummm... Sky News) declared their interest, we got to see what the other channels had to offer. In a bid to persuade floating viewers, ITV decided to forgo advertising revenue for the night. A noble enough gesture perhaps, but when your anchor is Tom Bradby, a presenter so forgettable he could well be a Lib Dem candidate, it's clear that giving him more screen time is a self-defeating policy decision. Sky News, meanwhile, went the other way and, in Adam Boulton and Kay Burley went for presenters full of personality – hugely unlikeable personality, but personality nonetheless. The awful, draining tension as I waited for one of them to say something bum-clenchingly horrendous and headline-grabbing proved too much for me to bear.
And so to BBC One, where familiar faces greeted us like old friends… and Andrew Neil was there, too. Yep, the Paxman-shaped hole left by Jeremy as he jumped ship – apparently to start a career as a wooden stand-up over on Channel 4 (seriously, we'll get to that in a bit), has been rendered in widescreen in order for Andrew Neil to more comfortably fill it. The trouble is that, while Paxman's aggressive tendencies always seemed indignant, like he cared, Neil simply comes across as smug and patronising – like an overbearing schoolteacher. To the claim that he's the best political interviewer the BBC have got, there's a succinct and appropriate two-word response: Andrew Marr.
It looked like a cross between a Poundland Piccadilly Circus and a really disappointing Kraftwerk gig
Meanwhile, over on Channel 4, things were becoming a bit looser. After an hour reading other people's words off an autocue while mis-timing crucial comedic stresses, Paxman seemed to be settling in and even enjoying himself. The string of funny and likeable guests – comedians and presenters able to say what they thought rather than toe a party line – made for a surprisingly engaging watch. Yes, they missed out on Sunderland's Lib Dem losing their deposit (well you would after a shock like that), but the fact that it was proper, pre-planned content also meant that we weren't being subjected to the same points again and again, in a kind of Mori-sponsored Mobius loop.
As ever, the BBC tried to soften the repetitious blows with "high-end" graphics, as Jeremy Vine showed us the projected bums on seats in a Houses of Parliament that looked an awful lot like a rejected set from children's blue-screen fantasy adventure game Knightmare. Meanwhile, outside, a giant map of Britain lay on the floor while lights flashed and projections beamed on to walls. It all ended up looking like a cross between a Poundland Piccadilly Circus and a really disappointing Kraftwerk gig – and felt just as confused.
And confusion seemed to be the main feeling throughout the night as the exit poll caused everyone's ears to prick (although in the case of Nigel Farage, it's probably because the phrase itself sounded like someone quoting his manifesto). The panic was tangible as all concerned urged caution… well, all except for antique puppet Michael Gove who was (rather perceptively it now seems) talking of a win at about 10.20pm. Meanwhile, Paddy Ashdown offered to eat his hat should the poll prove to be accurate – a brave stance even after introducing the marzipan caveat. In fact, introducing caveats also became a theme of the night as the word seemed to be tossed about like wedding confetti by anyone with a camera pointing at them. Over on C4 they did acknowledge the surprise of the exit poll but, in Gogglebox, had their own version – far less reliable in terms of actual outcome, but still a better way to while away the time until the SNP decided to paint Scotland yellow and pretty much draw the curtain on further surprises.
In what was, effectively, a two-horse race between BBC and Channel 4, it was tradition versus ambition. News versus satire. Paxman may have seemed woefully miscast at first, but things warmed up after a while and crucially, Channel 4 offered variety on a night of repetition – mainly of 1992.
Sky News went for presenters full of personality – hugely unlikeable personality, but personality nonetheless
rating
Explore topics
Share this article