Dalibor, BBCSO, Bělohlávek, Barbican |

reviews, news & interviews
Dalibor, BBCSO, Bělohlávek, Barbican
Dalibor, BBCSO, Bělohlávek, Barbican
Superior performance makes a compelling case for Smetana's neglected masterpiece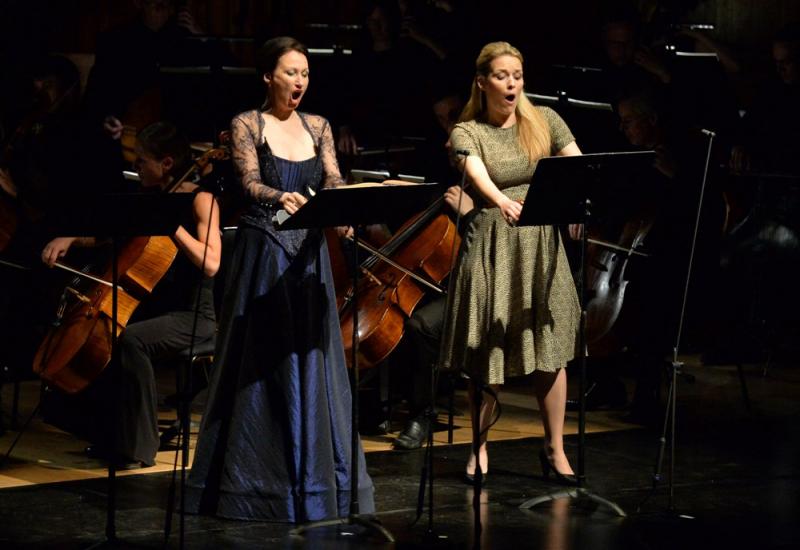 Dana Burešová and Alžběta Poláčková in the Barbican concert performance
Jiří Bělohlávek and the BBC Symphony Orchestra are on to a good thing with Czech opera. Prague is a major centre for world-class opera, but much of the repertoire performed there is all but unknown abroad. Bělohlávek, who holds positions in both Prague and London, has found a way to broaden its audience: presenting a series of concert performances with the BBC Symphony Orchestra and soloists brought in from the State Opera.
The repertoire may be obscure, at least for London audiences, but the idiomatic performances that result ensure nothing is treated as a mere curiosity. Here we have a conductor and soloists for whom this is core repertoire, and who are more than capable of demonstrating why it is so revered at home.
Dalibor is Smetana's "other" opera. Of the eight he composed, only The Bartered Bride achieved widespread popularity in his lifetime, but of the others it put in the shade, this was the one the composer himself felt deserved the attention. It's a tragedy, with a story that parallels Fidelio. Dalibor (Richard Samek) is a knight who has incited an uprising and been condemned to death. The second act is set in a dungeon and, as in Fidelio, involves a female character, Milada (Dana Burešová), dressing as a man to gain entry and effect his escape. It ends badly, of course, but the piece wears its tragedy more lightly than does Fidelio; it's not as dour, and much of the drama is conveyed with a sardonic lightness, the orchestra often accompanying with bright military marches or folksy melodic lines.
This performance was a "concert staging" conceived by Kenneth Richardson. He didn't add much, often allowing long sections to play out as straight concert performance. But what he did add was effective. When Vladislav (Ivan Kusnjer), the Czech King who condemns Dalibor, makes his grand entrance, it is with several minutes of regal fanfares. Having him approach the stage via the stalls gave a sense of ceremony commensurate with the music. There were also some costume changes for Milada, when cross-dressed sporting both a flat cap and high heels, some perfunctory props, and some basic lighting effects. It was all done with a light touch, providing a sense of context without distracting.
The seven Czech singers made up a strong cast, impressive as much for their ensembles as their solo contributions. The strongest and most agile voice belonged to soprano Alžběta Poláčková in the role of Jitka. She and Vítek (Aleš Voráček, both pictured left) stand apart from the main plot, more observers than participants. But their love duet at the end of the first act is a highlight of the work, and all the more so for their perfectly matched voices here. Similarly the duet between Milada and Dalibor (Richard Samek) in the second. Both Burešová and Samek sang in the grand opera tradition, big voices with indulgent articulation but plenty of passion: absolutely ideal here. The nearest thing to a weak link was Ivan Kusnjer as the king, Vladislav. His baritone sounded past its prime and lacked richness. Always clear though, and suitably imposing.
The BBC Singers handled the chorus part well, especially the basses, who are called on to represent the judges condemning Dalibor in the first act and the monks commending his soul in the last. A fine performance from the BBC Symphony Orchestra too. Some sour tuning from the woodwinds in the first few minutes quickly resolved. The string playing was particularly fine, the ensemble providing a rich, unified sound for Smetana's flowing melodic lines.
But the real star of this performance spent most of it consigned to shadows by the theatrical lighting. Jiří Bělohlávek conducted with a sure hand, giving a lyrical and dramatically astute performance. He resisted the continual temptations of the score to indulge in excess, yet never skimped on drama and passion when called for. He also has the ability to communicate closely with singers who are standing behind him, a rare art indeed.
The last performance in this series, of The Bartered Bride in 2011, was given a high-profile CD release by Harmonia Mundi, and it is to be hoped that they will follow suit with this equally deserving Dalibor.
Dalibor to be broadcast on BBC Radio 3 on 14 May