A Pigeon Sat on a Branch Reflecting on Existence |

reviews, news & interviews
A Pigeon Sat on a Branch Reflecting on Existence
A Pigeon Sat on a Branch Reflecting on Existence
Lessons in how we treat each other from Roy Andersson, Sweden's master of the absurd
Sam (Nils Westblom, right) and Jonathan (Holger Andersson, left) try sales
If A Pigeon Sat on a Branch Reflecting on Existence induces reflections on the nature of existence, the resultant mood could initially be very glum indeed. Swedish director Roy Andersson's meditation is the self-declared "final part of a trilogy about being a human being". It opens with three vignettes focusing on unexpected deaths and is, overall, grey in tenor.
It is also, though, laced with humour and a very precise eye for changes of mood, the subtle differences between each of us and the tenderness which can bond even those who seem directly opposed to each other.
A Pigeon Sat on a Branch Reflecting on Existence follows Songs From the Second Floor (2000) and You, the Living (2007). Like its predecessors, A Pigeon… consists of thematically related but not necessarily narratively linked scenarios. Andersson has pointed to painters such as Otto Dix, Georg Scholz and Van Gogh as amongst his inspiration, with special reference here to Bruegel the Elder's images of birds observing humans. The titular pigeon is seen stuffed in a museum (pictured below right) at the beginning and then heard at the end.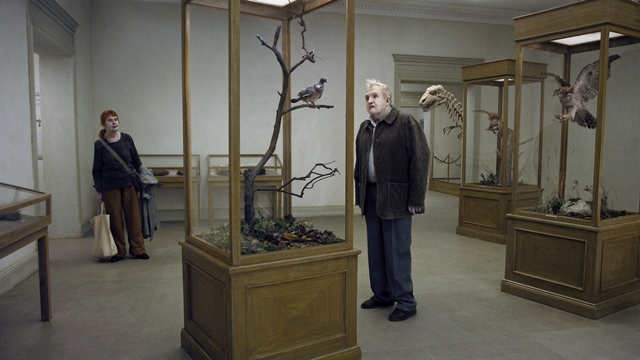 The major strand pulling the film together in terms of the traditionally linear is the pair of hapless travelling salesmen Sam (Nils Westblom) and Jonathan (Holger Andersson, no relation to the director). They attempt to sell novelties from a beaten-up suitcase. Despite professing their job is to spread fun, they are gloomy, bickering, have financial woes and live in a hostel. The rubber mask they offer to uninterested parties induces screams.
Although the setting is mainly contemporary, scenes in a Gothenburg bar shift between now and 1939 – the year of Andersson's birth. In another current-day bar, King Charles XII of Sweden turns up. His retinue prepare for his arrival while his army endlessly marches past outside (pictured below left). He makes two appearances, each tied to a historic episode. The first is 1707's journey to what will be the Battle of Poltava, in which Sweden fought against Peter the Great's Russia. The second is 1709's way back from the battle, in which Russia has decisively defeated Sweden. Charles XII was later dubbed the "last of the Vikings" in recognition of his boldness. In standard historical readings, the failed foray marks the beginning of Sweden's decline as a major international force.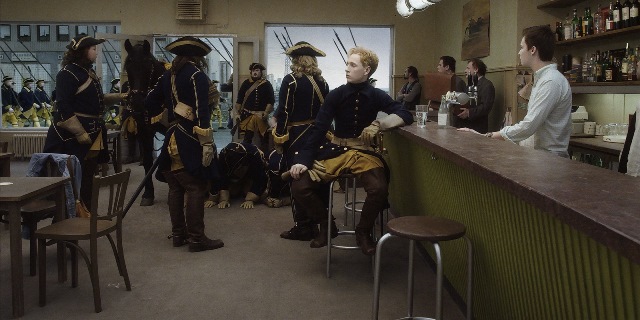 Of course, A Pigeon… is about interpersonal relationships – how people treat each other. It is also about society as a whole and how one cultural milieu relates to and potentially overwhelms another, as Charles XII sought to do. The film climaxes with a shocking scene centring on slavery from the colonial era – seemingly Britain's – which is utterly horrifying. On the individual level, a flamenco teacher shows her feelings for one of her pupils but is continually rejected, just as Sam and Jonathan's potential customers always rebuff their advances. Much of the film is about being thwarted. It is also about the terrible things one human can do to another. In a very queasy scene, it goes beyond this with a monkey.
Despite this being his first digital (not noticeably, outside of deep focus) film, fans of Andersson's distinctive oeuvre will find much to admire. Beyond the episodic structure and painterly settngs without pans or zooms, his actors have a characteristic deathly pallor. Their demeanour is rigid. Once established, a trope is repeated. "I'm happy to hear you're doing fine" is often said by different characters - including a man seemingly about to commit suicide - into their phones. It is evident the film has been rigorously planned. Most of it was made in his own Studio 24 facility in Stockholm. Andersson's world is hermetic.
This though is not a morbid deliberation. Andersson, as ever, has a sure sense of the ridiculous. He revels in the absurdities of human existence. Humour is never far away. It is impossible not to laugh as A Pigeon Sat on a Branch Reflecting on Existence progresses. Ultimately, this warm consideration of who and what we are is a gentle lesson in how we ought to treat each other.
Overleaf: Watch the trailer for A Pigeon Sat on a Branch Reflecting on Existence
Watch the trailer for A Pigeon Sat on a Branch Reflecting on Existence