Jauja |

reviews, news & interviews
Jauja
Jauja
Viggo Mortensen stars in a Danish-Argentine film that is as wonderful as it is weird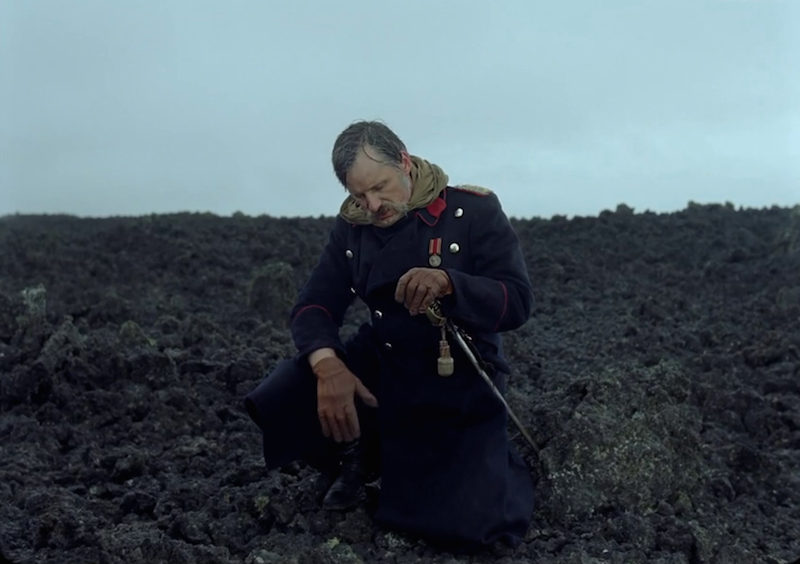 Staring into the void: Viggo Mortensen's existential field trip in 'Jauja'
In the past decade or so the Argentine director Lisandro Alonso's minimalist masterworks have earned him an ardent, if particular following. With Jauja he's moved beyond his comfort zone, by using professional actors for the first time and with more dialogue than in all his previous combined. The result is at once his most accessible film and his most mysterious, which is quite some trick. And it confirms his status as one of contemporary cinema's great artists.
It's set in Patagonia in the 1880s, where Captain Dinesen (Viggo Mortensen), a Danish soldier and engineer, is working for the Argentine army during its "conquest of the desert", involving the genocide of the region's indigenous Indians. The captain has brought his 15-year-old daughter Ingeborg with him. When she runs off with a young soldier, dad dons his uniform and sword and rides into the desert in pursuit.
Don't be lulled by what sounds like the conventional scenario of a period drama. The key to the film's richness is not in the plot, but the detail, in what happens around and beneath it. And after a first act of teasing, testing eccentricity, the captain's foray into the desert takes him down an existential rabbit hole of head-scratching brilliance.
Jauja is acted in Danish and Spanish, with Mortensen speaking both
Our introduction to Patagonia is a temporary camp by the sea, and a startling shot of a man masturbating in a pond. This is the bull-like and creepy Lieutenant Pittaluga (Adrián Fondari), the Argentine liaison for the chap appearing way in the background of the same shot, Captain Dinesen. The exchanges between the pair are loaded with menace, not least because the lieutenant has beady eyes on Ingeborg, deigning to offer the captain a horse for his 15-year-old. Though that makes the protective parent almost collapse with anxiety, there are other soldiers to concern him more, including the legendary Zuluaga, whom Pittaluga describes as being able "to make himself invisible and travel at the speed of sound", and who has just gone AWOL in the desert.
There are echoes of Captain Kurtz in Zuluaga, with the implication not only that he could be the nemesis awaiting our hero, but that this is another of those conquests that will drive its aggressors mad. Pittaluga, who himself has a touch of Klaus Kinski's loony conquistador Aguirre about him, talks offensively of the locals as "coconut heads", casually observing, "We don't have to understand them. We have to exterminate them."
This is already much more context than Alonso is used to providing for his films, and he won't develop it beyond the camp. The prologue is constructed to reveal the degree to which Dinesen is a fish out of water, at odds both with his hosts and even his daughter (Viilbjørk Malling Agger, pictured right with Mortensen) who feels much more at home than he does. "I love the desert, the way it fills me," she declares, with a deadpan delivery that is in keeping with the non-actors that the director usually employs (this is Malling Agger's first film) and ought to send warning signals to any father.
Jauja is acted in Danish and Spanish, with Mortensen speaking both. The actor was raised in Argentina, and this is his second film in the country (after Everybody Has a Plan in 2012), both of which he also produced. It's nice to see those studio pay cheques being put to imaginative use.
And he's superb here. At first he gives us Dinesen's tetchy discomfort with his new surroundings, and the vulnerability he's brought upon himself by bringing his child. Then, the scene where he discovers her absence is akin to the moment in A History of Violence when his seemingly straightforward hero returns to the hidden, dark side of his personality; as Dinesen rushes into his tent and changes into his uniform for the chase, the engineer turns back into the soldier, the concerned parent into a vengeful one.
The desert is of a more placid variety than we're used to in films, underlining the sense that Dinesen's subsequent journey is as much into character and psyche as terrain, particularly when a dog appears out of nowhere and leads him deeper into the void.
Throughout, Alonso maintains his trademark deliberateness, holding shots far longer than most – whether it's of a man drinking from a pond, staring into space, or receding into the landscape – the effect being to draw us into the character's world and headspace far more effectively than would more dramatic action or frequent cuts. The approach has suffered a little in the past from featuring non-actors unskilled in holding our attention; in contrast, Mortensen is meticulous and mesmerising, as a man who simply keeps going when all logic seems to be deserting his experience.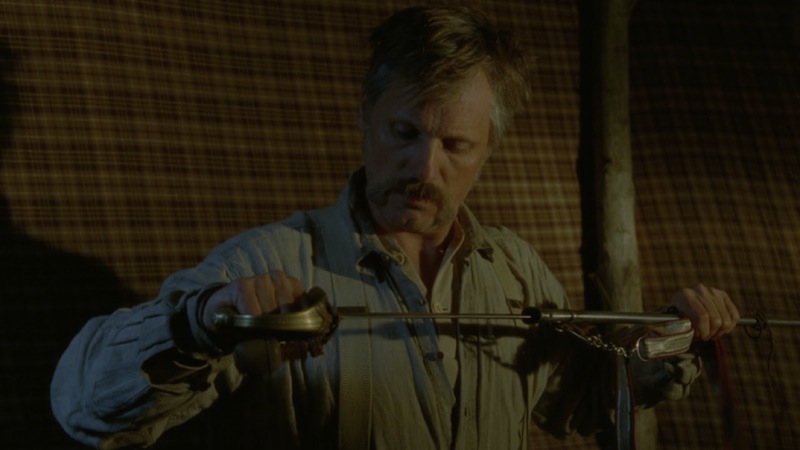 It's a very physical performance, with a lot of scrambling, climbing and falling, in a heavy uniform in intense heat (I like to think that the exclamation under his breath, "What a shitty country", was ad-libbed). But it's also a subtle one, through which the question posed by one surprise encounter in the desert, "What is it that makes a life function and move forward?", reverberates, unanswered within him.
Alongside Mortensen, Alonso has two other key collaborators. The Argentine poet Fabián Casas, who co-wrote the script with the director, surely has a stamp on dialogue that lends social and political edge to the early scenes, and existential depth to the latter. Finnish cinematographer Timo Salminen, best known for his work with Aki Kaurismäki, shoots in cinema's original 4:3 aspect ratio, rounding the edges of the frame and using saturated colours, notably when the girl in her blue dress glides gorgeously across the green of the plain. The anachronistic effect is at first off-putting, but soon becomes seductive and more apt as the proceedings get stranger. Incidentally, a shot of Dinesen's reflection in a pool, and another of his outline in the darkness, are simply ravishing.
A caption at the outset of the film tells us that Jauja is a "mythical land of abundance and happiness" and that many have become lost in pursuit of this "earthy paradise". There is such a myth, but Alonso quickly moves beyond it. There's a strong thematic connection between Jauja and the director's previous features: in Los muertos, an ex-con travels deep into the jungle in the hope of being reunited with his grown-up daughter; in Liverpool a sailor hops ashore and journeys through a snowbound landscape to visit his estranged mother, and on finding her learns that he has a daughter.
Likewise, Dinesen takes on nature in search of a child. But with Mortensen's performance drawing us along, by the end of his journey Alonso has also encouraged us to think about civilisation and colonialism, what constitutes sanity and madness in a cruel world, man's relationship to landscape and time, and the enigma of existence.
Overleaf: watch the trailer for Jauja