Reissue CDs Weekly: The Specials |

reviews, news & interviews
Reissue CDs Weekly: The Specials
Reissue CDs Weekly: The Specials
Fragmentation and wilfulness on the three 2 Tone albums by Jerry Dammers and his cohorts
Enjoying themselves: The Specials in an outtake from the session for the sleeve of 1980's 'More Specials', with Jerry Dammers at back right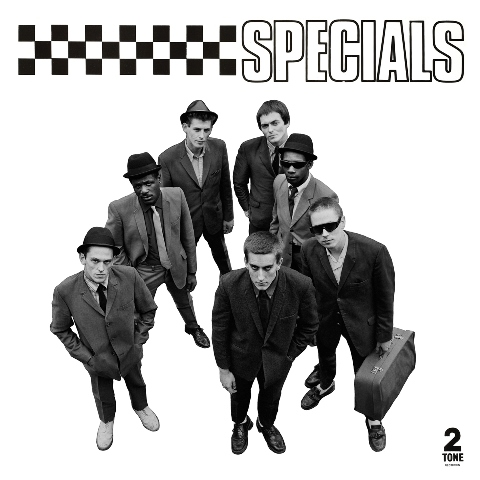 The Specials: Specials, More Specials; The Special AKA: In the Studio
After hearing the three albums credited to The Specials during their formative period with 2 Tone Records it becomes hard to think of them as a single band. Their clanky sounding, Elvis Costello-produced eponymous debut album, issued in October 1979, just about holds together overall, but its successors now sound as though nothing united the different directions they were firing off in. More Specials (October 1980) sits up-tempo cheerlessness alongside a warping of easy listening. In The Studio (June 1984) comes across as a compilation album of separate bands. In effect it partly was: it included singles issued by different line-ups over the previous two years.
On single, in bite-sized chunks, The Specials were more coherent. The reconfigured ska of 1979's debut "Gangsters" opened the door to The Special A.K.A. Live! EP, which featured "Too Much too Young". Amongst the subsequent singles were the epochal "Ghost Town" in 1981, the almost career-killing "The Boiler" and 1984's "Free Nelson Mandela". The final single which could be tied to the original configuration of The Specials was 1984's "What I Like Most About You is Your Girlfriend".
The Specials had fallen apart after "Ghost Town" and More Specials when Lynval Golding, Terry Hall and Neville Staple departed. Jerry Dammers picked up what was left and ploughed on, with In The Studio culminating his efforts. Shortly after that, the name – both as The Specials and Special AKA – was put to bed. Reunions featuring varying amounts of prime-era band members have followed, but Dammers has generally kept these at arm's length.
Although the three 2 Tone albums reissued here as double-disc sets chronicle simultaneous fragmentation and attempts to coalesce, they also document wilfulness: both the need to keep going whatever the obstacles and of an artistic vision which stated what needed to be stated without compromise. Depending on musical tastes, any or all of "Too Much too Young", "Ghost Town", "The Boiler" and "Free Nelson Mandela" can be taken as high-water marks in music as political and social commentary, where incisive lyrics were married to irresistible music.
It didn't stop there. In the Studio's "Racist Friend" (also issued as a single) was as adroit. Specials' "Blank Expression" and "Stupid Marriage" were extraordinarily cutting. "Little Bitch" borders on the terrifying. More Specials opens with a version of "Enjoy Yourself (It's Later Than You Think)" which turns a sardonic slant into an aural sneer. At all times, whatever the line-up, the 2 Tone Specials were about more than the music.
But when experienced live – documented here on The Special A.K.A. Live! EP and a December 1979 concert appended to the Specials package – The Specials could be enjoyed without any need to appreciate their multi-level approach.
More Specials and In the Studio are bulked out on Disc Two with single-only tracks, BBC studio sessions and, on the latter, instrumental backing tracks. These are not all-encompassing reissues: the whole of The Specials 2 Tone catalogue is not collected across the six discs. "Ghost Town", a non-album single, is heard in its six-minute 12-inch version rather than the familiar seven-inch version. "Why?" is also heard in its extended form. Rather than collecting everything originally issued, these reissues demonstrate the full range of the 2 Tone Specials.
Taken as a whole, Specials, More Specials and In the Studio stress that, in British chart pop, The Specials occupied a space analogous to no other late Seventies or early Eighties band. There are, though, similarities with The Clash, especially the scattershot London Calling Clash. Pointed lyrics were merged with direct music. Yet often the music of The Specials was not direct. Jerry Dammers and his cohorts set themselves apart. No wonder their shelf life was limited.
The Specials set themselves apart. No wonder their shelf life was limited
Share this article