Trainspotting, King's Head Theatre |

reviews, news & interviews
Trainspotting, King's Head Theatre
Trainspotting, King's Head Theatre
Classic of 1990s in-yer-face theatre revived in an energetic if messy production
Smack horror: Gavin Ross in 'Trainspotting'
Hey, it's the 1990s – yet again. After high-profile revivals of contemporary classics, such as Patrick Marber's Closer and Kevin Elyot's My Night with Reg, here comes, from that edgy decade, a fringe version of the iconic story of Leith heroin addicts, based on the cult book by Irvine Welsh which spawned a classic 1996 film by Danny Boyle, as well as this play, adapted by Harry Gibson in 1994.
This version of the in-yer-face drama by the aptly named In Your Face Theatre Company was first seen at the Edinburgh Festival last year. How well has it traveled south?
When you enter the venue, it's not a theatre but a club. The dance music is banging; the cast is dancing; the cast is sweating; the audience is sweating (already!). As anyone who has read the book or seen the film will know, Trainspotting is set in and around Edinburgh, and tells a collection of anecdotes about the lives of a handful of junkies: Renton, Tommy, Sick Boy, Begbie and Alison. Although Gibson has never (as far as I know) worked in a fish factory, he has expertly filleted the book down to the bone, discarding especially the final heist story.
Apart from their sordid grossness, there is not much that is revealing in the stories
In this version, further cuts have been made and the evening is now a lean 70-minute show. With the best will in the world it cannot be called a good play. But the stories shine with the brutal gleam of drying blood on an addict's works: Renton waking up in his own vomit and diarrhoea; Tommy getting his dick covered in vapour rub; a job interview on speed; meeting two Canadian girls on the train; Renton and the opium suppositories; Begbie's violence. An addict's baby dies; another junkie injects herion into his penis. Yes, it's in-yer-face alright.
As Welsh went to great pains to stress, there is a grim glamour to survival in the underbelly of the city, and the play mixes dark humour with the secondhand poetry of the addict's self-justifications (to which the typical reply is: shite!). Apart from their sordid grossness, there is not much that is revealing in the stories. I think it's safe to assume that we do know that junkies only care about smack; that neglecting babies is wrong; that taking an overdose will land you in hospital. Sadly, one of the best stories has been cut: the feminist revenge of the waitress harassed by some male customers.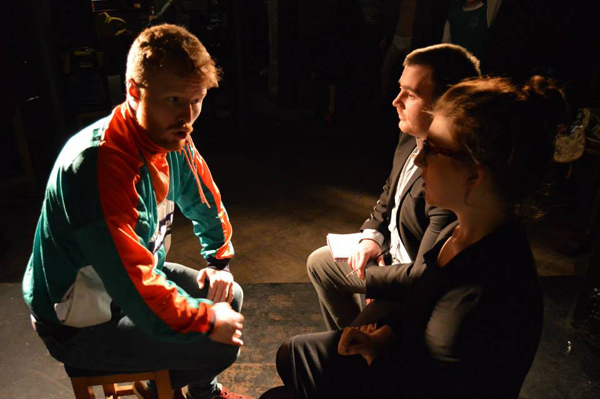 The In Your Face Theatre Company's production immediately breaks down any barriers between performers and audience, and – be warned – you're as likely to get a face full of spit, or be pushed out of your seat, as get beshitted bedclothes rubbed in your hair. This gives the evening an energetic vitality, and the young cast is fully committed to the show. At the same time, my excitement at seeing some of these familiar scenes restaged could not blind me to the messy and uneven quality of directors Greg Esplin and Adam Spreadbury-Maher's immersive experience that, at its best, sees them coursing through the audience like smack from a hit.
From the opening moments – which rerun Renton's "Choose Life" speech (minus Iggy Pop) – to the chilled ending in which the metaphor of junkies trainspotting in an abandoned railway station sums up a whole life of bad choices, there is plenty of rough magic and dirty, very dirty, realism to enjoy. The young Scottish cast (pictured above), led by Gavin Ross as Renton – with help from Esplin, Callum Douglas Barbour, Chris Dennis, Jessica Innes, Erin Marshall, Calum Verrecchia, Neil Pendlenton and Rachael Anderson – is full of vitality. You leave the venue with a feeling of excitement, both terrified and appalled, with a touch of despair, a bit of headache, and mighty glad that you don't need a fix.
You're as likely to get a face full of spit, or be pushed out of your seat, as get beshitted bedclothes rubbed in your hair
rating
Share this article