The Duke of Burgundy |

reviews, news & interviews
The Duke of Burgundy
The Duke of Burgundy
One woman's kink is another woman's poison in Peter Strickland's bracing erotic romance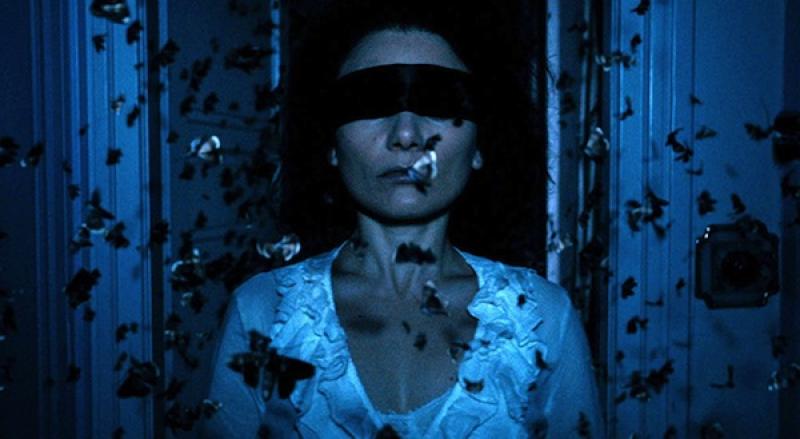 Blizzard of moths: Evelyn (Chiara D'Anna) engulfed
At last, it's here – the female-friendly BDSM movie that no grownups should restrain themselves from seeing. The one with the designer clothes and kinky accoutrements. The one with the "special" room for thrilling punishments. The one unafflicted by Christian Grey and his assorted neuroses.
Aside from the brown and orange fritillary of its title and various unnamed butterflies and moths, there are no males at all in The Duke of Burgundy, writer-director Peter Strickland's drily witty homage to the stylistically ambitious 1970s Euro-erotica of directors like Jesús Franco and Jean Rollin. The leafy continental bourgeois village wherein the story unfolds, an ideal spot for outwardly innocent but not necessarily incorrupt girl bicyclists, is an enclave of sadistic women lepidopterists and their rapt devotees, some of them tailors' dummies. This timeless hermetic world (SUV and smartphone-free) isn't necessarily a lesbian separatist community; it's more that the rules of the highly encoded game set up by Strickland insist that only femmes subs and their maternal doms can play.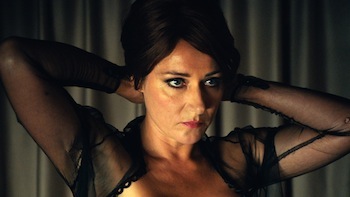 In any case, the emotions suffered by the main characters, Cynthia (Borgen star Sidse Babett Knudsen, pictured left) and Evelyn (Chiara D'Anna), are likely being endured by our straight friends and neighbours in Leatherhead, Painswick, and Whipton (not forgetting Bootle). More relishably transgressive but neither as self-consciously "outré", nor as judgmental, as Fifty Shades of Grey (and 1986's 9½ Weeks before it), The Duke of Burgundy is nevertheless also concerned with the affect that one partner's overindulged sexual predilections can have on the sustainability of a romantic relationship.
At the start, middle-aged Cynthia seems to be one of those super-sexy bitches not only public schoolgirls dream about – and not only because she has a posh English accent. Uniformed in beautiful blouses and elegant but too-tight skirts, she rules her ivy-clad villa like a Mittel-European Attila. She snaps commands at Evelyn, her slavish little maid, and makes her constantly re-do tedious chores. After enjoying a chocolate, Cynthia ostentatiously drops the wrapper on the newly pristine floor simply to make Evelyn pick it up. Daring to pause while polishing her mistress's boots, Evelyn quite rightly gets a telling-off. Omitting to hand-wash one pair among many of Cynthia's multi-hued underthings, Evelyn is presented with the damning exhibit and, case closed, chastised accordingly: Cynthia takes the good-for-nothing slattern into that special room and, offscreen, apparently urinates in her mouth.
These exactly repeated rituals indicate they have a consensual arrangement, while tiny complaints voiced by one of the women reveal that their dynamic is not as straightforward as it seems. But that's enough exposition. The Duke of Burgundy is not spoiler-proof: as every fetishist knows, an inopportune word or an infinitesimally marred detail will ruin the whole experience. It's worth noting, however, that the movie reaches beyond its sadomasochistic collusion into the heart of adult anxiety about the threat of abandonment and loneliness. Strongly influenced by Les Biches (1968), it's as potentially as tragic as The Killing of Sister George (1968) and The Bitter Tears of Petra Von Kant (1972). (Pictured below: Evelyn, in white, spurns Cynthia's unexciting offer to buy her an ice-cream.)
In its playfulness and miniaturist style, the third feature by the Budapest-based Englishman Strickland is closer in spirit to his fiendish giallo tribute Berberian Sound Studio (2012) – which featured D'Anna as the only character who doesn't daunt Toby Jones's paranoid Gilderoy – than to his primal rape-revenge drama Katalin Varga (2009). Gothic foreboding is common to all three. An inauthentic skeleton fantasised or dreamed by Cynthia strikes a pleasingly dissonant note, as if it were borrowed from a BBC ghost story like The Stalls of Barchester (1971) or a Hammer horror. The abstract images that represent Gilderoy's fragile mental state are mirrored by the imaginary blizzard of moths, quoted from Stan Brakhage's experimental short Mothlight (1963), that bombards Evelyn.
The rapt scrutiny of vintage analogue sound equipment in Berberian is echoed in The Duke of Burgundy's poring over Cynthia's lingerie (which, like her perfume, and a "human toilet" consultant, gets a screen credit). When Nic Knowland's camera lingers on Cynthia's panties soaking in soapsuds, a prismatic bubble pops, hinting at the disillusion that lays in store for anyone expecting erotic role-playing to mutually satisfy each player – though perhaps Strickland just liked the shot.
There is, of course, a beguiling self-reflexivity in a filmmaker directing actors – Knudsen and D'Anna are brilliantly deceptive – cast in the parts of people who are themselves playing parts, one directing the other and not getting what she wants, one not fully committed to her role. But that's only one of the layers of Strickland's exquisite palimpsest, which is proof, if we needed it, that The Duke of Burgundy has many deeper, richer shades of complexity than the Hollywood bodice-ripper currently exercising control of the box-office.