The Hard Problem, National Theatre |

reviews, news & interviews
The Hard Problem, National Theatre
The Hard Problem, National Theatre
Minor Stoppard that never fully melds head and heart
Thursday, 29 January 2015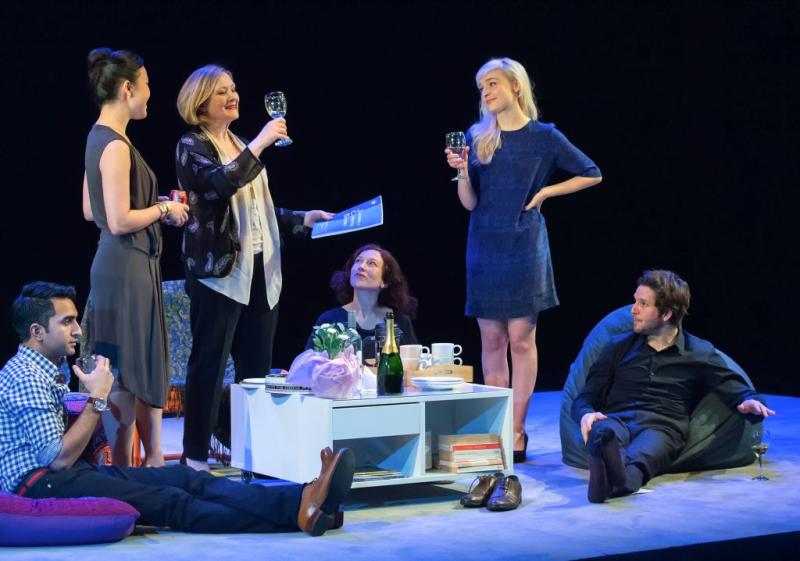 To consciousness? Olivia Vinall (centre-right) and company in 'The Hard Problem'
Here's the genuine hard problem facing commentators confronted with Tom Stoppard's new play of the same name: how do you honour the legacy of this extraordinary writer's first play in nine years that also marks its director Nicholas Hytner's National Theatre swansong and is – truth be told – a disappointment on multiple fronts?
Speaking as one who can recall as if it were yesterday the revitalising jolt to both head and heart that one felt leaving the opening night of
Arcadia
nearly 22 years ago,
The Hard Problem
doesn't sufficiently engage either, notwithstanding occasional shimmers of feeling that hint at what might have been.
And to those who would argue that it's unfair to judge a writer's present by his past, Stoppard all but forces the comparison for us. Just as Arcadia famously opens with an exchange between a precocious young girl and her older, quietly sexy tutor, so The Hard Problem begins by placing before us variations on the earler play's Thomasina and Septimus, this time a decade or so older. Hilary (Olivia Vinall, a Hytner darling who fully deserves the attention paid to her at this address) is a Loughborough-educated psychology researcher – the place name, incidentally, provides the inevitable cue for a joke – who engages readily with her tutor Spike (Damien Molony, another Hytner discovery dating back to Travelling Light) both in verbal skirmishes and in what Arcadia refers to as "carnal embrace".
Spike (great name!) is as pragmatic and hard-nosed as the febrile Hilary is emotional and given over to prayer, and though the "-isms" get the full Stoppardian work-out, so, too, on this evidence, have the bodies of the people spouting them. Molony in particular spends so much of his stage time in various states of undress that the character could well have wandered in from My Night with Reg. (The actor, clothed, is seen below with Vinall.)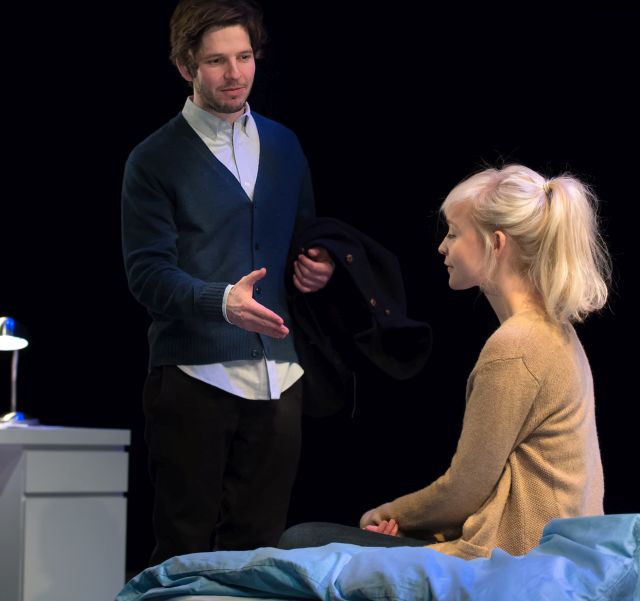 The knotted "problem" referenced in the title is nothing less than consciousness, which ricochets thematically throughout a play that seems – uncharacteristically for Stoppard – to strike an indelicate balance between competing areas of interest. Scientific theory comes tumbling from these characters' mouths (nothing new for Stoppard there: intellect is given acrobatic form in Jumpers), and the able and attractive cast ensures that moment by moment their various volleys land easily on the ear. But amidst the primary agon that is put forward between altruism and egoism, there would appear to lie the scraps of another, altogether different play about the depredations of the very rich in today's money-minded climes. That's the terrain occupied by Jerry Krohl (Anthony Calf), the tough-talking squillionaire financier who just happens to have funded the brain science institute at which Hilary gets a job: he's brusquely spoken but a benefactor with it. (One of the most amusing author's notes in some years is found in the published text, where Stoppard suggests that Jerry's apartment should look as if it "cost, say, £30 million" – no small task for a designer there!)
Hilary ends up entwined with Jerry in other ways that go well beyond the workplace and that Stoppard refers to numerous times as "coincidence", but which the less charitable might describe as contrivance. The reason for Hilary's reliance on prayer, we discover, dates to her lingering grief over the child she gave up for adoption when she was 15, a young girl now reaching puberty who turns out to have landed in the care of – well, you can guess the rest. Hilary's back-story, in turn, grounds the tenacity with which she clings to notions of goodness even in the face of her contrastingly cool, Darwin-inflected bedmate, Spike. This would-be mother craves a world that has been kind and caring to the daughter she thought she would never again see, a longing that in retrospect makes Spike's casual dismissal of a Raphael Madonna and Child seem retrospectively cruel – all experience for him processed into the kind of brainy theorising that leaves the human equation out.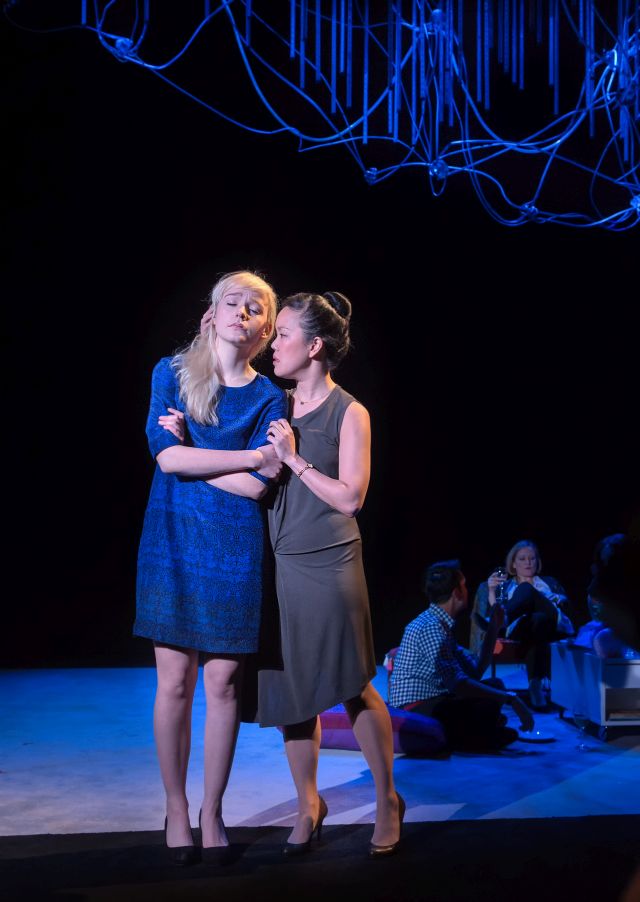 So far, so moving, you might think, except that The Hard Problem isn't especially, and it's instructive that Hilary resorts to onstage tears far more often than the audience likely will. It seems strange, for one thing, that Hilary raises this painful spectre from her teenage past only for it to pass unexplored: the specifics that led Hilary to that point are left opaque, and for all the stage time devoted to the character, she nonetheless feels like a sketch waiting to be filled in. That is in no way to blame Vinall, a golden-tressed beauty who was the best Desdemona I have ever seen (in the Hytner Othello) and who anchors this play with the sort of unforced truth that Stoppard once afforded his blonde leading lady of an earlier era, Felicity Kendal. (Vinall, incidentally, will in time make a smashing Hannah in Arcadia, a part originated by Kendal.)
There's more, of course – in a Stoppard play there's always more, starting with a subplot about a research fiddle undertaken by Hilary's inhouse mathematician, Bo (Vera Chok, pictured above left with Vinall), who is just one of various characters to come on to our heroine during the course of events. Hytner's production is spare and minimalist and arguably a shade too polite, as if the longish scene changes were there to allow time to digest what we had just seen while we listen to some Bach; in fact, if there were ever a play that cried out to be staged on a revolve – much like Mike Nichols's dazzling Broadway premiere of The Real Thing – this is it. Bob Crowley's design gives us a tangled image of the brain hovering above a series of sleek, minimalist interiors none of which look as if they cost 30 milion pounds: that visual exigency less a hard problem than an impossible requirement.
The Hard Problem at the National Theatre until 27 May. It will be shown in cinemas via NT Live on 16 April

It's instructive that Olivia Vinall's golden-tressed Hilary resorts to onstage tears far more often than an audience likely will
rating
Explore topics
Share this article