Young Men, BalletBoyz, Sadler's Wells |

reviews, news & interviews
Young Men, BalletBoyz, Sadler's Wells
Young Men, BalletBoyz, Sadler's Wells
Fine dancers in well-designed, interesting war piece
Thursday, 15 January 2015
Shell shock: Andrea Carrucciu (right) and the dancers of BalletBoyz The Talent use their remarkable bodies to explore the experience of war in choreographer Iván Pérez's new work, Young Men.
Having gathered an excellent cadre of dancers and forged them over years into a fine company (The Talent), the BalletBoyz Michael Nunn and William Trevitt – two of the most astute artists in dance – must have known they needed to go further, to tackle something bigger than the 20-minute abstract pieces that are the staple of contemporary mixed bills.
Young Men
, which premièred last night at Sadler's Wells is that something bigger, a full evening's work with defined thematic concerns and some semblance even of narrative. It has been some years in the making, growing out of workshops with choreographer Iván Pérez and not necessarily – I suspect – conceived as a specifically WWI commemorative piece, until the former Culture Secretary Maria Miller announced in 2013 that there would be lots of public money available for such projects.
Young Men deals with war in general, as well as WWI, and it works as a war piece because Pérez and the Boyz (who have been hands-on commissioners) have, sensibly, chosen to focus on things that dance can express well, namely emotions, personal relationships and group dynamics. Combat and the reasons for entering into it, whether politics, patriotism or press gangs, form the background to, rather than the subject of, most of the 10 short sections that make up the piece. Most of these, and the best of them, treat aspects of personal experience – shell shock, nightmares, training, homecoming, loneliness.
A sense of care, structure and intent pervades the programme, evidence of good dramaturgical instincts in the creative team. The segmented structure – clearly indicated in the programme, a helpful touch – keeps things moving. In fact, the first half was remarkably gripping, each section feeling tight and thoughtful. The "basic training" segment pulses with a hip-hop machismo that – cleverly – becomes progressively less boyish and more bleak and threatening, ending with a rather sad struggle between the sergeant figure, mechanically barking "go!" and a recruit. Andrea Carrucciu's extraordinarily flexible, expressive body (he's the Talent dancer who always catches your eye) is put to good use suggesting the mental brokenness of shell shock through physical contortion (main picture). For many choreographers this one idea would have been enough, but Pérez develops it into a remarkably tender duet, which both highlights the injured man's panic and begins to suggest healing.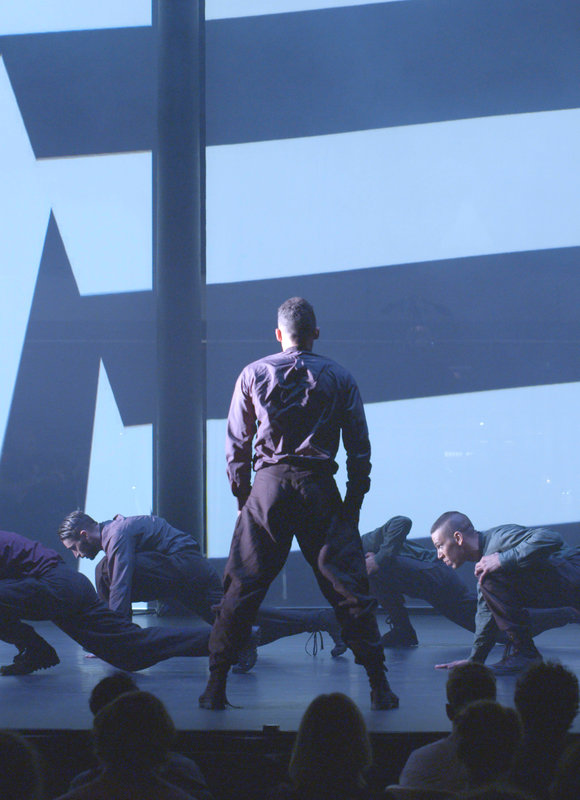 For the first time, female dancers have been brought into the company, and Dalma Doman and Jennifer White contribute mightily to the emotional impact of the piece, helped to stand out by their distinctiveness among the crowds of men, and by Carlijn Petermeijer's white shirts, which make the women's faces clearer to see. Doman opens the evening with a deep-lunging, eloquent solo section, while White is in one of the most moving segments, as a woman disguised on the battlefield, searching for and finding her man, then being torn from him again. Both also dance in the homecoming segment, capturing the sadness and desperation of relatives reunited with a man so changed that all they can do is (try to) hold him.

Pérez is not afraid of stillness and tableaux, a good quality in a dramatic choreographer, but his choreographic style is more usually demonstrative, asking the dancers to throw their whole bodies vigorously into the work of leaping, rolling and wrestling (they must be exhausted by the end). This works well on The Talent, who are all youthful and muscular, but also capable of great grace, allowing them to make stories from the contrasts between frenzied struggle and balletic smoothness.

Maybe all the WWI commemoration last year got me accustomed to that period aesthetic, but I much preferred the designs which were more obviously linked to that conflict to those which were blankly military, all harsh overhead lighting and black jackboots (pictured above right). Suggestive touches like projections of delicate tree branches, or a blasted forest created with shadowy lighting (by Jackie Shemesh) added a helpful sense of story, while Carlijn Petermeijer's costumes included fabulous takes on old military uniforms – her high-waisted fatigue trousers that sit neatly tailored on the hips and billow softly around the thighs wouldn't look out of place on a catwalk.

Composer Keaton Henson's music works well as scene painting – loud and thumping for the scary bits, lyrical with violins and clarinets for the tender bits. I liked having the orchestra on stage too, though the consistent highlighting of the drummer, effective at first, palled after a while. Yes, he hits like the men are hitting, and the aural assault recalls artillery fire, but it was precisely obviousness of this kind that after a while began to irritate me about the music, which is fairly repetitive and relies on a limited rhythmic and dynamic range. The unfortunate upshot of my growing irritation was that the last section, "Battlefield Landscape", obviously meant to be climactic with its deafening music, left me cold and mildly bored – not helped by the dancers' frantic repeated leaping, which suggested that Pérez too by this point had exhausted his stock of original ideas.


The relative weakness, or just overstayed welcome, of the final couple of sections was a real shame, because the rest of Young Men is really remarkably interesting: well thought through, well designed, and well danced. The usual caveats about capturing war through commemorative performance apply (don't play-acting and posturing make a mockery of the horror?), but at its best you get from The Talent something like the impact of John Singer Sargent's 1919 painting Gassed (pictured above), which may take as its context the ghastly inhumanity and tragedy of chemical warfare, but which also calls attention to the warmth and the gentleness – look at those hands - of comradeship and interdependence between young men in times of war.
Young Men is at Sadler's Wells until 18 January. BalletBoyz The Talent are touring UK theatres with their mixed bill, The Murmuring and Mesmerics, from April to June 2015.