Spiral, Series 5, BBC Four |

reviews, news & interviews
Spiral, Series 5, BBC Four
Spiral, Series 5, BBC Four
Parisian crime story continues to expose the sordid workings of the French justice system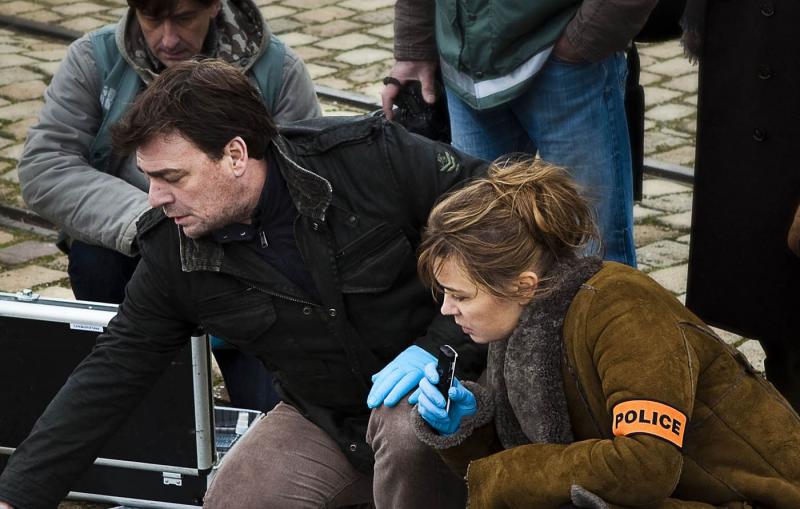 Death on the Seine: Captain Laure Berthaud (Caroline Proust) and Gilou (Thierry Godard) search for clues
It's a poignant moment for the return of this superior French police drama. With the Paris terrorist crisis the top story across all media, we rejoin our fictional police captain Laure Berthaud to find her still in emotional fragments following the death of her lover Sami in a terrorist bomb blast at the end of series four.
It's to the show's credit that its unvarnished portrait of policing and the compromises and political chicanery that surround it doesn't pale in the glare of real-life events.
However, terrorism isn't at the centre of this fifth series. Instead, the dishevelled Berthaud (Caroline Proust) and her dogged crew of veterans are trying to work out who killed Sandrine Jaulin and her young daughter Lucie, the pair of them discovered entangled in the propeller of a barge on the river Seine. To add an extra twist of grotesqueness, the two corpses had been bound together with wire. (Pictured below, Caroline Proust and Philippe Duclos)
Cop-show regulars will know that the husband is always likely to be the prime suspect, and Sandrine's other half, Stéphane, initially made a perfect fit. He had a history of anger-management issues, a tendency to assault people, and had done a runner with the couple's other child, Léo. Bang to rights? Not so fast, mes amis. Turns out he has not only an alibi, but also a schizophrenic brother-in-law who, obligingly, has just tried to drown a female jogger.
But of course the squad's detective work is just the peg to hang a whole lot of other stuff on. The personal lives of the officers continue to be a giant smouldering debris field, with Berthaud herself on a treadmill of hard drinking and casual sex. About to embark on a drunken shag, she was horrified to find blood pouring down the inside of her thighs – somehow you can't envisage watching a scene like this in a British show like The Fall or Broadchurch – and was subsequently stunned to find she was pregnant. Was it Sami's baby? She doesn't know, but she wants to abort it anyway.
A continuing pleasure of Spiral is its jaundiced view of the machinations whirring away in high places, from the Palais de Justice to the Élysée Palace. There's never been any pretence that the police are lily-white, and for further evidence we have the case of M Lesueur, arrested for fatally running over a gendarme. However, it looks suspiciously as if Lesueur has been fitted up so the police don't have to admit killing one of their own. To make sure their trumped-up charge sticks, the cops are trying everything from shoehorning in a friendly lawyer to tampering with their own evidence.
But sharp practice is not the sole prerogative of the Bill. Wily old Judge Roban (Philippe Duclos) has cunningly steered the dead policeman's widow into the predatory arms of Joséphine Karlsson (Audrey Fleurot, pictured above), the flame-haired legal bombshell currently trying to claw her way back up the professional ladder after a string of shameless and ill-judged career moves. Roban himself barely bothers to conceal his cynicism about his chosen milieu, telling a class of law students that the worst thing they can do is appear too clever, and to get ahead they should cultivate "conformism and servility". Depressing, yet strangely refreshing.