Rubens: An Extra Large Story, BBC Two |

reviews, news & interviews
Rubens: An Extra Large Story, BBC Two
Rubens: An Extra Large Story, BBC Two
Imperfect portrait of the artist as 'the Henry Kissinger of his day'
Saturday, 03 January 2015
Waldemar Januszczak takes the measure of Rubens's 'Descent From the Cross' in Antwerp cathedral
The ebullient presenter, writer and director Waldemar Januszczak opens his enthusiastic and proselytising hour-long film on Sir Peter Paul Rubens (1577-1640) by reading out a series of disparaging quotes from other artists.
William Blake thought Rubens's shadows looked like excrement, that Rubens was a fool and his paintings were slobberings. Picasso thought Rubens was gifted but unusually nasty, whilst Thomas Eakins also thought him the nastiest painter, and Byron referred to his infernal glare of colours. Januszczak can even be pretty disparaging himself, discussing Rubens's impenetrable blob of bodies.
"But," our Waldemar says cheerfully as he takes us on a waddling romp through European galleries, "I too have cellulite," as he looks admiringly at Rubens's robust and fleshy nudes. And later on he adores, indeed almost salivates as he contemplates the dimpled knees so seductively evident in Rubens's life-size painting of his naked second wife, Hélène Fourment, discreetly partly wrapped up in a black fur robe. She is emerging no doubt from a bath, and her admirer does not hesitate to compare the subject to Botticelli's Venus emerging from the sea. And he loves Rubens's use of red, he tells Nick van Hout of Antwerp's Royal Museum.
Rubens was criticised for artistic collaboration – that is, not every Rubens is entirely by Rubens
He plumps our hero straight into the political complexities of the Spanish Netherlands, participants in the Eighty Years War, as Protestant battled Catholic; Rubens's lawyer father exiled himself and family for safety to Germany, and was imprisoned after he had an unfortunate affair with Anne of Saxony. After his father's death Rubens's mother moved the family to Antwerp, and Rubens was raised a Catholic.
Hugely important aspects of his life, including eight formative years in Italy and early visits to Spain, go unmentioned. But Januszczak does call Rubens the Henry Kissinger of his day (sic). As a painter acclaimed and admired all over Europe he had access to the courts of the day, brokered, we are told, the potentials of peace between England and the Habsburgs, and was knighted by Charles I and honoured by Philip IV of Spain. But we are not reminded that Rubens as befit the successful international diplomat was fluent in some seven languages, and was an outstanding scholar and collector himself (below, Rubens self-portrait, circa 1628-1630).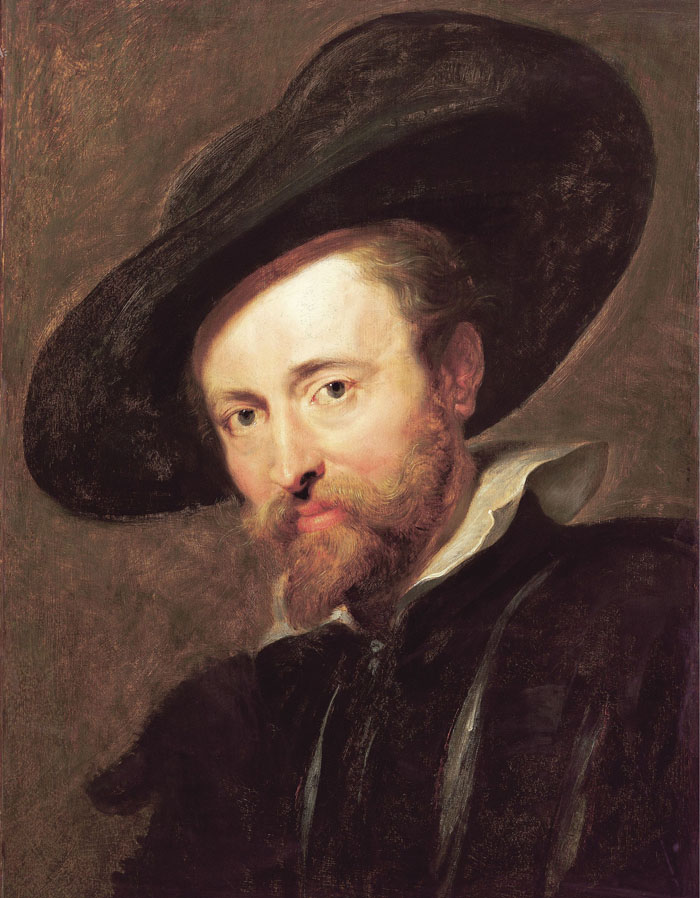 We are shown the collaborative and erudite paintings, now at the Prado, whose subjects are the five senses, that he executed with his Antwerp neighbour Jan Brueghel. Rubens was criticised for artistic collaboration – that is, not every Rubens is entirely by Rubens – but we are given no real insight into the highly successful studio system over which he presided, nor into the success of his pupils and apprentices, including van Dyck.
We are reminded by looking at the paintings – and Januszczak tells us the camera loves Rubens, enabling us to get close up to his huge paintings hung high up in galleries, although maddeningly this is a facility that is woefully unexploited in the critic's paean to the artist. Still we get a good look at the two dozen, mythologised and fantasised scenes of the life of Marie de Medici, queen mother of France, which she commissioned herself and which now hang in their own special gallery in the Louvre. We visit the Prado in Madrid, the Alte Pinacothek in Munich, the Wallace Collection, Courtauld and National Gallery in London, not to mention a good look at the masterpiece of The Descent From the Cross in Antwerp Cathedral. But here again Januszczak's populist tendencies run away with him; one of the images of the wing of this magnificent creation shows us St Christopher, which somehow leads Waldemar to call on the Christophers of the world, from Chris Martin of Coldplay on, to enjoy. Why on earth?
We are told, touchingly, of Rubens's loving uxoriousness, as he immortalised both his first wife, Isabella Brant, who died of the plague after 18 years of marriage, and his second, Hélène Fourment (15 to his 53 when they married), but are not told of his eight children. And one aspect of his superb and empathetic artistic skill that is almost entirely overlooked is his excellence in draughtsmanship; his drawings held in the great collections are so often memorable masterpieces.
Januszczak has, surprisingly for one of his track record, missed an opportunity to make a revelatory biographical introduction to the master of the northern baroque. Instead, we are to admire Januszczak for admiring Rubens. His self-serving premise, that he is rescuing Rubens from the undeserved scorn of other remarkable artists, omits to mention the huge exhibition, Rubens and His Legacy: Van Dyck to Cézanne, opening in two weeks at the Royal Academy. This massive visual legacy will show an awesome variety of artists, including Turner, Manet and, yes, Picasso, who have been consciously influenced by the Flemish genius.
'But,' our Waldemar says cheerfully as he takes us on a waddling romp through European galleries, 'I too have cellulite'
rating
Explore topics
Share this article