Call the Midwife: 2014 Christmas Special, BBC One |

reviews, news & interviews
Call the Midwife: 2014 Christmas Special, BBC One
Call the Midwife: 2014 Christmas Special, BBC One
How Jennifer Worth's midwifery memoirs became embedded in the national psyche
Thursday, 25 December 2014
A national institution: the Nonnatus House nuns and midwives
The Christmas scoop was the first appearance of the authorial voice, Vanessa Redgrave, playing Jennifer Worth, writing Christmas cards, looking at the photographs of herself with her two midwife friends and plunging us into memory from 2005 to 1959. She tells her husband Philip (Ronald Pickup) with tender affection how different it was, but "once a nurse, always a nurse," he responds.
Bookending this episode were her words as she and Philip finished Christmas preparations, that if we are lucky we find love, and even its meaning. Philip then persuades Jennifer to write her memoirs, and the rest is, as we know,
Call the Midwife
.
The popularity of this series, set in and around a fictional convent, Nonnatus House, in the East End of London in the 1950s and devoted to episodes revolving round – well – midwifery, is incontrovertible but not wholly explicable. It must have seemed a kind of wild card to take a chance on dramatising Jennifer Worth's trilogy of nursing memoirs. The subject is hardly overtly glamorous, happy endings not guaranteed. Yet here we are with this third Christmas special, the 25th episode of the show and the seasonal rival for Downton. Series four and five are already filming (Vanessa Regrave feels a homily coming on, pictured below).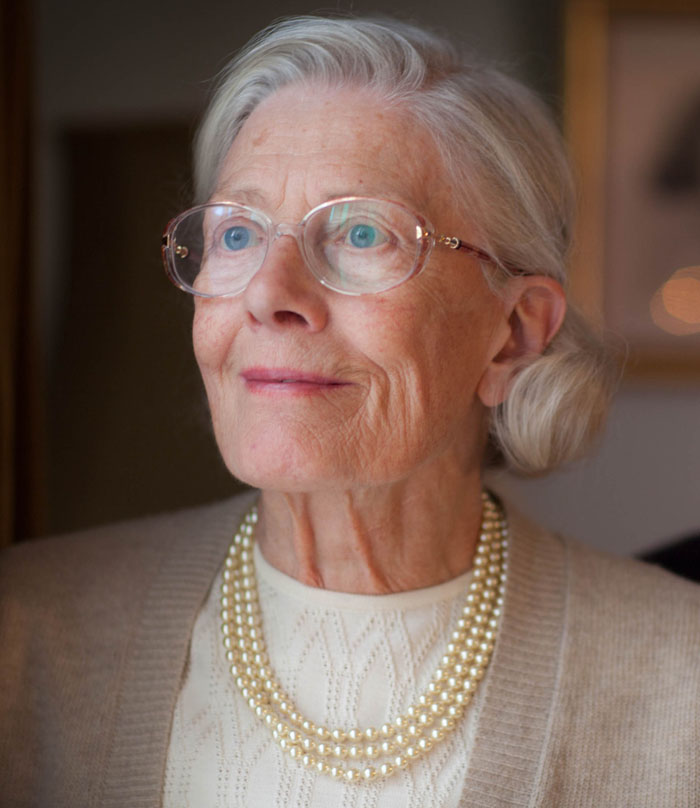 We met all the familiar characters, nuns, midwives and a couple of husbands, with some new mothers and babies. The local children were being coxed by the nurses into disorderly order for the Christmas pantomime, with the handyman Fred (Cliff Parisi) the not-so-secret Santa. The mildly demented and overwhelmingly loquacious Sister Monica Joan (Judy Parfitt, pictured below left with Bryony Hannah) went shopping in the market for the convent's Christmas tree, demanding that it not be a German tree, but one grown on allied soil.
Victor (Daniel Cerqueira) of the market's tree stall turned out to be just newly released from the horrors of old fashioned mental institutions which sectioned people with abandon. He was just learning to fend for himself, looking for work, saving pennies, and sheltering in an abandoned building with his partner Nancy (Kacey Ainsworth) who was convinced she was pregnant.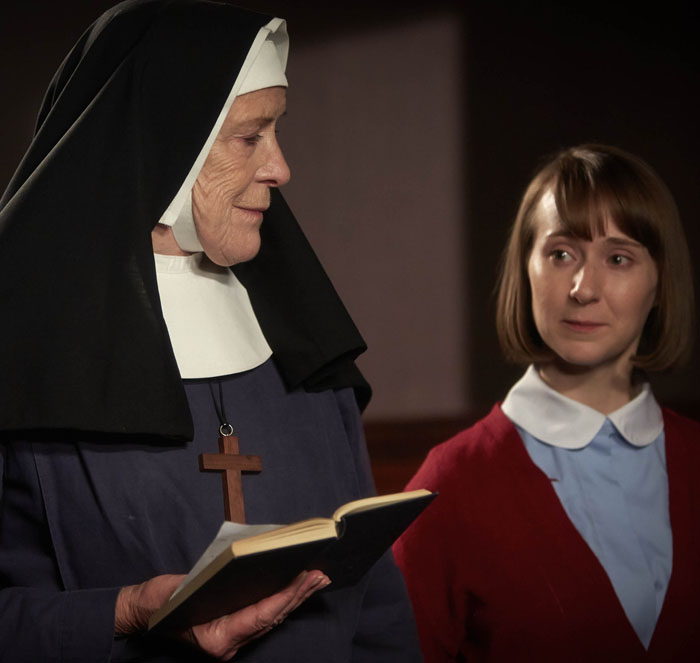 Hence they fell into the midwives' orbit, only for us to discover that in the asylum Nancy had been sterilised. These were adult human beings, institutionalised for almost all their lives, hardly able to cope. However the script would have us believe in their extraordinary emotional wisdom as Victor convinced Nancy that they could survive by each giving to the other what they could. And that this example would convince one of the midwives, Cynthia (Bryony Hannah), to follow her religious vocation and become an initiate into the order.
The main plot in fact revolved around two young pregnant women, pitched into a nightmare of a home for unwed mothers: the magnificently feisty and extravagantly made-up Avril (Louisa Connolly-Burnham) improbably successfully blew the whistle. Arriving to save the day were the stars of midwifery, Chummy (Miranda Hart, pictured below), the gangly old-fashioned aristo midwife, and her colleague red headed Patsy (Emerald Fennell). They attended the only birth we witnessed. Chummy, armed with mottos from the girl guides, even managed to persuade Avril, whose maquillage cracked into vulnerability, to bond with her new-born. All came together back at the Nonnatus House Christmas party, with even Victor and Nancy bright-eyed in their Christmas paper hats, and Avril cradling her daughter. We glimpsed Tony Hancock on the tiny television in the festive room.
The period detail was almost uniformly convincing, although having all the nuns so beautifully made up was a surprise, there was little authentic dirt, and the savagely poor East End looked pretty tidy. But the grit in the glow of television make-believe is the show's sense of real social forces shaping the characters' behaviours and beliefs, as more humane attitudes come to the fore. And it is peculiarly piquant as we witness a birth with no mod cons, and nearly scream or at least whimper in sympathy, that more than 50 years on, official policy is now asking for more midwives – and more home births.