Exodus: Gods and Kings |

reviews, news & interviews
Exodus: Gods and Kings
Exodus: Gods and Kings
Ridley Scott's Biblical epic can't decide whether to be ancient or modern
Tuesday, 23 December 2014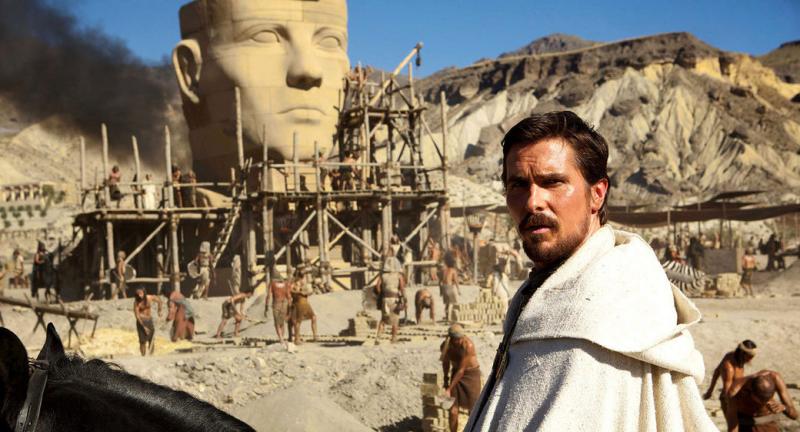 Health and safety? Moses (Christian Bale) observes the deplorable conditions of the Hebrew slaves
I wish Mel Brooks had directed this, but instead we've got the sort of stodgy techno-epic that has become all too common from the auteur-ial hand of Ridley Scott. Ridley's 150-minute rehashing of the Biblical story of Moses is often a feast for the eyes (especially in 3D), with its vast Egyptian panoramas and stunningly mounted action sequences, but the characters are largely cardboard, the dialogue is dire and a lot of very good actors are given nothing of any consequence to do.
Did somebody mention
Kingdom of Heaven
?
And yet there really ought to be plenty to chew on here. The story of how the warrior Moses, highly favoured adopted son of the Pharoah Seti (played with papery, sun-dried quaveriness by an entirely incongruous John Turturro), is denied a potentially priceless inheritance when his Hebrew origins are revealed, is a plot driver of Sopranos-like dimensions (below, left to right, Christian Bale, John Turturro, Sigourney Weaver and Joel Edgerton).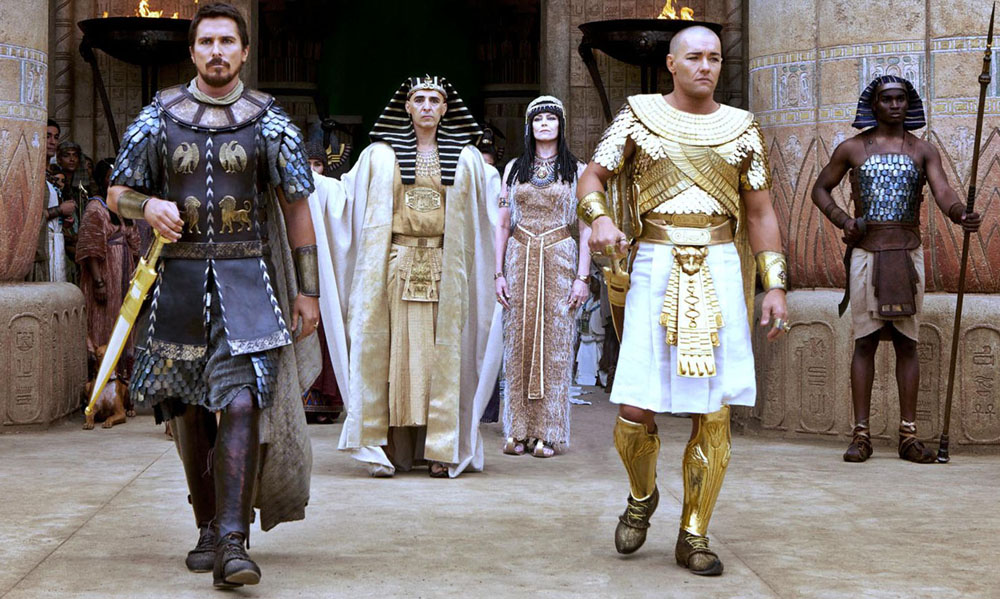 The vengeful jealousy of his foster brother Ramses (the bad Pharoah, played by a shaven and slug-like Joel Edgerton) adds a squirt of psychological napalm to the drama, while direct interventions by God (His avatar is a mouthy, petulant brat played by Isaac Andrews) crank up the amperage quite noticeably. The flight of the Hebrews from Egypt could make a mini-series of its own (it was good enough for a Handel oratorio, after all).
The anachronistic feel of the piece is especially odd. Scott seems to have made a conscious effort to hark back to the opulent but literal-minded epics from the 1950s or '60s, so everyone is fully togged up in robes, headdresses, jewellery and ornate weaponry, while the Egyptian court in Memphis closely resembles the Egyptian wing of the British Museum. Monuments, statues, obelisks and what have you pepper the skyline, and some spectacular overhead wide shots wallow luxuriously in the stupendous amounts of detailing the craftsmen and CGI gurus have packed into the frame, like an ancient iteration of Google Earth.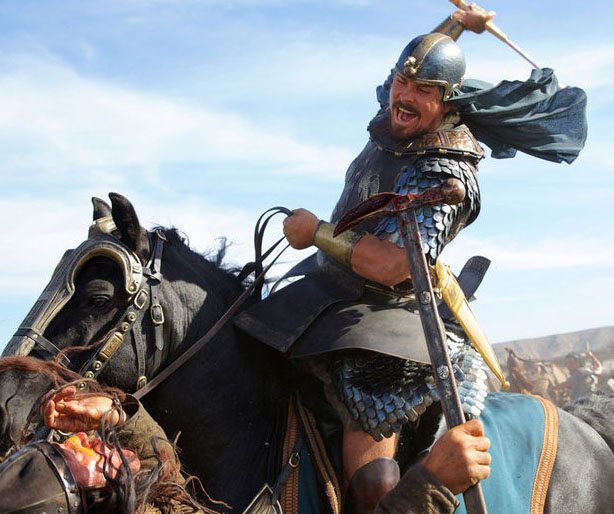 At the same time, the dialogue (written by a well-staffed committee) goes out of its way to be as prosaic and un-Biblical as possible, and the tone gets a bit jokey regarding issues like fortune-telling and plagues, as if Scott was torn between selling us the myth or debunking it with 21st century rationality. As has been noted elsewhere, a mostly American/Anglo-Saxon cast makes barely any concessions to Middle Eastern ethnicities in this era of acute sensivities about such matters.
It's exasperating that Scott should have enlisted performers such as Aaron Paul (barely noticeable as Joshua), Ben Kingsley (sporting a farcical shaving-brush beard as Nun) and Sigourney Weaver as a malevolent but virtually dialogue-free Tuya (Ramses' mother) and then blotted them out with scenery and effects. Ben Mendelsohn gets to camp it up as the shrill and bitchy Viceroy Hegep. Only Christian Bale as Moses manages to pummel some signs of intelligent life from his part, but even he doesn't stray far from an expression of laboured world-weariness (below, Bale with Aaron Paul and Ben Kingsley).
However, Scott gives us much better value when Moses is leading a guerrilla war against the Egyptians, blowing up store-houses and burning ships, and the plagues are worth the wait, even though some bits have been made up. There wasn't supposed to be a plague of crocodiles, I don't think, but anyway it's rendered with writhing, gory brilliance. The seething locusts are realistic enough to get you diving to the floor desperately trying to brush them out of your hair and clothes, while the creeping darkness which presages the deaths of the Egyptian children is truly ominous. The parting of the Red Sea isn't so great though – it's more like an abnormally low tide – while the Ten Commandments have the impact of a Post-It note.
Apparently Ridley's first edit ran to four and a half hours, and he thought it was better. Maybe he was right, but who's got the time to find out?
Overleaf: watch the trailer for Exodus: Gods and Kings