Henry IV, Parts One and Two, RSC, Barbican |

reviews, news & interviews
Henry IV, Parts One and Two, RSC, Barbican
Henry IV, Parts One and Two, RSC, Barbican
A charmless Falstaff and two blunt young blades in mediocre Shakespeare double bill
Antony Sher's Falstaff and Alex Hassell's Hal in Eastcheap
Heritage Shakespeare for the home counties and the tourists is just about alive but not very well at the Royal Shakespeare Company. If that sounds condescending, both audiences deserve better, and get it at Shakespeare's Globe, where the verse-speaking actually means something and the communication is much more urgent.
Maybe it didn't help that I saw RSC artistic director Gregory Doran's diligent trawl through both parts of
Henry IV
less than a month after Phyllida Lloyd's dazzling, visceral portmanteau version at the Donmar, welding most of Part One to selective scenes from its successor.
That was pacy, drew its actors from diverse theatrical or television backgrounds into a true ensemble and followed through its women's-prison setting to brilliant, touching and often very funny effect. This one lacks pace, has poor verse-speaking not least from some minor performances you'd be ashamed to see on an amateur stage and is "as tedious as a tired horse", as Hotspur says here of Owen Glendower. I'd gladly have exchanged his nine hours' conference with the six which weighed ever heavier yesterday.
Catastrophically, there's not a single performance among the leads to win allegiance. Falstaff needs to charm early on so that we can be repelled by his bad behaviour on the Shrewsbury battlefield and his nastiness chez Justice Shallow. Timothy West brought tears to the eyes from the start in a very traditional English Touring Theatre production; in Lloyd's Donmar entertainment, I warmed to Ashley McGuire's rogue by the time of the charade at Gadshill, where the prince and his pal terrorise her by popping a red balloon ("no, no, not the balloon" muttered this Falstaff in his sleep behind the arras). That scene is horribly botched here, where an inappropriate burst of diddly-diddly folk music in Paul Englishby's predictable and over-amplified score marks the robbery and where Falstaff simply walks offstage after the attack.
Not that Antony Sher's Falstaff has us on his side by then. He's a rather horrid old man; the delivery is slow and deliberate, marred above all by word-gargling which might have been established in the first scene with his beloved prince Hal and then abandoned. It isn't, though we treasure the few moments like the "honour" speech or the awareness of ageing where the gargling stops. My companion wasn't there to see either, having left at the first interval clutching his throat from the transferred pain of all that dalek-speak.
No-one else is going to step in and charm us instead. Alex Hassell's Hal is fine of form, discovered in bed with two whores and Falstaff at the foot, but weak of voice (from what little we get to hear of his companion Poins, Sam Marks would have made a more appropriate prince). Hassell imbues the soliloquies with some meaning, but you can see the cogs going round. Relatively unintelligible is Trevor White's Hotspur (pictured, above). There were inevitable comparisons with the way Jade Anouka at the Donmar conjured the image of a gifted but over-impetuous south London youth; White has nothing of the adolescent about him and is never physically relaxed, despite a few moments where the coiled spring leaps into action, just a sour bully and a wife-abuser. That leaves the King, not often present in Part One but an essential authority (two words: Harriet Walter). Jasper Britton seems to be suffering a charisma bypass from the start, and in his later deathbed scene shrivels to the alienating role of a decrepit whiner.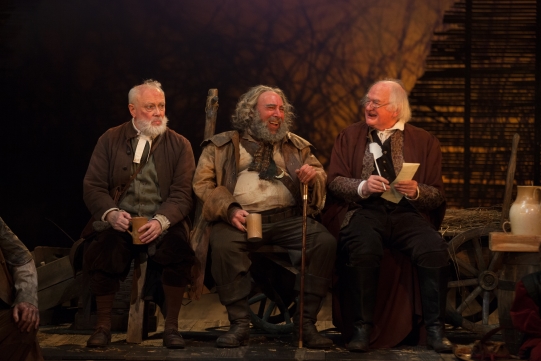 If none of the verse-speakers is a patch on Lloyd's Worcester in the Donmar production, Ann Ogbomo, there's small compensation in the prosers. Paola Dionisotti's Mistress Quickly is inclined to mug when she has little to say in the first big Eastcheap scene, but zooms spiritedly into focus alongside Joshua Richards' po-faced Bardolph, a lesson in economy (he also gives us a strong Glendower). Nia Gwynne's Doll Tearsheet is a plausible mixed-up girl in a Part Two Eastcheap scene more real than any in Part One – though the entrance of Antony Byrne's Pistol, mixed-up only in the indeterminate characterization of the classics-quoting roaring boy, nearly scuppers it. Byrne also plays Rumour in the production's only concession to the 21st century.
The Gloucestershire justices, Oliver Ford-Davies's Shallow and Jim Hooper's Silence (pictured with Sher, above), promise to bring the second half of the second part to life, and I actually laughed when Ford-Davies evoked Shallow's night with Falstaff and Jane Nightwork, one of Shakespeare's proto-Carry On gallery of Anglo-Saxon names elsewhere conjured with so little relish here. But that rural scene is blemished by stereotypical parody in the parade of cannon-fodder recruits, which ought to be shocking as well as funny. Search me why one of the freaks wears green make-up, and getting a laugh out of the little hunchback is beyond the pale.
Another saving grace here is the ease with which Tim Mitchell's lighting conjures the outdoors on Stephen Brimson Lewis's practical set, with its broken slats conveying the deracinaton that's not conveyed by the acting. It's an open space for good strong performances to come to the fore, but here there's none powerful or significant enough to keep a mounting feeling of despair at bay. Every schoolchild in the country should get to see Lloyd's Donmar Henry IV; this one might be a turn-off for life. The only consolation after a horrible Saturday for me is that if Doran and some of his company are available to move on to a Henry V, I'll make sure I'm not available to see it.
Sher's delivery is slow and deliberate, marred above all by word- gargling
rating
Share this article