Visitors, Bush Theatre |

reviews, news & interviews
Visitors, Bush Theatre
Visitors, Bush Theatre
New play about aging, love and the meaning of life is sensitive and moving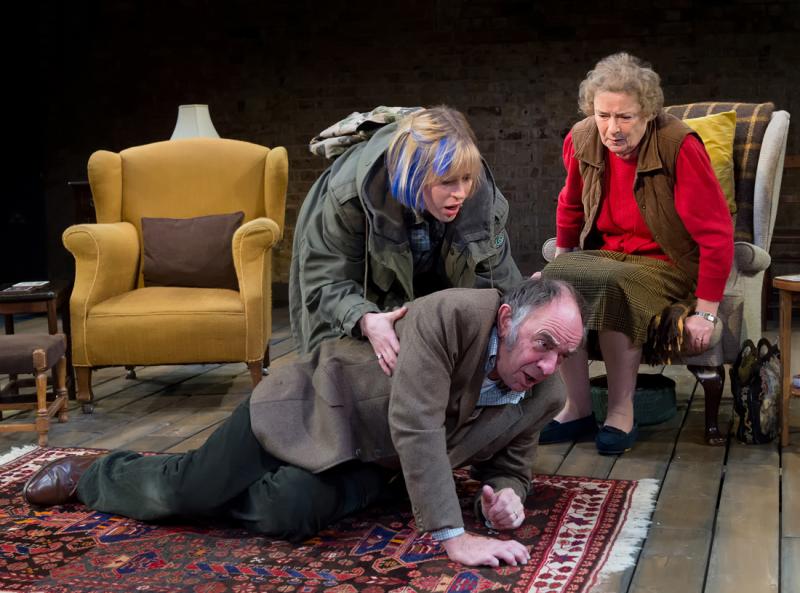 Taking a tumble: Eleanor Wyld, Robin Soans and Linda Bassett in 'Visitors'
The Bush is on a roll. Under artistic director Madani Younis, audiences are up, new plays are flowing in and there are plans to build a permanent studio space. Having just staged Radar, its annual festival of new writing, the venue now hosts Barney Norris's Visitors, his debut play which previously premiered at the Everyman Theatre in Cheltenham and then had a run at the Arcola earlier this year.
If it can hardly be called a cutting-edge example of contemporary playwriting, it is an impressively accomplished piece of craftsmanship.
The writing is sensitive, rather quiet and immensely empathetic
Norris sets his play in a remote farmhouse on the edge of Salisbury Plain, home to seventy-somethings Arthur and Edie, who have been married to each other for most of their lives. Although they are very happy together, with a daily routine that involves Arthur in some farmyard work and Edie in keeping house, Edie has become more and more afflicted with memory problems. While she certainly doesn't have full-scale dementia, she is not all there. So the couple employ a twenty-something live-in carer, Kate, to help with the cooking and other domestic chores. But when Stephen, their son, pays an unexpected visit, change comes to their lives.
Visitors is about the impact that strangers have on a domestic situation. Kate, with her blue-dyed hair, has chosen this job in an obscure location where little happens because she is on the run from her own life, which is as unfulfilled as Arthur and Edie's. Likewise with Stephen: despite the fact that he's their son he's a comparative stranger. He never usually visits, and he complains that his parents don't listen to him. Being a grown-up man with a wife and teenage kids means that he wants to fix his parents – even if it means sending his mother to a home.
Norris's writing is sensitive, rather quiet and immensely empathetic. (It's rather like that of Peter Gill, about whom he has written an appreciative book called To Bodies Gone: The Theatre of Peter Gill.) He clearly understands what makes old people tick, and the play is both a paean to married life and an account of its downs as well as its ups. But as well as this personal perceptiveness, Norris also shows how a sense of life's brevity is felt by his characters, all of whom feel that they are not in charge of their destinies.
The play has several images of water – we are flotsam on the seas of existence; we drift; we are caught in currents; or we sink. Such poetic writing is powerful, but also a bit defeatist. If we really are subject to the tides of nature, how can we master our own lives? On another level, the play is about loss, not only the loss suffered by a person who is losing their memories, but also the loss of an agrarian Deep England. This is a reminder of an older way of life that is being pushed aside by the new.
All this makes for a tender play, carefully directed by Alice Hamilton for the Up in Arms company. Her cast is superb: Linda Bassett (Edie) delicately performs her character's sudden shifts from dwelling in the past to acute awareness of the present. Robin Soans is perfect as the grumpy Arthur, and together they are absolutely convincing as a long-married couple. Simon Muller as the awkward Stephen and Eleanor Wyld as the kind Kate are excellent too (both pictured above with Bassett). This is a moving evening, but the play's meticulous naturalism sometimes sits uneasily with its poetic realism, and it lacks contemporary bite.
This tender debut is an impressively accomplished piece of craftsmanship
rating
Explore topics
Share this article