Celebrating 75 years of Blue Note, Royal Festival Hall |

reviews, news & interviews
Celebrating 75 years of Blue Note, Royal Festival Hall
Celebrating 75 years of Blue Note, Royal Festival Hall
All-star Blue Note sextet brings the audience to its feet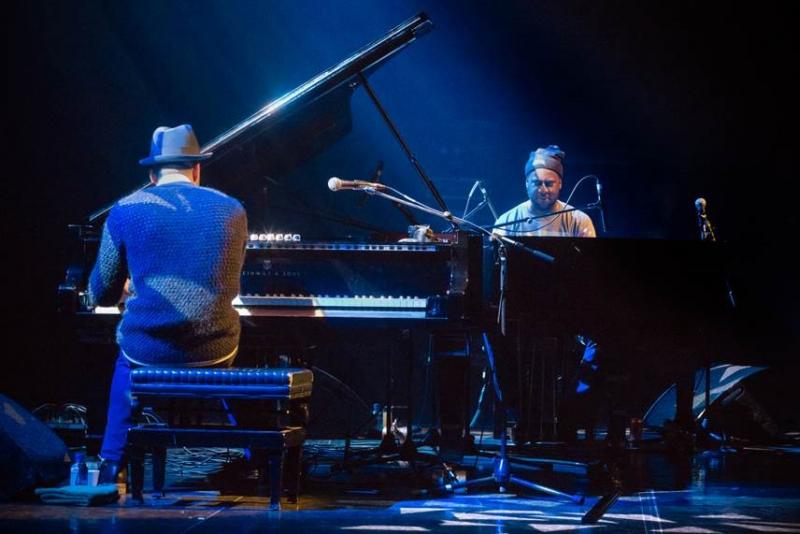 A uniquely conversational quality: Jason Moran and Robert Glasper
Paying homage to the legendary imprint that brought us 'The Finest In Jazz Since 1939', this concert on the penultimate evening of the EFG London Jazz Festival really did have everything, including the unlikely sight of master pianist Robert Glasper pirouetting across the Royal Festival Hall stage. The first half saw Glasper in duo with fellow NYC-based Houstonian, pianist Jason Moran, in an extraordinary, hour-long set that referenced jazz past, present and future.
Performing on two Steinway grand pianos, nestled together on a dramatically lit stage, the duo's free, rhapsodic intro segued into the first of many Blue Note allusions as they launched into the repertoire of Albert Ammons and Meade Lux Lewis, the boogie-woogie pianists whose album The First Day was the first ever recorded by producer Alfred Lion for the Blue Note label in January 1939. From this commemorative jumping-off point, Glasper and Moran ranged ever more widely from bebop — including some notably Monkish chordal work from Glasper — to the avant-garde, with Moran turning his Steinway into a percussion orchestra by placing paper, a tambourine and a set of bells on the piano strings to create bone dry ostinatos beneath Glasper's sustained invention.
On tenor sax, Marcus Strickland contributed one of several powerful, propulsive yet unerringly lyrical solos
The generously proportioned set also incorporated a solo each, and it was at the end of Moran's solo that we saw Glasper returning centre stage in the guise of a ballet dancer, briefly stopping the flow of music with a theatrical raising of his hand. Moran, whose recently released All Rise: A Joyful Elegy for Fats Waller is one of this year's standout albums, then easily moved from a hypnotic, dancing riff in the upper register to an extended reverie on Herbie Hancock's "Maiden Voyage", now joined by Glasper. Both alumni of Houston's High School for the Performing and Visual Arts, the duo's deep familiarity with each other's style imbued the music-making with a uniquely conversational quality.
The second half saw Glasper return to the stage with Blue Note supergroup Our Point of View, featuring sax player Marcus Strickland, trumpeter Ambrose Akinmusire, guitarist/vocalist Lionel Loueke, bassist Derrick Hodge and drummer Kendrick Scott. Fresh from their performance at the Blue Note Xperia Lounge Festival in Paris on Thursday, the group kicked off with a barnstorming "Witch Hunt", the lead-off tune from Wayne Shorter's classic album Speak No Evil, noteworthy for the rich timbral detail of Loueke's guitar work and Glasper's characteristically fractured, rhythmically ingenious stop-start phrasing that he has made very much his own.
The sextet then explored their own originals, including Kendrick Scott's "Cycling Through Reality", which showcased the drummer's incredible pocket as he nonchalantly flipped over his snare to play the wires like a turntablist. From his 2011 album When The Heart Emerges Glistening, Ambrose Akinmusire's "Henya" featured a remarkable solo from its creator, full of longing and pained glissandos, with Loueke's shimmering, ghostly chords providing the understated backdrop.
Loueke's own "Freedom Dance" saw Glasper and Hodge move to Fender Rhodes and electric bass, with the guitarist creating a fantastical intro of looped melodic fragments, percussive effects and vocal clicks (Loueke being a big fan of Miriam Makeba). On tenor sax, Marcus Strickland contributed one of several powerful, propulsive yet unerringly lyrical solos. Featuring a captivating introduction, which roamed around the extremes of the register, Hodge's "Message of Hope" provided a remarkable, multilayered closing chapter, in which a quote from "Blue in Green" gently floated to the music's surface towards the close.
Whether the sextet will continue to play together beyond the anniversary celebrations is unclear. Given the rapturous standing ovation, you can't imagine this will be the last time they share a stage together.
The duo's deep familiarity with each other's style imbued the music-making with a uniquely conversational quality
rating
Share this article