Neville's Island, Duke of York's Theatre |

reviews, news & interviews
Neville's Island, Duke of York's Theatre
Neville's Island, Duke of York's Theatre
Like its marooned middle-managers, Tim Firth's comedy loses its way
Wednesday, 22 October 2014
No man is an island: Roy (Robert Webb), Neville (Neil Morrissey), Gordon (Adrian Edmondson) and Angus (Miles Jupp)
Hell is other people. It's not the wilderness that poses the greatest threat to the stranded corporate bonding quartet in this docile Lord of the Flies-meets-The Office pastiche, but the endless stream of well-meaning incompetence. Yet while Tim Firth's 1992 play is Schadenfreude Central – if you haven't had your fill of disaster-by-proxy following the trail of Hurricane Gonzalo – it, too, suffers from benign ineptitude in not committing to a genre. At two and a half hours, Angus Jackson's production offers exceedingly flabby comedy, but its foray into serious drama leaves it up the creek without a paddle.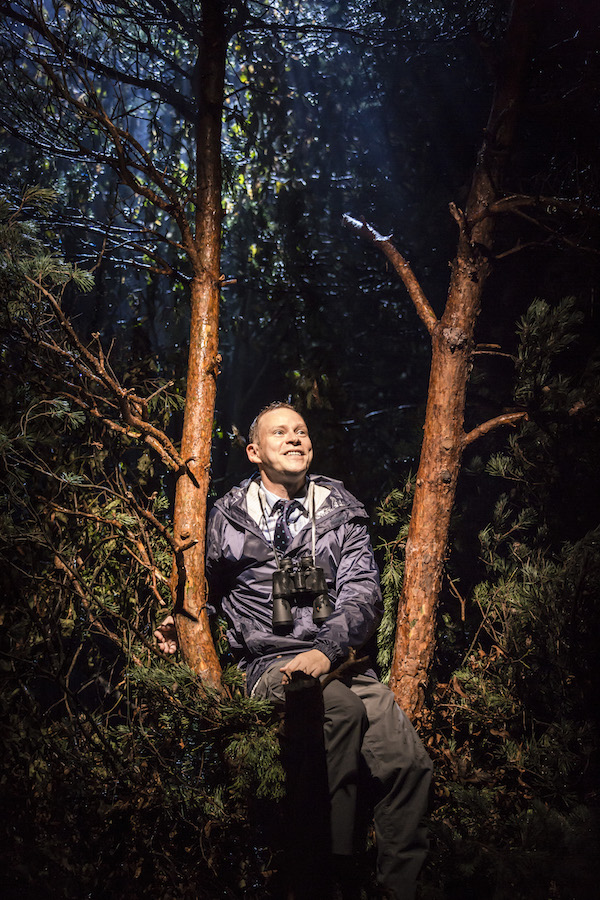 Firth's Salford businessmen are familiar types: fuming, sarcastic Gordon (Adrian Edmondson), determined to prove his superiority through sniping put-downs; floundering elected leader Neville (Neil Morrissey), uttering empty "Keep calm and carry on" bleats; anally retentive Angus (Miles Jupp), who's packed three-quarters of his local survival shop into Mary Poppins' rucksack; and "Christian in a cagoule" Roy (Robert Webb, pictured right), recovering from a breakdown by writing songs about God's presence in his kitchen. The four are forced into close quarters when Neville erroneously applies cryptic-crossword deduction to simple instructions, marooning them on a Lake District islet with no means of communication – the first of many plot developments that strain credulity.
Their conflicts, though repetitive and predictable, are often amusing thanks to Firth's perky one-liners and the game cast's unflagging energy. What's missing in this static show is satisfying development, with the climax landing somewhere between true revelation and sitcom reset. Further exploration of their lives off-island would make this a richer experience, particularly the dynamics between these supposed colleagues, who read more as luckless strangers than those caught in the sticky web of office politics.
Jupp (pictured below) is most memorable as that peculiarly British horror, the paragon of dullness, his emotional repression and mounting frustration with his middle-of-the-road life quietly resonant. Edmondson effectively transitions his sardonic wag into obnoxious bully, though the desolation beneath his savagery is commented upon rather than exposed. Webb's skilled handling of his gentle evangelical is undermined by a deluge of mean-spirited, rather tired gags – Firth, via Gordon, encourages us to dismiss his faith as a mere symptom of deranged grief. Morrissey is stuck playing babysitter.
Robert Innes Hopkins' astonishingly verdant set is the real star, somehow transplanting lofty, climbable trees, muddy shingle, driving rain and deep pools of water. The actors variously wade through, crawl across and tumble into the latter, spending much of the running time soaked to the skin. Talk about suffering for your art. Anyone who was subjected to a Duke of Edinburgh's camping expedition may well suffer PTSD flashbacks.
This Chichester transfer, while offering genial entertainment, never quite justifies its West End presence. Firth hints at a more courageously meta experiment, with direct references to other island-based tales, but skates over well-worn tropes rather than subverting them. Fun for a quick splash, but as penetrating comedy/drama, rather a damp squib.
Anyone who was subjected to a Duke of Edinburgh's camping expedition may well suffer PTSD flashbacks
rating
Share this article