Teh Internet Is Serious Business, Royal Court Theatre |

reviews, news & interviews
Teh Internet Is Serious Business, Royal Court Theatre
Teh Internet Is Serious Business, Royal Court Theatre
New play about Anonymous hacktivisits is informative, but lacks a distinctly individual voice
Wednesday, 24 September 2014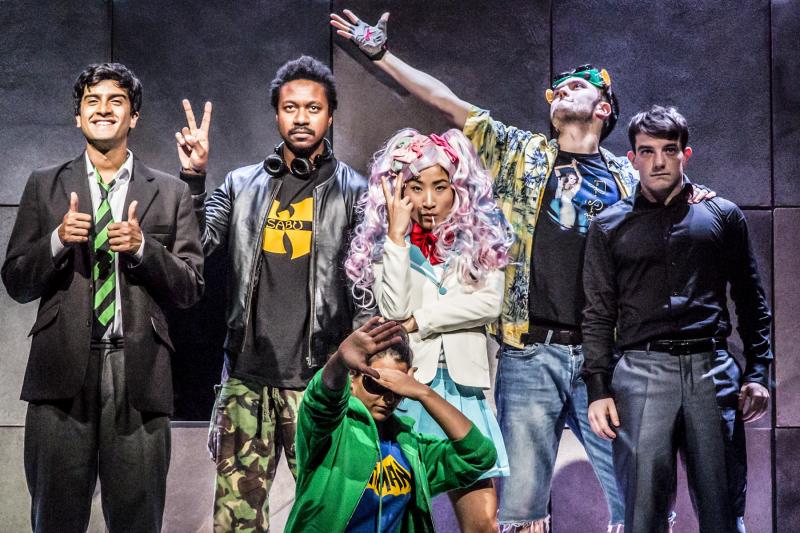 Wanna be in my gang?: the cast of 'Teh Internet Is Serious Business'
Currently, the Royal Court is exploring the theme of revolution and resistance. In its studio space it is staging The Wolf from the Door, Rory Mullarkey's excellent absurdist fantasy of a very English uprising. And now on its main stage is Tim Price's fictional account of how Anonymous and LulzSec, a collective swarm of hacktivists, took on some of the most powerful capitalists in the world without even leaving their bedrooms.
If this was revolution, or even just resistance, it was a very nerdy kind of activism.
Teh Internet Is Serious Business starts by introducing Jake and Mustafa, two people who feel more alive on the internet than in so-called real life. Mustafa, a 15-year-old schoolboy, is particularly gifted at coding and he soon meets online hackers and other whizz kids. Their net personas are vivid: Kayla the Japanese tease, Sabu the badmouth, Narcotroll the black-suited punk and Ryan the anarchic crazy. Of course, we are warned, there's no reason why their real-life personas should be the same as their net identities.
Some of the activists' rhetoric is naive and off-putting
With exuberant theatricality, director Hamish Pirie conjures up the colourful and unpredictable world of internet chatrooms with their Grumpy Cats, Sad Storm Troopers, Socially Awkward Penguins and cruising paedos. Out of this wild west a group, Anonymous, coalesces, and they vow to right wrongs. When Tom Cruise and the so-called church of Scientology take down an embarrassing YouTube video, they attack the organisation's website, and organise demos.
Tim Price then takes us through a series of other case studies: sad stories about the trolling of a suicide's Facebook page, black humour about the dark net, and then the hacking of the FBI and CIA websites. Fox News is compromised. There is an interesting story about the Tunisian Arab Spring, but much of the hacking seems a bit random, and anarchic. And not in a good way. Soon retribution rears its ugly head, the hackers are betrayed and most go directly to jail. The hive mind is taken down and handcuffed by the forces of law and order.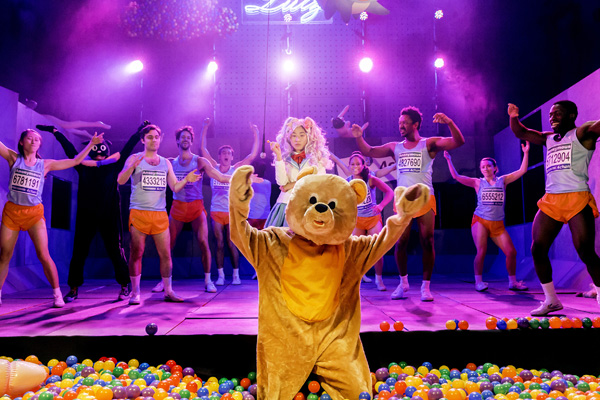 So while the idealism of the hacktivists, and their desire for social justice, is inspiring, some of their rhetoric is naive and off-putting. The slogans about "Total freedom" and "No rules" ring a bit false, although the necessity for trust and the ability of the internet to host your fantasy persona remains appealing. Pirie's loud and exciting production manages to convey some of the complexity of coding by using dance sequences that start off awkwardly, but evolve into beautiful stage images. Warm lights shine bright and the music throbs along nicely.
On the other hand, Price's text is more of a plodding documentary than a piece of individual new writing: it lacks a distinctive voice and several scenes could easily have been cut. Above all, despite the vividness of some of the staging, the show lacks a strong enough metaphor that makes sense of the whole complex story. While the play implicitly raises issues about anonymity, freedom of expression and activism, its documentary form means that these are never really addressed. In the end, actors pretending to be internet personalities on stage are less interesting than a glance at your smart phone.
Still, the large cast (pictured above) acquit themselves very well while playing several roles each. Particularly memorable are Hamza Jeetooa's Mustafa, Kae Alexander's Kayla, Eileen Walsh's Narcotroll, Nathaniel Martello-White's Sabu and Ferdinand Kingsley's Ryan, although this is very much an ensemble piece. Despite my doubts, I have to admit that the evening is interesting and the cast's enthusiasm is often infectious. I give the show three stars, but, wait a sec, should that be three Likes?
I give the show three stars, but, wait a sec, should that be three Likes?
rating
Explore topics
Share this article