Blondie's New York and the Making of Parallel Lines, BBC Four |

reviews, news & interviews
Blondie's New York and the Making of Parallel Lines, BBC Four
Blondie's New York and the Making of Parallel Lines, BBC Four
Superficial tribute to one of pop's great albums
The cover of Blondie's 'Parallel Lines': one of pop's great albums, but not a great album as such
"It looked like Dresden after the bombing." Blondie's Chris Stein may be a member of one of pop's most-loved bands, but he also has a way with words. Describing 1970's New York City in this way is offensive to the memory of the 25,000 who died in the World War II air raids on Dresden. More pertinently for New York-dweller Stein, his comment also chimes badly with the destruction of the twin towers of Manhattan's World Trade Centre in 2001.
Blondie's New York and the Making of Parallel Lines unquestioningly celebrated the band's massive-selling, breakthrough third album but some care could have been taken in its assembling. Beyond Stein's foot-in-mouth gaff, there were also mysterious omissions and a clunky shoehorning-in of the band's ties to New York City as integral to the album's identity.
Still, it had its amusing moments. Among the programme's other asides was a comment from keyboard player Jimmy Destri. Of the album's "One Way or Another", he said "one of the things that made it is the keyboard part." He might say that, but the song's writing credits were assigned to singer Deborah Harry and bassist Nigel Harrison. Despite his claim on the song, he will not have made any royalties on it as a composer. (Pictured right, Deborah Harry and Chris Stein in Blondie's New York…)
Whatever the contest for credit, Parallel Lines is one of pop's great albums. It demonstrated Blondie were nothing to do with the punk scene they had paddled in. But despite a hubrisitic comparison of Blondie's lyrics to those of Cole Porter and Gershwin, it is not a great album as such. Bulked-out with filler, it was patchy. The band lacked enough material to satisfy producer Mike Chapman. The disco-influenced future-classic "Heart of Glass" was only played to him after they ran through everything they had. As Harry recalled, the unsatisfied producer asked if they had more songs. Nonetheless, the album still included the weak "Pretty Baby", valiantly defended by Chapman, and a perfunctory make-weight cover of Buddy Holly's "I'm Gonna Love You Too" which was not mentioned.
Other songs missing in action here were the album's "I Know But I Don't Know", "Just Go Away" and "Will Anything Happen?". There was also no mention of guest guitarist Robert Fripp, whose fabulous contribution to the also-undiscussed "Fade Away and Radiate" helped define the song. Band guitarist Frank Infante's equally stunning part on "Picture This" was considered though.
Problems with the programme's make-up were also exemplified by a slackness in relation to the band's history. "I think people thought we were trashy," said Harrison, only to be followed by a live clip of the band from before he joined in 1978. People may have thought this in 1976, but he wasn't there to detect it. Dismissing Jack Lee, the writer of the album's opening cut "Hanging on the Telephone", as a "hustler" seemed stange as "Will Anything Happen?", another of his songs, was also recorded for the album. If Lee was so objectionable, why did they record two of his songs? (Pictured left, Blondie producer Mike Chapman in Blondie's New York…)
As for the title's New York aspect, it was a coup to secure an interview with former city mayor Ed Koch (sat at a desk behind a spray bottle of hand sanitiser - a metaphor for how he feels about New York?), but a quick shot identifying Stein and Harry's apartment in the distance and comments about decay, muggings and street crime barely dug into the band's synergy with the city. The two strands – the album and the city – did not meld. Two programmes were playing in parallel, one to the detriment of the other. Repetition was irksome: Harrison described "Pretty Baby" as "pop" twice, after which the voice-over mindlessly stated "it was an out-and-out pop song". We got it first time. And the positing of the fashion store now occupying the former site of club CBGB's as having any resonance at all in relation to New York's rock history was depressing.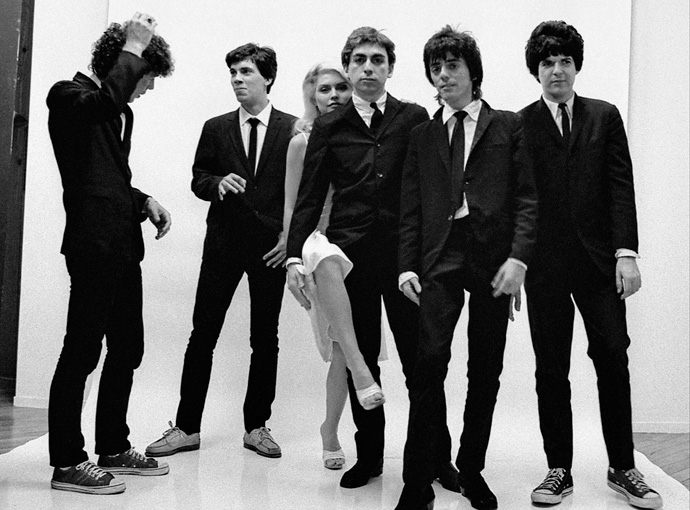 Blondie's New York… was a buy-in from America, where it was first broadcast on the Smithsonian Channel in March this year. In part, this genesis explains the presence of talking heads who, in addition to those irrelevant to Blondie and their story, meant nothing or close-to-nothing in the UK, such as Aja Volkman of the band Nico Vega. The programme largely trod the same ground as the more satisfying Blondie: One Way or Another, BBC Four's last Blondie documentary – especially in relation to the recording of "Heart of Glass" – but excised the bitching within the band so glaringly exposed there. (Pictured right, a shot from the Parallel LInes album cover session.)
But this cannot explain the clumsy stitching of New York City into the narrative, the gaping holes and the decision to let contributors wax on things they had no first-hand knowledge of. Although enjoyable fluff, the superficial Blondie's New York… was worth no more thought than the 50 minutes it occupied in broadcast.
'Blondie's New York and the Making of Parallel Lines' was worth no more thought than the 50 minutes it occupied in broadcast
rating
Share this article