Solo for Two, Osipova/Vasiliev, London Coliseum |

reviews, news & interviews
Solo for Two, Osipova/Vasiliev, London Coliseum
Solo for Two, Osipova/Vasiliev, London Coliseum
Arthur Pita's black comedy makes up for greige tedium from Cherkaoui and Naharin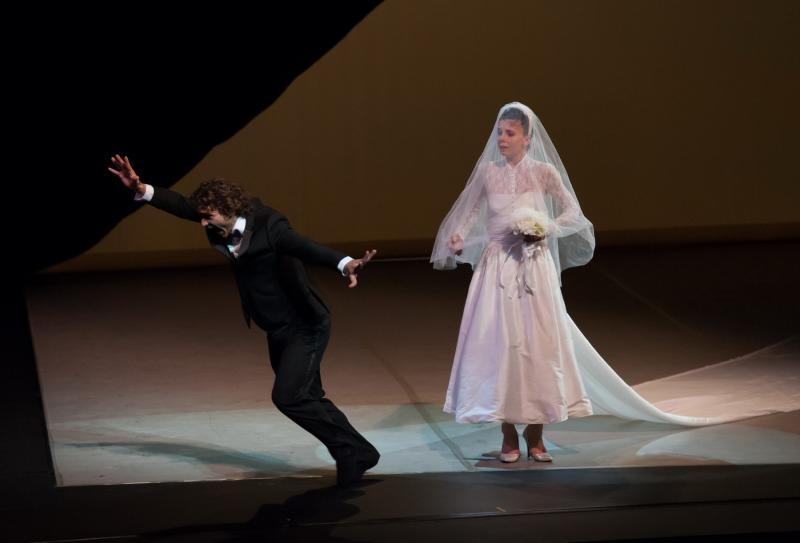 Jilted: Ivan Vasiliev and Natalia Osipova in Arthur Pita's Facada.
Mounting a contemporary dance show together doesn't seem like the best way to get over your ex, even if you are (or rather, were) ballet's most fabulously marketable couple.
But whatever their real-life relationship, audiences will always be keen – as last night's packed Coliseum proved – to see
Natalia Osipova
and Ivan Vasiliev, the electric, magnetic young Russians whose performances with the Bolshoi and the Mikhailovsky provoked such devoted fandom that they even got their own shorthand: Vasipova.
The show they are mounting now is Osipova's brainchild. Her determination and focus are truly remarkable: it's a heck of an endeavour both to move sideways into contemporary dance and attempt to fill four shows at the Coliseum in August, when most other Royal Ballet principals are putting their feet up on the beach. At 27 and right at the top of her career as a ballerina, she doesn't need to do this now. She's a legend for her interpretation of the most traditional story ballet roles (Kitri, Giselle) - but evidently, like Sylvie Guillem, she wants to do more. Good on her. It's just a touch unfortunate that, on the strength of the first two thirds of this bill, the "more" in question was that contemporary ballet staple, inscrutable duets in greige underwear.
Sidi Larbi Cherkaoui has reworked a piece called Mercy he had made for Les Ballets de Monte Carlo. The opening (pictured right) is (literally) striking: Vasiliev directing a staccato barrage of hits at Osipova, whose stiff back and blank eyes as she allows Vasiliev's "blows" (they never actually touch her body) to move her around are, frankly, terrifying. This is the set-up for the piece's dubious relationship-redemption arc; it's followed by a Vasiliev solo which suggests his unhappiness by contorting his powerful body on the floor – flipping him over, putting uncomfortable weight on his neck. Odd jumps and party tricks from his big ballet solos make for an incongruous addition here, but are just a more obvious indication of what was already apparent from the outset: that highly specialised classical ballet dancers do not become contemporary dancers overnight.
Cherkaoui's choreography retains ballet elements – Osipova is in pointe shoes – but for Osipova and Vasiliev the transitions between those and the contemporary movement language more alien to their bodies too obviously requires a certain effort. Occasionally we get a striking moment – as when Osipova uses her feet, as flexible and intelligent as hands, to stroke an abject Vasiliev – but overall there's very little to like in this awkward, borderline-abusive duet, except the rather fine singing of German Baroque songs from the pit.
Ohad Naharin, choreographer of the Israeli contemporary dance group Batsheva, has been much more ruthless about getting Osipova and Vasiliev to inhabit his physical language. The result, in Passo, is the striking and unexpected sight of two of the world's most famous ballet dancers stuttering around on their knees, or trotting bent over, like children pretending to be mice. Naharin integrates their speciality moves – Osipova hurling herself into Vasiliev's arms from several metres away – better into the story he is trying to tell, which also (yawn) seems to be about a relationship breaking down.
It's unusual for a recording of someone singing Greensleeves to be an improvement, music-wise, but the piece does become markedly better when the booming static of the first half gives way to the song about lost love. It becomes even better when another folk song, wordless this time, takes over, and suddenly flashes of fire and humour enter the dancers' relationship: the pace picks up, we get the hint of a dance-off in the rain, one then the other zips through an energetic sequence. Finally, some fun is had.
But the vast majority of the fun on offer in the programme is concentrated in Arthur Pita's piece, Facada, a terrific, very black comedy about a jilted bride. Pita succeeds because he plays to these dancers' strengths: as well as their phenomenal physical abilities, what has always marked Osipova and Vasiliev out is their storytelling, both comic and tragic. Pita gives us Osipova in a white dress tripping buoyantly around the stage in delighted anticipation of her wedding, Vasiliev dancing his constricting tuxedo off after abandoning her at the altar, and a series of increasingly chilling interactions between them, as a deranged Osipova forces him to dance a loving duet, even moving his jaw to make him mouth a love song.
After the grey monotony of the previous two pieces, it's pure delight to see the two of them having fun together (pictured above left). There is an exciting frisson of horror involved in watching this story reach its violent denouement, and Osipova's demented, exultant jig on Vasiliev's "grave" is nothing short of thrilling for its intensity. Add in the pleasures of clever, effectively minimal designs by Jean-Mark Puissant, live Portuguese fado music by Frank Moon, and the fabulously laconic Elizabeth McGorian stalking about the stage as the cadaverous-but-glamorous Lady In Black, and you have half an hour of dance theatre so engaging, it was almost good enough to make up for the two damp squibs that preceded it.
Osipova's demented, exultant jig on Vasiliev's 'grave' is nothing short of thrilling
rating
Explore topics
Share this article