A Promise |

reviews, news & interviews
A Promise
A Promise
Patrice Leconte's first English-language film is vacuous pulp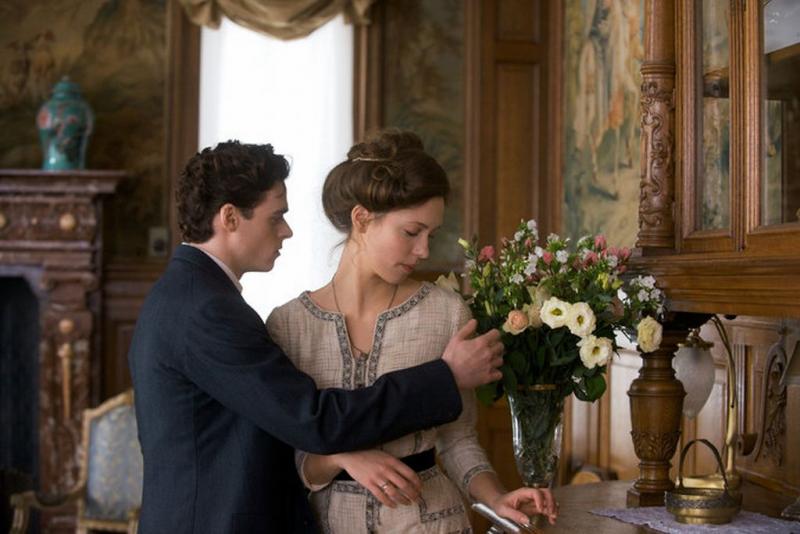 Chinless meets breathy: Richard Madden and Rebecca Hall in `A Promise'
The long march of history pales next to the clamped-down passions and pulpy theatrics of A Promise, the first English-language film from that often most sinuous and witty of French directors, Patrice Leconte. Wit, alas, is nowhere to be seen on this occasion, which may just mark the worst foray into non-native celluloid territory since The Lives of Others' Florian Henckel von Donnersmarck gave us The Tourist four years ago.
Leading lady Rebecca Hall gets to wear an array of nice hats, and classical music devotees will thrill to the overuse of Beethoven to amplify the mood; everyone else will doubtless be nodding balefully in agreement when co-star Richard Madden (of Game of Thrones renown) announces near the end, "it took us a long time to get here". I'll nod off to that.
The source material for the punishing 95 minutes is the Austrian novella Journey Into the Past from the same writer, Stefan Zweig, whose writings prompted The Grand Budapest Hotel - a film with which this current offering has precisely nothing else in common. While the action spans the entirety of World War I and then hints at the unrest and gathering malaise that would lead on to World War II, the changing face of Germany matters not a whit compared to the slow-aborning romance between Hall, playing the wife of an ailing and far-older industrialist (an ever-cunning Alan Rickman, pictured above, in the film's best performance), and a rather chinless Madden, the latter cast as the young assistant, Friedrich, who rises within the ranks of Rickman's steel manufacturing empire and, over time, into the amorous clutches of his wife-turned-widow, the gatheringly breathy Lotte.
One might question at the very start the Europudding aspects of having a Frenchman direct a cast of Brits - the rising London stage actress Shannon Tarbet (here cast as Madden's discarded bedmate) included - who collectively play an array of Germans, all of whom apparently speak the best possible RP. That aspect, however, soon pales next to the clumping dialogue - Rickman, we're told, has a "Quite. Serious. Health. Condition" (the mispunctuation is mine) - that gives the impression of a screenplay from Leconte and Jerome Tonnerre that has been translated, and none too fluently at that. (Nigel Palmer is credited as translator.)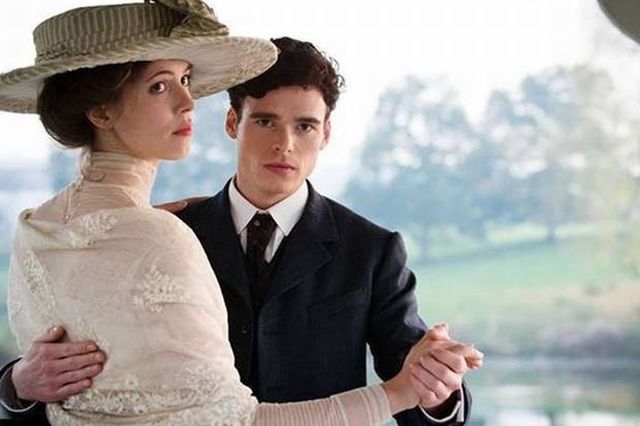 You can see what the materal aspires to be: one of those layered tales of desire deferred that Russian literature is so fond of (not to mention Jane Austen and her ilk, as well). In which case, rather more is needed than much coy chit-chat about Lotte's "scent" and observations - this one from Friedrich - that "we are parted by distance but also by time". It's been some while since I've come across a narrative that trades on anxious visits to the post office where Lotte in this case is seen wondering why the young love of her life, since displaced to Mexico, isn't responding to her amorous epistles.
The fact that a war is raging, thereby affecting the postal service, seems to strike her as little more than an irritation, just as a march past her front door by the Nazi party in embryo is here presented as a noisy distraction from the carnal activity that awaits. Rickman's character, a sort of suited Pandarus who at moments seems to be urging on his wife's affair, would surely have something to say about the workings of the world at large but that's not possible since by that point he is dead. In much the same way as this movie died well before him.
Overleaf: watch the trailer for A Promise
One might question at the very start the Europudding aspects of having a Frenchman direct a cast of Brits who are all playing Germans
rating
Share this article