La traviata, Glyndebourne |

reviews, news & interviews
La traviata, Glyndebourne
La traviata, Glyndebourne
All musical elements fused to make great, stylish music drama of Verdi's intimate tragedy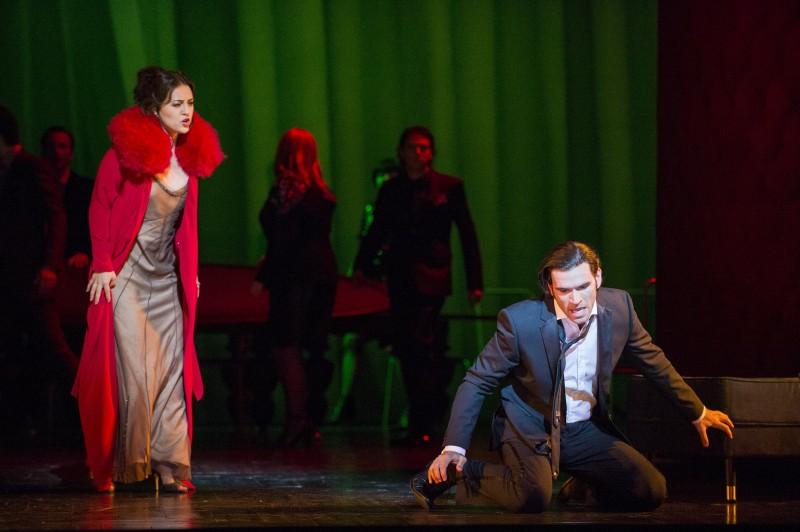 Violetta (Venera Gimadieva) approaches a confused Alfredo (Michael Fabiano)
Some of us have witnessed Traviatas where single stars were born: Angela Gheorghiu for Solti at the Royal Opera nearly 20 years ago springs quickest to mind. Some would claim a dream couple in Anna Netrebko and Rolando Villazon on peak form at Salzburg.
Yet how often in a lifetime do you catch an evening like this, where all three principals are not only up to the very highest vocal standards but also work as one with the conductor to make sense of every phrase, every word, in an intimate space for which Verdi's chamber opera might have been crafted?
Mark Elder, conducting a London Philharmonic Orchestra responsive to each inflection, can take even higher credit at Glyndebourne than director Tom Cairns, whose layered, timeless response within Hildegard Bechtler's tripartite, semi-abstract sets sometimes eluded me but who seems to be saying that even when happiness seems briefly so obtainable for two people, everyone – courtesan, lover and paternal pillar of unyielding society – is alone. But never coldly or impersonally so: Elder so painstakingly underpins every heartbeat, each of Verdi's rhythms, bass lines and musical twists to the sorrow in the text that a stupendous tension, rather than just a deep sadness leading to the usual indulgent weepfest at Violetta's last moments, informs the entire performance.
For this the soprano, tenor and baritone need to be open to every nuance, and here they are; I've never seen a production so alive to all the emotional confusion and psychological complexity, if reluctant to provide easy resolutions. In Act One the finest flexibility seems to belong to Michael Fabiano's Alfredo, out of his depth at a sophisticated party but determined to bare his soul, his love for the sick woman at the centre, in a context which would seem to forbid it.
Russian soprano Venera Gimadieva, in another Glyndebourne debut of stunning impact, doesn't quite match him turn for turn in the Brindisi or flash out every semiquaver of diamantine brilliance in her determination to forget the possibility of devotion and to plunge into the vortex of Parisian social life (note how in the phrase "cross and delight", he emphasises the agony, she in her later echo the pleasure). But a true coloratura Violetta won't have the strength Verdi's Violetta needs to face the denigration of Alfredo's father and the laceration of sacrifice. Perhaps the very highest notes lose the incredible fullness to which Gimadieva opens up as she rises, but the climactic cries of "love me, Alfredo" pierce the heart with full vocal weight and intensity.
Tassis Christoyannis, returning to cap his Glyndebourne triumph as the jealous Ford in Falstaff, portrays a man whose bluff certainty of what society expects founders very quickly on the reef of Violetta's dignity. Father and "fallen woman" pace round each other warily and powerfully in a masterly portrayal of uncertainty and bewilderment, for which I guess we have Cairns to thank.
While Gimadieva presses the right emotional buttons with her pianissimo singing at the core of the duet, as she is even more devastatingly to do in the big party-scene ensemble placed after the interval, Christoyannis (pictured left with Fabiano) also captures the right shades and colours expected of that rare species, the true Verdi baritone. Elder's pacing allows him to sing the sentimental cavatina begging his son to remember family life in Provence in long lines which make as much sense as those of Violetta's more swiftly paced "Addio del passato" in Act 3, a radical rethink which, as with the waltz-duet of possible happiness which follows it, takes some getting used to. And the furious response of Fabiano's son to paternal self-regard, capped by wild jealousy when he learns where Violetta's gone, has an impassioned pressure which gives us glimpses of a possible future Otello in the young, infinitely sensitive lirico spinto tenor voice.
For once, this makes a powerful curtain to a first half which stops short of the Act Two finale. After the long supper break, Elder sends even the party dances ricocheting, with impeccably alert work as ever from the Glyndebourne chorus – the very small supporting roles are also cast from strength, chiefly the Annina of Magdalena Molendowska – and ignites the almost unbearable tension of the big encounter where Alfredo believes the love of his life has abandoned him for wealth and tinsel. Cairns underlines Violetta's greatness of soul, and its powerlessness against bigger forces, by the way she forgivingly moves slowly towards the man who's assaulted her, and then equally slowly back as the group around her edges in.
By the hour of her death the isolation is total against the now encroached walls, while the moment of greatest togetherness is underlined as the most desperate, its nihilistic message hammered home ("If you haven't saved me by returning, no one on earth can do it"). I didn't quite buy Violetta's final, lonely walk to a death – the mythic aspect worked better in Peter Konwitschny's otherwise coldly calculating ENO production – but the roars of approval, the isolated attempts to get the whole house standing, which in my experience it never has, showed that this shattering work, with its pull between the sublime in the music and the bleak tragedy of the true-life story, had achieved its highest mark.
A stupendous tension, rather than just a deep sadness leading to the usual indulgent weepfest, informs the entire performance
rating
Explore topics
Share this article