theartsdesk in Buxton: Dvořák rarity, Gluck tercentenary |

reviews, news & interviews
theartsdesk in Buxton: Dvořák rarity, Gluck tercentenary
theartsdesk in Buxton: Dvořák rarity, Gluck tercentenary
'The Jacobin' comes up for air alongside 'Orfeo ed Euridice'
A joy: the Buxton Festival Chorus
Buxton has gone Bohemian, digging into Dvořák's treasure trove and celebrating Gluck's tercentenary. The choice of Dvořák's The Jacobin fits the Buxton Festival tradition of rooting out neglected works, since this has been unjustly overlooked since the first performance in 1889. It's an irony that this makes Gluck's Orfeo ed Euridice an unexpected choice, being ever-popular since 1762.
However, artistic director Stephen Barlow has linked them for the festival's two new home-grown productions for this, the 36th festival.
Director Stephen Unwin gives us a moderately updated version of The Jacobin. Instead of a small Bohemian country town in 1793, he moves it on to the 1930s Czechoslovak Republic, not that you would notice apart from the odd suit. This is a pleasant peasant opera with the community at the centre in the form of an almost ever-present 32-strong chorus, made up of the Buxton Festival Chorus and children from the local Kinder Children's Choir. Their singing is a joy, they keep busy and they capture the togetherness of village life. Fittingly, the first performance coincided with Buxton's annual Carnival Day, when this community celebrates with a procession, rose queens, well-dressings and funfair.
The Jacobin is a heart-warming tale of family feud, love and reconciliation. It's also about concern for peasant conditions, expressed by Bohuš, estranged from his father who rules the town as Count and believes mistakenly that while in Paris his son has become a violent Jacobin revolutionary. The opera opens with the chorus, frozen like a rear-of-stage tableau, singing a hymn, just before Bohuš and his wife Julie appear carrying suitcases. He has returned to his homeland to seek reconciliation with his father.
That's the thread. There is also an on-going love tangle between Terinka, daughter of Benda the music master at the village school, and local lad Jiří, which gives rise to some memorable duets between Anna Patalong and Matthew Newlin (pictured above). Benda, a fussy and lovable comic character splendidly realised by Bonaventura Bottone, wants his daughter to move up in the world by marrying Filip, an old officer (the excellent Nicholas Folwell).
So, there is a strong narrative over the three acts. After a fairly flat start, the opera really takes off in Act Two, where Benda, conducting and counting, is rehearsing the chorus, together with Terinka and Jiří, in his own "Mozartian" composition intended to entertain the Count. This scene alone justifies the attribution of "comic opera" to The Jacobin. The final act of reconciliation is inspired by a lovely lullaby beautifully sung by Anne Sophie Duprels with harp accompaniment, a Dvořák inspiration. Bohuš, portrayed with dignity by Nicholas Lester, embraces his father (the rich-voiced Andrew Greenan) and the chorus assembles with candles and flowers.
With the libretto sung in English (Rodney Blumer's revised translation), Dvořák's rich and tuneful score was spiritedly conducted by Barlow with the resident Northern Chamber Orchestra, reflecting the peasants' inbred love of song and dance. The staging is plain and simple against an ever-present backdrop of a cloud-filled sky. However, designer Jonathan Fensom scores with his attention to detail in the appearance and make-up of the chorus, putting me in mind of, say, Fiddler on the Roof or Les Mis. And they are managed well by choreographer Lucy Hinds. The work proves itself worth reviving, being affectionate and essentially joyful, even if too long by at least 20 minutes.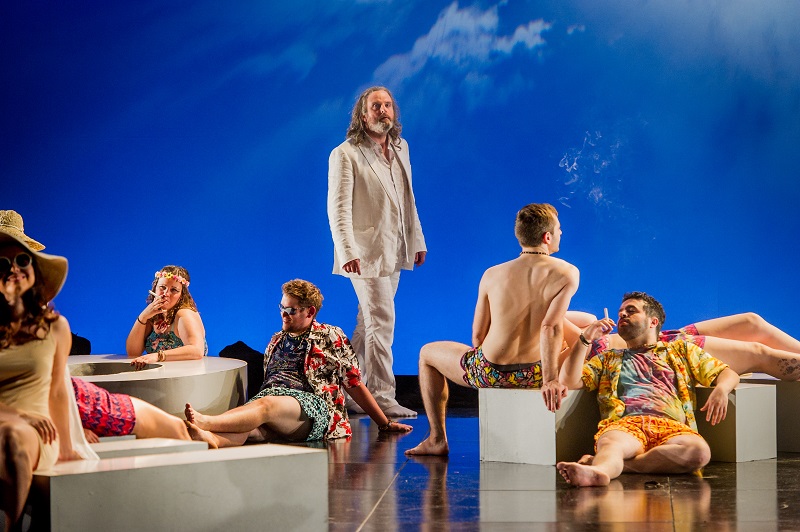 Director Stephen Medcalf has come up with an effective modern version of Orfeo and Euridice. It opens backstage at what might be Glastonbury, with Orfeo like an ageing rock star (think Brian May or Rick Wakeman) taking his bow, with his name in big letters suspended above. These moveable and multi-purpose capital cut-outs are the simple but ingenious invention of designer Francis O'Connor. Coming offstage, Orfeo is mobbed by fans wearing Orfeo T-shirts and baseball caps.
This sets the tone for Medcalf's focused and refreshing production, which wrests all the drama out of the masterpiece, the music flowing from the NCO under Stuart Stratford's alert control. The singing is first-rate, with countertenor Michael Chance (pictured above) as an older but still passionate and affecting Orfeo. In the Italian soprano Barbara Bagnesi he has a fetching, waif-like Euridice, and rising star Daisy Brown is impressive as Amore. Another telling Medcalf touch is to link the three closely, showing Orfeo and Euridice to be in love with love as well as with each other. And the hard-working Buxton Festival Chorus not only sing splendidly, but fill in the would-be ballet interludes. As has often been the case at Buxton, it goes to show that an illuminating production can be created even on a tight budget.
Coming offstage, Orfeo is mobbed by fans wearing Orfeo T-shirts and basbeball caps
rating
Share this article