Fruitvale Station |

reviews, news & interviews
Fruitvale Station
Fruitvale Station
A star turn from Michael B. Jordan is at the heart of this affecting directorial debut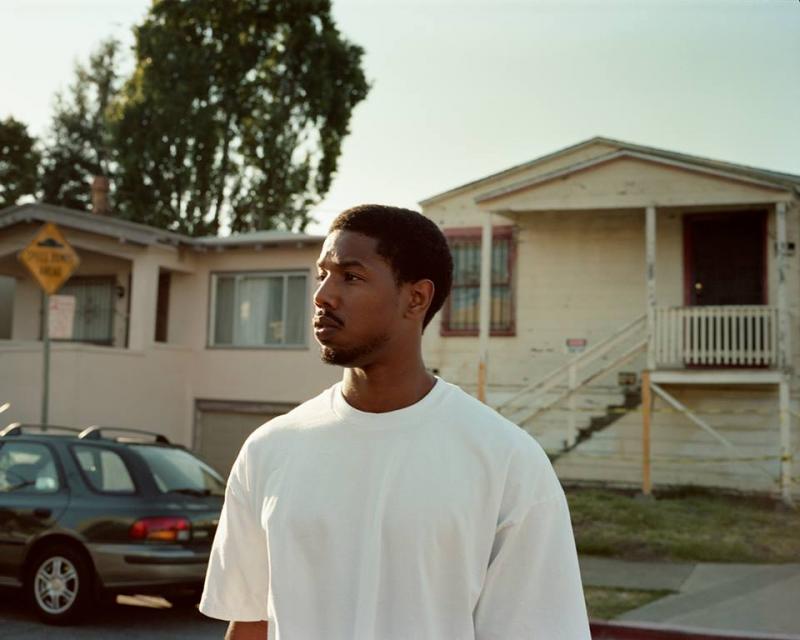 Michael B. Jordan gives a "complex, charismatic performance" in 'Fruitvale Station'
In the very first hours of 2009, Oscar Grant III, a 22-year-old African-American, was traveling back to the East Bay suburbs with a group of friends after celebrating New Year's in San Francisco when they were herded off their BART train (the Bay Area's version of the Tube) by the transport police onto a platform at Fruitvale Station following an altercation.
After an escalation of anxiety and machismo on both sides, one of the BART police shot the unarmed, handcuffed Grant in the back (he later claimed he thought he was firing his Taser) as the train waited in the station. The event triggered protests and soul-searching comparable to the Rodney King beating in L.A. or the Mark Duggan shooting in Tottenham, challenging the Bay Area's view of itself as a bastion of liberal tolerance.
Fruitvale Station, Ryan Coogler's accomplished directorial debut that won both the Grand Jury Prize and the Audience Award at the 2013 Sundance Festival, starts off with actual grainy footage of the shooting from an observer's mobile phone. But Coogler (who also wrote the script) is not interested in making Grant a springboard for a polemic. Instead, he reclaims Grant from cause célèbre to create a portrait of a son, a brother, a lover, and a father, while avoiding making Grant a plaster saint. In this he is greatly aided by a complex, charismatic performance by Michael B. Jordan, who memorably portrayed similarly conflicted young men in Friday Night Lights and The Wire.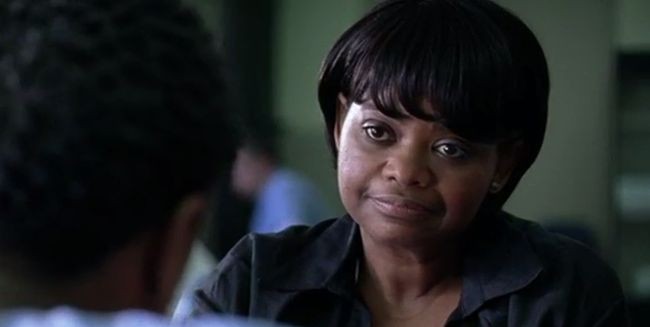 Right from the start, we see Grant constantly looking for a balance between impulse and responsibility, self-sabotage and self-advancement. He has a committed and passionate relationship with his Latina girlfriend Sophina (Melonie Diaz) but is in the doghouse after straying. He is a dutiful son, remembering his mother's birthday (who's played by Octavia Spencer, pictured above) and organizing a party, but hiding the fact that he's been fired from his straight job at a supermarket and is making up the shortfall by dealing pot. The one unequivocally positive area of his life is his relationship with his young daughter Tatiana, played with unaffected winningness by Ariana Neal, who gives Quvenzhané Wallis of Beasts of the Southern Wild a run for her money as best debut by a child actor in a Sundance breakout hit.
As Grant goes about his (last) day dropping Tatiana off at day care, meeting an old jail buddy about a possible drug deal, trying to get his old supermarket job back, and generally driving while texting, it becomes clear that he has a tendency toward hot-headedness and reacting negatively to authority figures, not qualities that are going to stand anyone, particularly anyone black, in good stead when interacting with the police. At the same time, it is equally evident he is given to random acts of kindness, one of which will prove - in a rather contrived coincidence, the story's one false note - that no good deed goes unpunished.
Though the film is shot documentary-style on super 16-mm video and employs a tough hip-hop soundtrack, some British viewers may feel it is insufficiently gritty simply because Hayward, the "deprived" area which is to San Francisco as Da Bronx is to New York, or Peckham / Brixton (as was) is to London, is just too nice. There's some graffiti plus references to gangs and gunfire, but the supermarket outdoes Waitrose, the architectural vernacular is Arts & Crafts bungalows not grim estates, and the drug deal goes down overlooking a sparkling San Francisco Bay with the Golden Gate beyond. Nevertheless, even though Fruitvale Station avoids proselytizing, it subtly but compellingly demonstrates that beneath the benign surface there are plenty of systemic reasons why for Grant and those in his position, the privileged centre might as well be on the moon as a BART journey away.
Overleaf: watch the trailer for Fruitvale Station